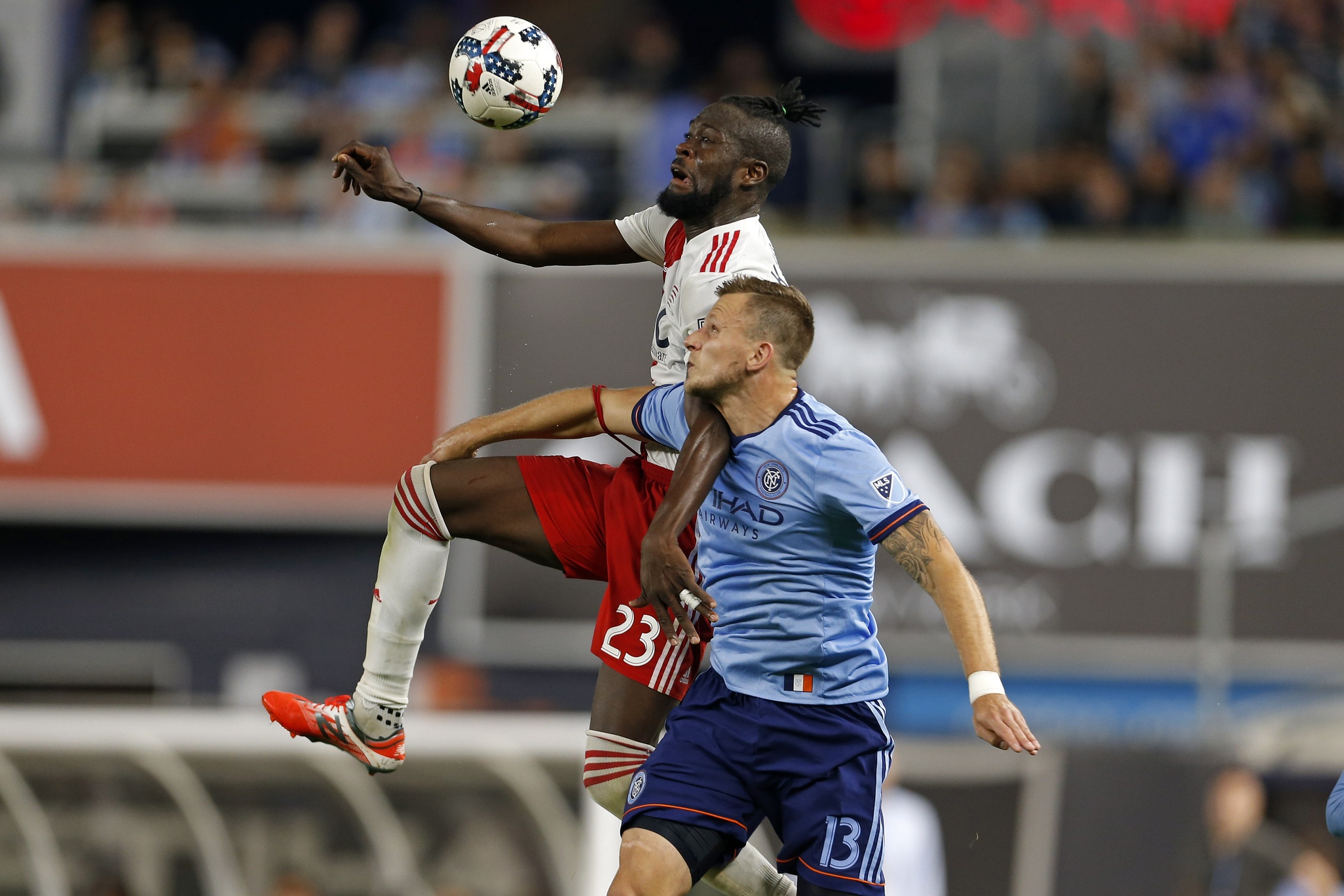 NEW YORK — Kei Kamara has never really been a player short on confidence. It's easy to see. Anyone who has followed his career has seen a player that believes in his game and believes in his own ability to score goals.
The start of the 2017 season has seen Kamara's confidence tested a bit. The goals haven't been there. The rhythm hasn't felt quite right. Luckily for the New England Revolution, Kamara is starting to finally find his groove with a team still working out how to best utilize his unique skillset.
Kamara scored his second goal in four games on Wednesday, helping the Revs earn a come-from-behind 2-2 draw with NYCFC. In addition to the goals, Kamara has two assists in those four games as he continues to find his footing in Jay Heaps' system.
It's been an adjustment, for sure. During his time with the Columbus Crew, Kamara was the centerpiece, the target man. With the Revs, he's a bit more a facilitator, a player that needs to make runs out wide to open space and track back when needed. It's a different role, a different system, but the familiarity and comfort is starting to come.
Through the first few months, the issues were apparent. He scored just two goals in his first eight games as the Revs limped to just two wins in that stretch. Now, with Kamara working back into the lineup, the Revs have earned seven points from four games, signaling the start of a potential turnaround for both player and club.
"I'm so far behind everybody else," Kamara said after Wednesday's draw.. "I'm so far behind a lot of the strikers in my game and what I produce. Sometimes I question myself but, at the same time, if it comes through an assist, I'm going to make that happen. If it comes through a goal, then I try and play my part."
He certainly did just that on Wednesday. It was a rough and tumble match, one which saw NYCFC maintain a bulk of possession. The Revs were forced to chase the game at times, relying heavily on set pieces and crosses to generate some sort of attack.
It was a strategy that was right in Kamara's wheelhouse. Just seconds after seeing a one-on-one chance saved by Sean Johnson, Kamara got on the end of a near-post corner kick from Lee Nguyen. The striker flicked his header past Johnson, exacting a bit of revenge while bringing the Revs back into the match.
The goal leveled the scoreline at 1-1 while providing a much-needed boost to both Kamara and his team.
"It's funny. I'm looking for crosses and they're not coming in there enough," Kamara said. "I count that set piece as a cross for me coming into the box. That's where I feed off of stuff, just looking for crosses. That was the perfect cross that I want. It was perfect that it came through a set piece, something that we worked on in training and, when it comes to life, it feels good."
From there, the other parts of Kamara's game took over. He held the ball up throughout the second half, giving his teammates a chance to move up and relieve pressure on the backline. He tracked back when needed, providing help defensively as NYCFC pushed in the final minutes.
It was a gameplan that required a lot of commitment from Kamara and the desire to do things he may not be used to doing.
"Tonight, I thought he had a point to prove. He was really good," Heaps said. "For me, he was involved in everything. There was no ball that came out that he didn't have his near it or on it or at least fighting for it. Even when (Xavier) Kouassi went down, he did a lot of the covering. When we scored, he was cleaning up plays and making defensive plays.
"I thought our guys really rallied around each other, and Kei was a really big leader in that."
That's not to say that Kamara is fully comfortable. He's still trying to find a blend that bridges the gap between what he does best and what the team needs. There's no denying Kamara is at his best when the ball is in the air, but it's now about finding the situations to exploit that without forcing it. With creators like Nguyen, Diego Fagundez and Kelyn Rowe running around, the Revs don't need to rely on long balls and hopeful crosses. Still, it's nice to have it in the back pocket.
The forward wants to get back to the old Kei Kamara, and he wants to find the form that made him one of the league's most dominant strikers. But, for now, Kamara is simply trying to find his role with a team that looks a lot better when he's in this type of form.
"To me, personally, I'm a center striker and as a center striker that's your job," Kamara said. "It's not just about scoring. It's about holding the ball and getting the team out of pressure. I did what I could today to help my team, do my part and, not just score the goal, but be a big man. That's what I was doing."