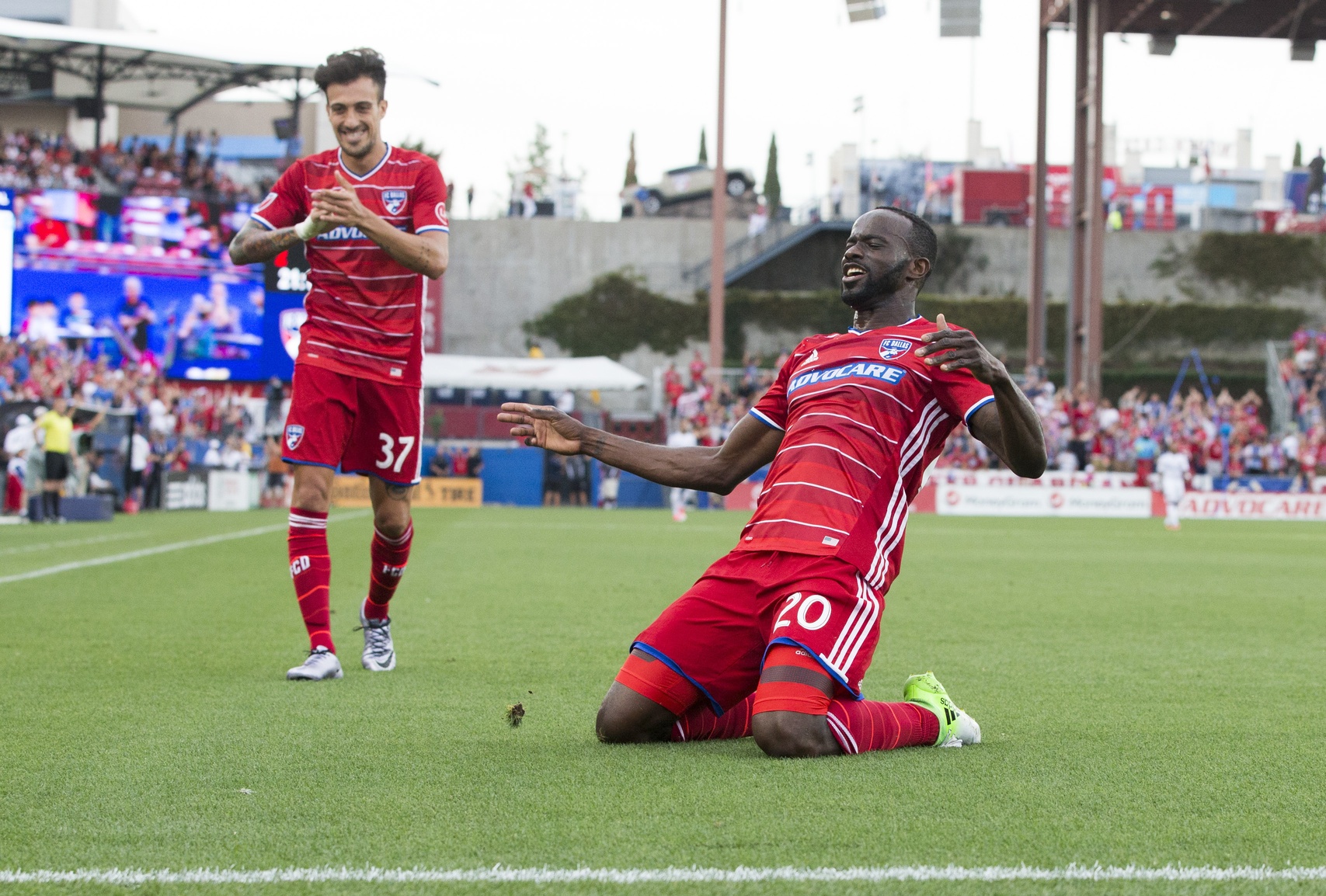 When one of the worst teams in the league comes limping into your place, you are expected to stomp all over them.
FC Dallas did that and more on Saturday night in their 6-2 romp of Real Salt Lake at Toyota Stadium.
Oscar Pareja's men wasted little time jumping on the depleted RSL side that only featured 15 in the traveling party. Belgian winger Roland Lamah scored the fastest hat-trick in club history and second quickest in league history to open up a three-goal advantage in 31 minutes.
The bloodbath began in the eighth minute when an open Lamah tapped in a cross from the right wing off the boot of Michael Barrios. The visiting defense was splintered apart again in the 22nd minute when Atiba Harris' longball found Maxi Urruti, who proceeded to find an open Lamah in full sprint for another easy strike.
A turnover by RSL at midfield turned into the third Lamah strike. Carlos Gruezo split a pair of defenders and found Lamah open in on goal and he finished past Matt Van Oekel once again to crush the morale of a banged-up RSL side.
The through balls only got better in the 39th minute, when Victor Ulloa picked out Urruti with a tremendous ball on the ground that resulted in Urruti's cheeky chip over a diving and helpless Van Oekel.
FC Dallas racked up a fifth first-half goal in the 42nd minute off the boot of Tesho Akindele. The move began with a clever flick by Urruti and then the forward picked out Barrios, who raced out Chris Schuler to pick out Akindele.
After arguably the worst 45-minute performance in MLS this season, the Claret and Cobalt fought back a bit in the second half, as Omar Holness and Kyle Beckerman contributed goals in the 70th and 72nd minutes, respectively.
However, FC Dallas weren't done scoring as debutante Jesus Ferreira, son of prolific MLS scorer David Ferreira, netted his first-career MLS goal at 16 years old in the 89th minute.
Man of the Match
Roland Lamah took advantage of all the holes in the RSL defense and scored the second-fastest hat-trick in league history.
Moment of the Match
Conceding one early goal would've been manageable for RSL, but giving up a second tally so early broke the visitors and they didn't recover for the rest of the match despite scoring two late strikes.
Match to Forget
Not only was this a match to forget for the entire RSL franchise, it was a road trip to forget after losing bad in Houston on Wednesday.