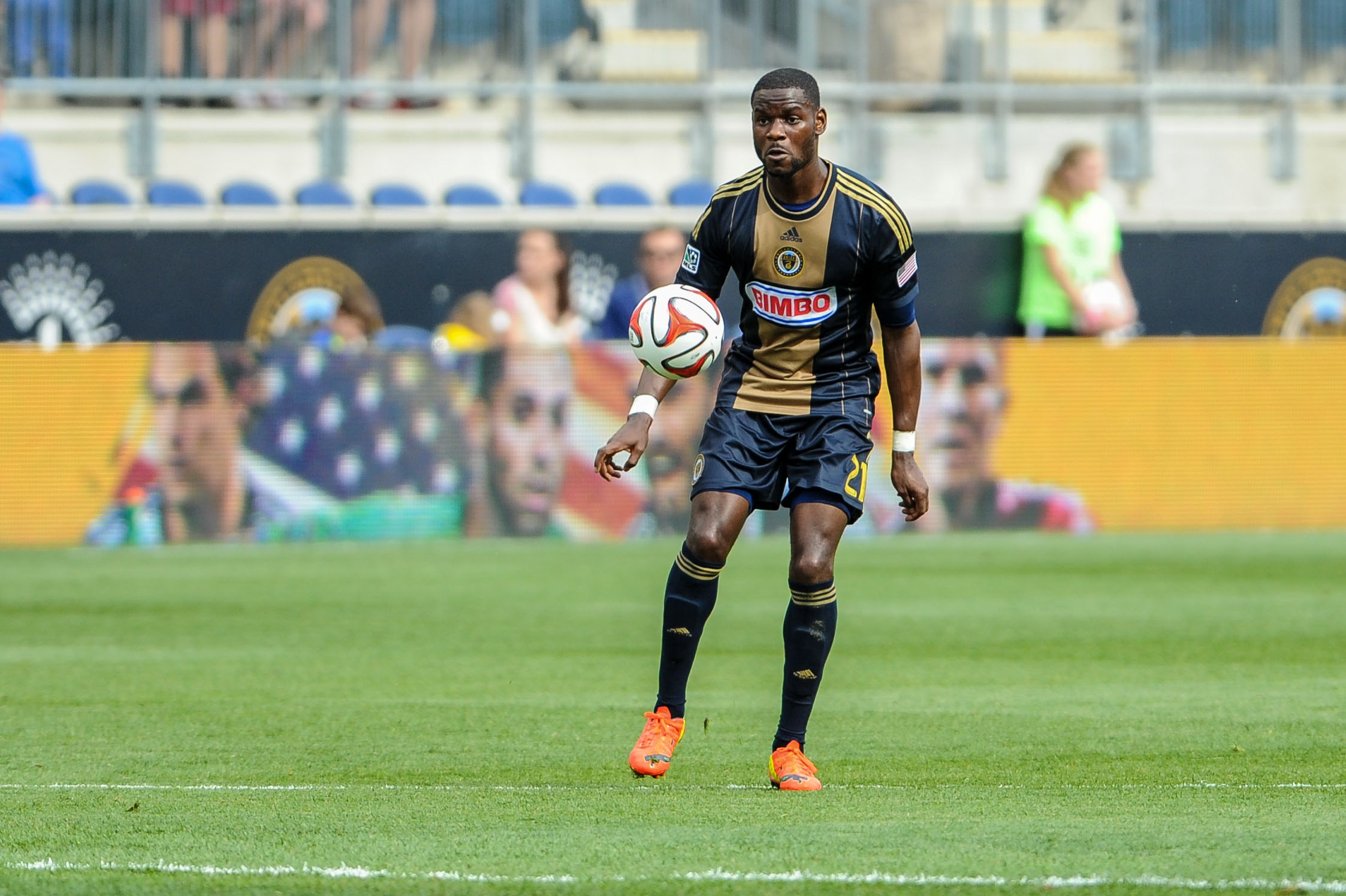 An unexpected sight was witnessed on Friday at Philadelphia Union training.
Maurice Edu, who has struggled with leg injuries for most of the last two years, trained with the team after doing drills on the side for the last few weeks.
Although it is a massive positive for the Union to have one of their Designated Players back in training, there's still plenty of steps to make before the American midfielder returns to game action.
"It's fair to say that's the most he's done in terms of being involved with the group," Union manager Jim Curtin said. "In terms of playing actual meaningful minutes, it's not close in that regard. It's a good step in that he was on the field with the group today to pass , to move, to change direction and that kind of thing, We'll see how he responds. That's the biggest step forward to see in my eyes visually him change direction and be on the ball, but in terms of him turning around quickly and all of sudden being on the field is still a ways off."
Curtin noted that there is no timetable for any return, and that it's not in his hands despite it being a frustrating process with Edu on the sideline.
"That will be in the doctor's hands in terms of when he's fully let go to play," Curtin said. "Not in my hands in that regard. It's trending positive, but it's still not a situation where he's in discussion to be in the 18 or Bethlehem. No timeline."
"He's been the captain of the group," Curtin said. "It's been a long, frustrating process for him. It's a frustrating process for everyone in the organization because we want him on the field, As a designated player, you need to be on the field and he hasn't been. It's hard more for him than anyone."
As for matters on the field, the Union are frustrated from Wednesday's U.S. Open Cup loss to the New York Red Bulls, a defeat that saw a lack of finishing from the squad. With Jay Simpson and C.J. Sapong on the bench, Fafa Picault was left as the lone forward during extra time, and he missed a few decent chances as the team dominated possession. The team totaled 27 shots, with 13 in extra time, but nothing beat Ryan Meara other than Roland Alberg's 86th-minute goal.
"Twenty-seven shots and to only score one is tough," Curtin said. "We had a couple that could've deflected off the post and in. We are creating chances. Do we wish we were a little more clinical? Absolutely. We've worked on some finishing now in the last couple days of training and with the hard work the guys put in every day those ones off the post will start to go in. I;m still happy with how the team is defending as a whole. Yeah, we do need to score more goals. I think that's fair."
The one goal scorer, Alberg, did impress Curtin on Wednesday night, and it could lead to the Dutchman regaining his spot in the lineup ahead of Ilsinho. Young guys like Adam Najem, Jack Elliott and Marcus Epps also impressed.
"I thought Roland Alberg had his best performance in a Philadelphia Union uniform," Curtin said. "I thought he was excellent. All the guys that came in off the bench really contributed. We had good performances from our young guys, but unfortunately it wasn't enough."
Entering Sunday's home game with the New England Revolution, Curtin has a goal in mind, one that is attainable with three points at Talen Energy Stadium.
"We know with a win on Sunday it puts us at six," Curtin said. "The club record, which is something we want to go beyond, is 12. So it's not as bad as maybe some may feel and I think we still have a group that can get things turned around,"
On the injury front, Andre Blake and C.J. Sapong will be ready to go for Sunday, while Fabian Herbers will play at Bethlehem Steel this weekend. Warren Creavalle won't be available for selection, but could play against Sporting Kansas City on Thursday.