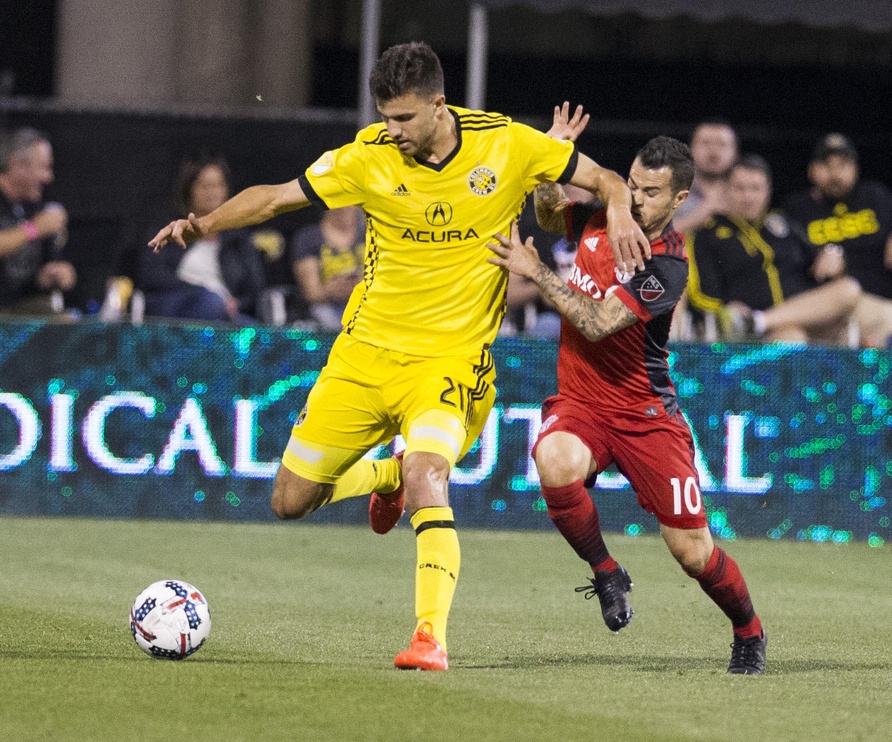 Life as a professional came pretty fast for Alex Crognale. Just three games into his pro career, the Columbus Crew rookie was thrown into the starting XI, playing for a new club in a new system with plenty of pressure. He stepped up, helping anchor the Crew's defense for the first two months of the season.
The road since hasn't always been easy and Crognale has admittedly had his rookie moments in the weeks since his MLS debut, but the positives and negatives so far have taught him one thing: he's ready.
Crognale has started six matches and appeared in four more for the Crew this season, helping lead the club past a wave of early-season injury issues.  He's had his bumps and made his rookie mistakes but, largely, the results have been positive. In the five matches in which Crognale has played 90 minutes, the Crew have allowed just two goals
"Gregg (Berhalter) gave me the confidence that the coaching staff believes in me, that he believes in me," Crognale told SBI. "He pulled me aside before then and said 'look you're ready', so you just mentally prepare. Luckily, I was able to take advantage and had a good game against D.C. and I've gotten a little run of games since then.
"It's been a big learning experience. I've just tried to take it day by day. There have been some good times and some not so good times, but overall I think it's been a smoother transition than I would have expected I think. Having the coaching staff, the support staff at Columbus and the players on the roster to help me through it, it's been awesome."
The road to the Crew was a long one for Crognale but it began just 15 minutes away from the team's home at MAPFRE Stadium. A resident of nearby Gahanna, Ohio, Crognale remembers going to games and seeing the likes of Brian McBride, Frankie Hejduk and Brian Dunseth play for his hometown team. Even as a young kid, Crognale felt a passion for the Crew and hoped to someday play in front of his hometown fans.
That journey took him to Maryland, where he began a college career under Sasho Cirovski. The initial returns were rough. Crognale was benched midway through his freshman season. He wasn't playing to his size or using his 6 foot 5 inch frame. Cirovski wanted Crognale to be a player that could win games in either box with just his physicality, but it wasn't there yet.
By the time his later years in college rolled around, that ability was there, and people took notice. Crognale was recognized as an All-American, Big Ten Defensive Player of the Year, First Team All-Big Ten selection and MAC Hermann Trophy semifinalist in his senior year. He finished with a +84 goal differential during his time with the Terps while becoming one of the biggest difference-makers in college soccer.
His heading ability, on both ends, made him a weapon. In his senior year, he scored six goals, five of which were game-winners. He prevented countless others on the opposite end of the field. When his college career was finished, he had developed into what Cirovski called "a big-time centerback".
"He became more committed to the defending part of being a centerback," Cirovski told SBI. "I've seen this paradigm to being a great centerback that can play out of the back to being a centerback who valued defending and took more pride in his defending. He did that. He became more humble and disciplined in his approach. He had fewer fouls his senior year than his junior year and he started to win balls with his mind and by reading the game and with technique rather than just pure physical attributes.
"He learned the fine art of defending and he learned to develop a special quality with his heading. It was good. He's a guy that really became the best centerback in the country last year."
During Crognale's time at Maryland, Cirovski always pointed to another former Terp, Omar Gonzalez. Crognale and Gonzalez were both big guys that developed into dominant centerbacks during their time at Maryland. Cirovski drilled into Crognale the steps that Gonzalez took during his time in school and in the years since, hoping that the defender would follow that path. That road has led Gonzalez to a World Cup and a spot as a U.S. Men's National Team regular.
It's lofty expectations for a rookie, and Crognale knows he isn't quite ready yet. He's been successful in spurts so far, sure, but there's still much more to prove.
His role during his time in the lineup was one perfectly constructed to fit his game. In the Crew's three-at-the back system, Crognale operated as an ideal centerpiece. With his two partners doing the work out wide, Crognale stays central and swats away cross after cross. It takes advantage of his strengths while masking some of his weaknesses as a still-evolving defender.
Right now, though, Crognale's focus is getting back into the lineup. After suffering an injury in a 2-0 loss to the New York Red Bulls on April 22, Crognale has largely been used as a late-game sub. He's started just one match since, as Jonathan Mensah and Nicolai Naess have staked their claim as starters.
"It's always tough when you're not playing consistently," Crognale said. "As a rookie, I understand that it's cliche but you have to trust the process. I know my time will come and now my job is to prepare myself so that when Gregg does need me, I'm ready to perform. Whether that's this weekend or in three weeks, I just need to work everyday and prepare for when my number is called."
He expects to be ready when the time comes. Crognale's initial MLS impressions have left him confident, even if he knows he still faces a harsh learning curve. The professional game can be tough on young defenders, and Crognale knows it.
Throughout the busy summer, there will be moments where the Crew will look to rely on their young defender. There will be moments where he's tested against top-level opposition, and there will be moments where he will fail. It's all a part of that process, Crognale says, as he looks to make a real impression for his hometown team.
"I want to keep growing as a player,"he said. "I don't want to be a rookie that just played a little bit in their first season. I want to be a rookie that makes an impact in the league right away. I want to be someone people look to and say 'that guy might be something special'. It's something I'm continuing to work on. We'll see.
"As a team, we've been up and down to start the season but hopefully we can find some consistent form and go to the playoffs and make a run at that, but individually I just want to play at my highest potential so we'll see what that entails."