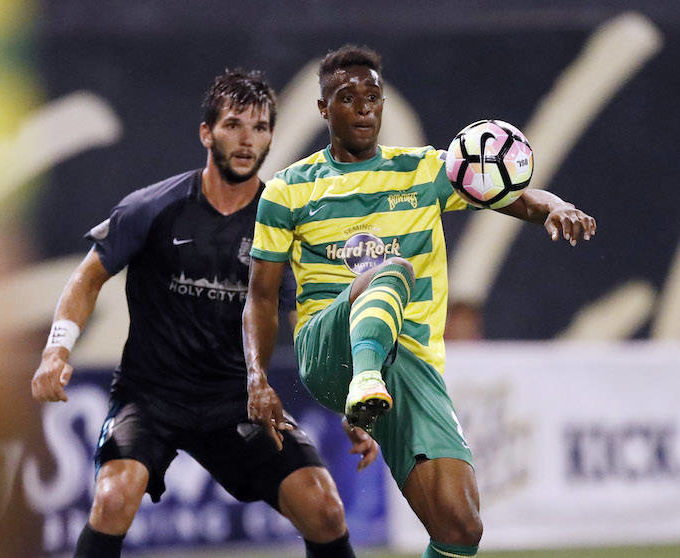 D.C. United are on the brink of improving their options at striker, with reports indicating that they are on the verge of signing Deshorn Brown from the Tampa Bay Rowdies. The forward has scored three goals in 14 appearances for the Rowdies this season after joining them from Shenzhen in China.
Brown has been in D.C. training with the team since Monday and, as long as the terms for the transfer are finalized in time, Brown would be available for selection in D.C.'s match-up with the Philadelphia Union on Saturday. D.C. United general manager Dave Kasper declined to comment on Brown directly but did state that D.C. United and Tampa have, "discussed some player options, whether on loan or permanent."(REPORT)
Reports also state that D.C. will trade allocation money, an international slot for the 2018-19 season, and their current number nine spot in the allocation order to make a deal for Brown. Brown would replace Alhaji Kamara, who's future with the team is uncertain.(REPORT)
QUAKES NEARING DEAL FOR VALERI QAZAISHVILI
The San Jose Earthquakes are closing in on a Designated Player deal for Georgian midfielder Valeri Qazaishvili. The attacking midfielder is under contract with Vitesse, but spent last season on loan with Legia Warsaw in Poland. The Quakes reportedly want the deal done in time for Quazaishvili to join the team when the Secondary Transfer Window opens on July 10th.
In his six seasons with Vitesse, Quazaishvili has made 122 appearances in all competitions scoring 28 goals. Adding Quazaishvili into the fold would give San Jose the creator that they have been craving. It has been a target for Jesse Fioranelli since his hiring and the search seems to be over. (REPORT)
WILLIAMS CHARGES STAYED, ENTERS MLS S.A.B.H. PROGRAM
A stay has been issued for the charges against Vancouver Whitecaps fullback Sheanon Williams in his connection to an alleged domestic incident. The stay means that the prosecution will not pursue the charges, but they can be pursued within the next year. Williams was arrested Thursday morning in connection with the incident and missed the Whitecaps' draw against FC Dallas.
Williams will voluntarily enter MLS' Substance Abuse and Behavioral Health Program where he will be assessed by program doctors. Until those doctors clear Williams, he will not be eligible for competitions or team activities. MLS will also continue its independent investigation into this incident.
ONALFO: GALAXY WILL BE SHORTHANDED AGAINST RAPIDS, SPORTING KANSAS CITY
On Wednesday night, the LA Galaxy may again find themselves shorthanded according to head coach Curt Onalfo. Daniel Steres will likely still be out with a hamstring injury while Jermaine Jones is confirmed to be out with an MCL sprain. Both could be in the mix to return near the end of next week. Bradley Diallo will also be out with a hamstring issue for the next few weeks.
Jelle Van Damme and Gyasi Zardes will be fully back in the fold, but the missing players will be tough for the Galaxy to deal with. The Galaxy will play the Colorado Rapids on Wednesday and Sporting Kansas City on Saturday. (REPORT)