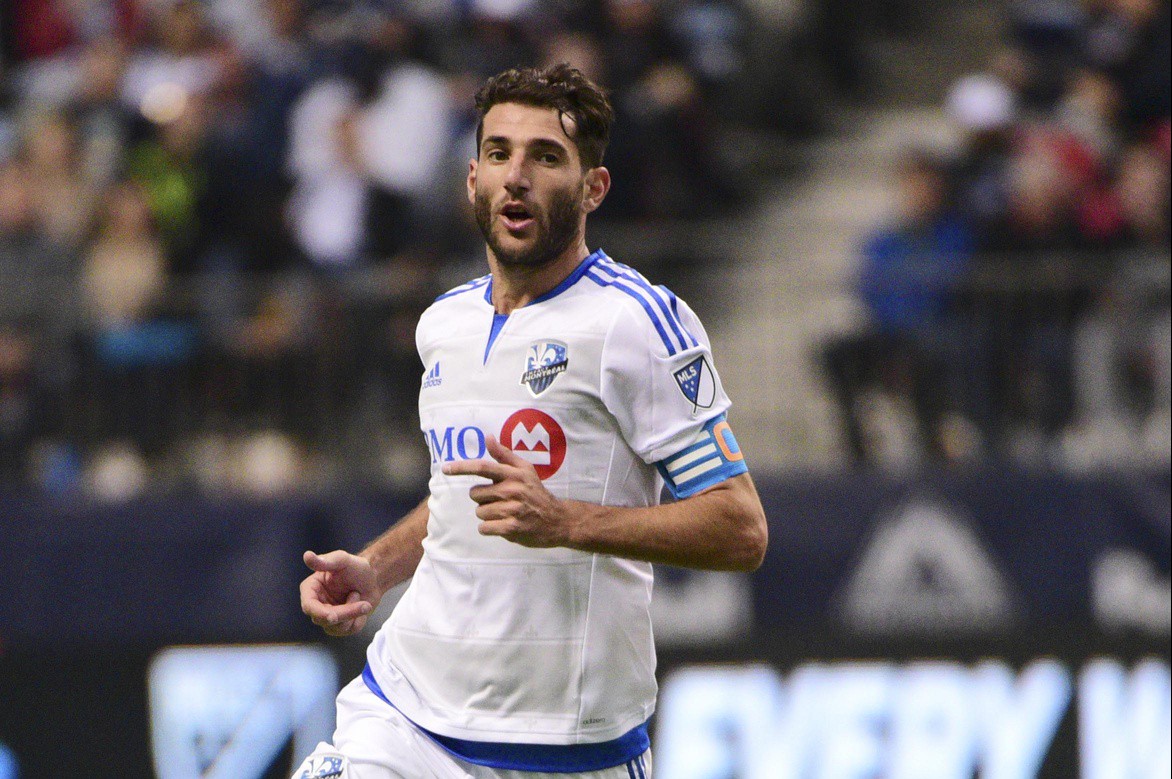 Bad news for the Montreal Impact, as they'll need to figure out how to pull themselves back into playoff contention without their star DP for a few weeks.
Star midfielder Ignacio Piatti is set to miss several weeks due to an adductor muscle injury, reports TVA Sports. Piatti, who missed training on Thursday, will undergo an MRI on Friday to evaluate the extent of the damage.
GRELLA TO MISS REST OF SEASON FOR RED BULLS
New York Red Bulls midfielder Mike Grella has missed significant game time this season due to injury. Unfortunately, his recent prognosis was negative rather than positive.
Grella is set to be shut down for the remainder of the season as he will undergo knee surgery next week, the team announced. Grella's knee has been causing him pain all season long, but was attempting to avoid surgery by seeking treatment in March that forced him to miss all of April's matches. He's made eight appearances this year.
SPORTING KANSAS CITY SIGN SPANISH MIDFIELDER LOBATO
Sporting Kansas City sit atop the Western Conference, and they're making moves to try and keep it that way.
The team announced the signing of 28-year-old Spanish midfielder Cristian Lobato from Spanish side Gimnastic de Tarragona. The move will complete when the secondary transfer window opens on July 10th, and the team has waived 22-year-old right back loanee Igor Juliao to make room for the transaction. The former La Masia product has spent the past two years with Gimnastic in the Segunda Division, where he had made 49 appearances.
BEITASHOUR HAS ABDOMINAL INJURY SCARE
A bit of scary injury news came to a thankfully positive conclusion for Toronto FC on Thursday night.
Defender Steven Beitashour sustained an abdominal injury during Tuesday's match against the Montreal Impact that damaged his pancreas. The team announced on Thursday that Beitashour underwent surgery Wednesday night and is now in stable condition. His timetable for a return remains to be determined.
RED BULLS SIGN ROBLES, FELIPE TO NEW DEALS
The New York Red Bulls, in the midst of a so-far less than satisfactory season, are making moves to ensure their core players remain present to turn things around.
The team announced new deals for long-time, iron man goalkeeper Luis Robles, as well as midfielder Felipe. Details of the deals were not disclosed, though both are confirmed to be for multiple seasons. Robles has started every league match for the Red Bulls since he signed in the Fall of 2012, totaling 157 consecutive stars in MLS. The 26 year old Felipe has missed just one regular season match since his trade from the Montreal Impact prior to the 2015 season.
DETROIT MLS BID PROPOSES NEW STADIUM DEAL
Though the bid for an MLS team in Detroit has run into issues acquiring stadium land, the ownership group is not yet giving up.
Lead investor Dan Gilbert's Rock Ventures LLC has proposed a new deal for the building of a jail site to replace the half-built Gratiot Avenue site, freeing that land for stadium use, reports Crain's Detroit Business. The deal would cost the county an estimated $380 million, more than a competing bid from construction company Walsh Construction, who plans to complete the site for $269 million for 1,608 beds, or $317.6 million for 2,200 beds.