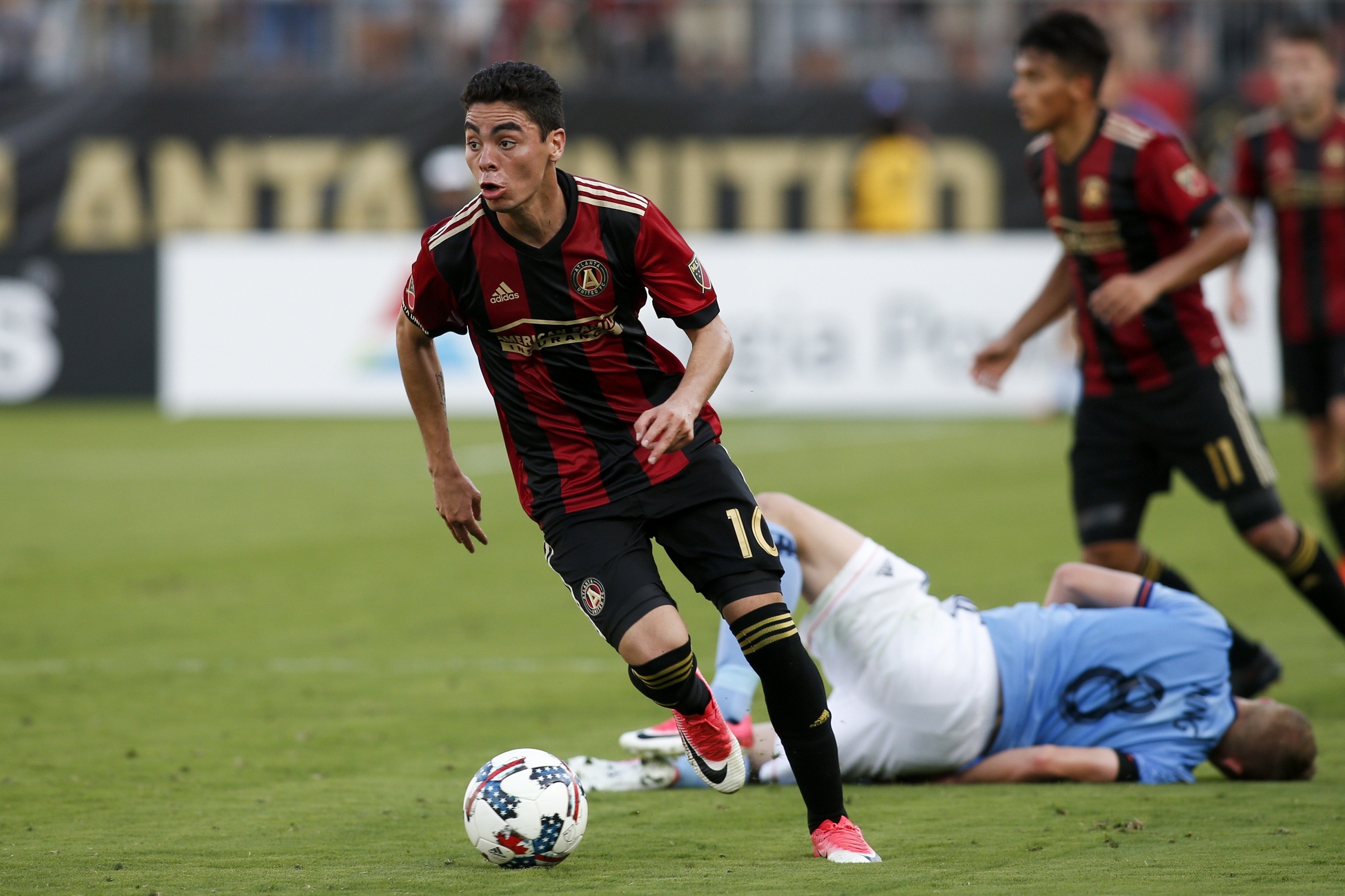 Week 14 doesn't have the appeal last weekend's rivalry-laden schedule had, but there are certainly some intriguing storylines to follow in the final match weekend before the June international break.
Toronto FC and the Seattle Sounders were hurt the most by the early U.S. Men's National Team camp, while the Philadelphia Union and Chicago Fire will also have to replace key figures currently with the USMNT.
TFC has the chance to become the first team to hit 30 points this season, while first place in the Western Conference could change hands again between the Houston Dynamo, Sporting Kansas City and FC Dallas.
Here's a look at each of the games being played across MLS this weekend:
San Jose Earthquakes at Portland Timbers (Friday, 11 p.m. ET, UniMas)
MLS After Dark makes its return to the schedule on Friday night with an intriguing matchup out of the Western Conference. The Earthquakes dismantled the Timbers in the first meeting between the two clubs on May 6. The Quakes are usually solid at home, but they've also won twice on the road in 2017.
To call the Timbers' form miserable is being nice. The Timbers are mired in a big-time slump and they need a home win in the worst way to reverse their fortunes. But despite holding a five-game winless streak, the Timbers are still fifth in the West thanks to their terrific start.
Philadelphia Union at New York City FC (Saturday, 1 p.m. ET, MLS Live)
The Union are hoping their matinee matchup with NYCFC produces a home run after the awful performance at Rio Tinto Stadium a week ago. C.J. Sapong and company can't strike out for a second straight week up top against an improving NYCFC defense. The Union lost Alejandro Bedoya to international duty, but Warren Creavalle is a more than capable replacement.
David Villa scored the goal of the season last time these two teams meeting on a stunner from midfield. Patrick Vieira's men have won three of their last four games against the Union, and they are in need of a rebound performance after conceding a late equalizer to the New England Revolution on Wednesday.
Minnesota United at Sporting Kansas City (Saturday, 5 p.m. ET, ESPN)
Minnesota United delivered one of the shocks of the season on May 7 when they beat Sporting Kansas City at home. The Loons will look to replicate that result on the road on Saturday afternoon in front of a national audience. Saturday starts a busy June for the expansion side, who play four games in 11 days after the international break.
Sporting KC hopes Children's Mercy Park can revitalize their form after shutout losses to the Vancouver Whitecaps and Colorado Rapids in their last two matches. Peter Vermes' club enters Saturday as one of five teams in MLS without a loss at home.
Atlanta United at Vancouver Whitecaps (Saturday, 5:30 p.m. ET, TSN1, MLS Live)
Tata Martino and Atlanta United carry two consecutive wins into their first-ever meeting with the Whitecaps on Saturday. Miguel Almiron is in incredible form, and he isn't the only one starring for Atlanta. The back line has given up one goal in each of their last three matches, allowing the attack to fire on all cylinders.
What seemed to be an easy win last week was taken away by the Whitecaps due to a poor call on a penalty decision and a rough showing all around. Defending Atlanta won't be easy, but one way to slow its attack is to play physical, something Matias Laba and Kendall Waston have no trouble doing.
LA Galaxy at D.C. United (Saturday, 7 p.m. ET, MLS Live)
Few people are talking about the Galaxy's recent form, a consequence of the club's wretched start. What's more impressive is the Galaxy have won their last three games on the road. That number could easily move to four against a D.C. United side that is still in need of a lot of fixing. A win would hand the Galaxy 20 points, a number no one expected them to hit this early after how bad March and April went.
Make no mistake about it, D.C.'s win in Vancouver last Saturday was a fluke. Jose Guillermo Ortiz's dive won the Black and Red a penalty and they followed it up with a rough performance in the rain in Orlando on Wednesday. D.C. ruined its last homestand so there's no guarantee the comforts, if you can call it that, of RFK Stadium will help it on Saturday.
Toronto FC at New England Revolution (Saturday, 7:30 p.m. ET, MLS Live)
Greg Vanney's Toronto FC sits atop the Eastern Conference and Supporters' Shield standings due to a few factors, including strong form and depth. The Reds are 3-1-3 on the road and they haven't slipped up much with Michael Bradley and Jozy Altidore out of the lineup. Look for Victor Vazquez and Tosaint Ricketts to have big games at Gillette Stadium.
The Revs stole a point away from home on Wednesday at Yankee Stadium on a Xavier Kouassi goal that was set up by a perfect Kelyn Rowe cross. The Revs has played Toronto tough on a few occasions in recent years, with a pair of 3-1 wins in two of their last four meetings.
New York Red Bulls at Montreal Impact (Saturday, 7:30 p.m. ET, MLS Live)
One has to assume Red Bulls fans have two hands inching away from the panic button after a win over the Revs last week, but they could easily go back to hovering around the panic button if they lose to the Impact. Jesse Marsch's men only have two games before the first New York derby of the year, a match they need to be in tip-top shape for.
A big six-game stretch in June and early July could decide where the Impact stand in 2017. Currently, we have no idea which Impact team will show up week in and week out. Mauro Biello's men defeated the Timbers, 4-1, two weeks ago in their last league game and are coming off a win in the Canadian Championship over the Whitecaps on Tuesday.
Real Salt Lake at FC Dallas (Saturday, 8 p.m. ET, MLS Live)
Mike Petke doesn't seem the guy who likes excuses, but Real Salt Lake have a few excuses to explain how awful they've played in recent weeks. The Claret and Cobalt spoiled a nice win over the Union with a dreadful performance in the first part of their Texas swing in Houston. However, there is some good news as Joao Plata broke out of his slump in the victory over the Union.
A win would be a welcome result for an FC Dallas side that is winless in four and is about to embark on a three-game road trip. The last win for the defending Supporters' Shield winners came on May 6 in Utah against RSL. With RSL depleted due to international duty and injuries and on a short week, FC Dallas should clean up and earn three points.
Columbus Crew at Colorado Rapids (Saturday, 9 p.m. ET, MLS Live)
The Crew play their league-high 16th game of the season at Dick's Sporting Goods Park on Saturday night. Gregg Berhalter's men will be on short rest after a demolishing of the Sounders at home on Wednesday, but the altitude and lack of rest could produce at least a rough start for the Crew.
The Rapids continued a trend of 1-0 victories that dominated 2016 last week with its second victory of that type on 2017 over Sporting Kansas City. The Rapids haven't won at home against the Crew since 2012 and are looking for their first victory over the Crew since 2013. A 1-1 draw in Columbus was the result of their meeting in 2016.
Chicago Fire at Orlando City (Sunday, 7:30 p.m. ET, Fox Sports 1)
You'll have plenty of time to sleep after the U.S. U-20s play early Sunday morning catching the rest of the MLS weekend, as the Bastian Schweinsteiger and Nemanja Nikolic show rolls into central Florida. Schweinsteiger has obviously received a ton of attention since his arrival, but Nikolic is the real player to watch on Sunday. The Golden Boot leader has been everything the Fire wanted in a target forward and then some.
You already know who Orlando's player to watch is: Cyle Larin, who netted a goal in the 2-0 win over D.C. United on Wednesday. The midweek victory was a welcome sight for the Lions after dredging through a six-game winless run.
Houston Dynamo at Seattle Sounders (Sunday, 10 p.m. ET, MLS Live)
We get a double dose of MLS After Dark to close out the weekend on Sunday with a late night kickoff in the Pacific Northwest. The Dynamo is only good at home and, until the team actually shows life on the road, the only way it can contend is to win every home game and earn the No. 1 seed in the Western Conference.
A big win  is the best-case scenario for the Sounders who themselves were run out of Columbus with tread marks all over them on Wednesday. The Sounders are 5-0-2 all-time at home against the Dynamo, but they haven't beaten them since April 4, 2015.