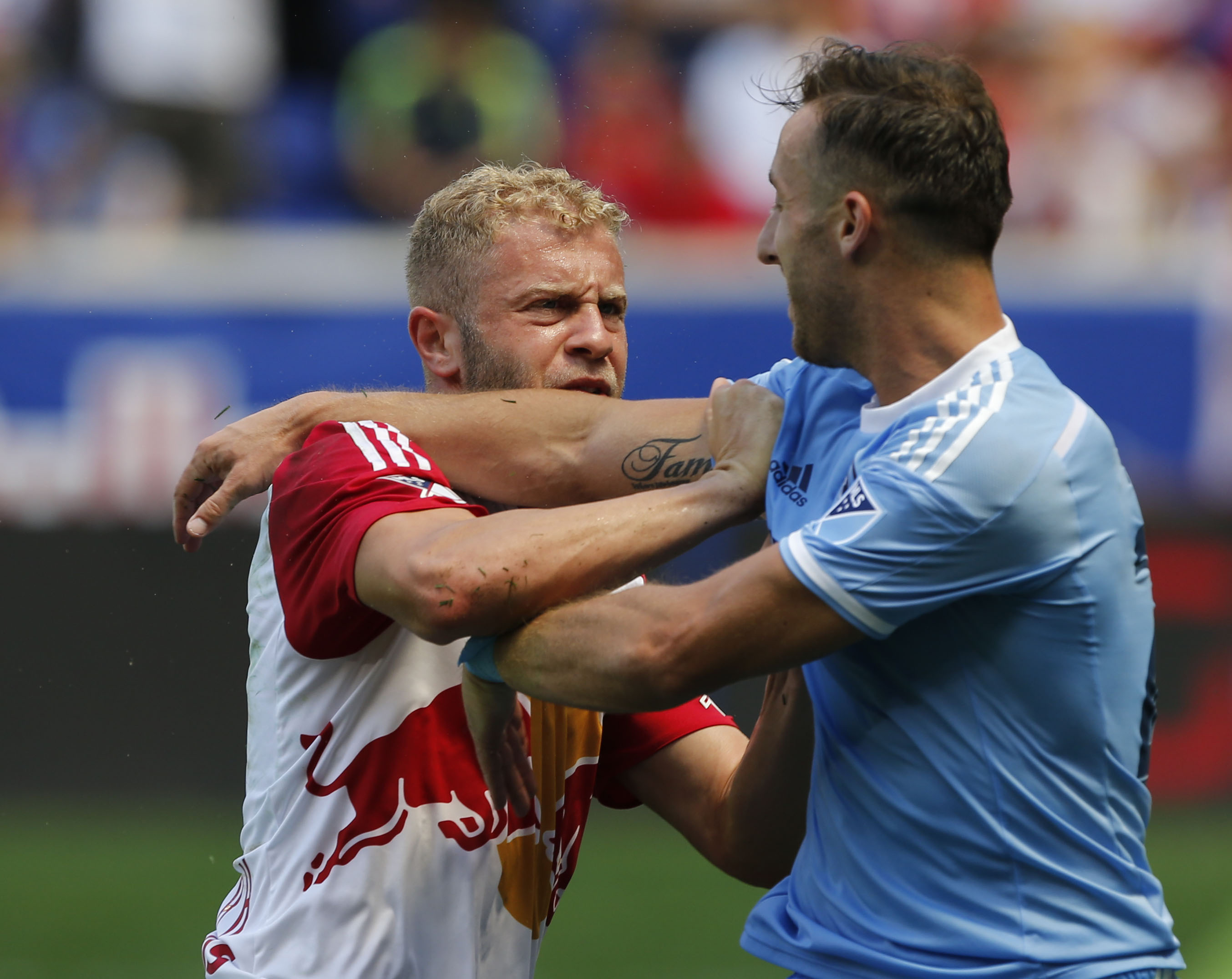 It's Rivalry Week in MLS, and Week 17 features some fascinating matches between opponents that love to hate each other.
The weekend kicks off on Friday night with a pair of matches. First, Toronto FC take on the team that ended their 8-match unbeaten run two weeks ago, the New England Revolution. TFC enters the match on a short week, having faced the Montreal Impact in leg one of the Canadian Championship final on Wednesday, while the Revs are fully rested.
Afterwards, the first derby of the weekend kicks off in Texas as the Houston Dynamo welcome FC Dallas. With each team level on points, three behind Western Conference leaders Sporting Kansas City, the match holds great weight as we hit the midway point of the season.
Saturday features a slew of matches, but none as intriguing as the one that kicks it off. The New York Red Bulls welcome New York City FC to Red Bull Arena, just 10 days after defeating their local rivals in the U.S. Open Cup. While the rivalry has been laughably one-sided to this point, it hasn't stopped both sides from developing some bad blood, and NYCFC will try and make this the year that things turn around as they seek their first win in RBA.
Sunday has just a single match, but it remains arguably the most exciting matchup in MLS. The Portland Timbers and Seattle Sounders will avoid the afternoon heat, as the league moved their match to a 10 p.m. kickoff, but there will be plenty of heat on the field between these Cascadian competitors. The Timbers have been strong at home, and the Sounders weak away, but nuances like that tend to go out the window when these two clash.
Here's a look at the full Week 17 schedule:
TORONTO FC VS. NEW ENGLAND REVOLUTION (FRIDAY, 8 P.M., TSN/MLS LIVE)
Toronto FC, still coasting along at the top of the Eastern Conference, will nonetheless be seeking a measure of revenge against their northeastern foes. Just two weeks ago, the Revs demolished TFC's 8-match unbeaten run in a comprehensive 3-0 victory. Toronto bounced right back to winning ways with a 2-0 result over D.C. United, but they'd surely love to get their unbeaten streak going again in a grudge match against the Revs.
The Revs are coming off their first loss at home to the team chasing Toronto in the standings, the Chicago Fire. But a more pressing issue for the Revs than recent form is their lack of a single road victory this season. While they've managed a draw three times away from home this year, they'll need to channel some of that performance from two weeks back to find a win at BMO Field, and potentially thrust themselves into playoff position.
HOUSTON DYNAMO VS. FC DALLAS (FRIDAY, 9 P.M., UNIMAS/FACEBOOK)
In the first rivalry match of the week, the Dynamo return to the home that they love when they take on FC Dallas at BBVA Compass Stadium. The Dynamo remain unbeaten in Houston this year, with a stunning 7-0-1 record equaling the Fire for the best in the league. Though this rivalry has been one sided in the other direction in recent years, this is a different Dynamo team, and they'll aim for three points after a draw against their Texan rivals earlier in the year.
FC Dallas, meanwhile, has slowed down after their blazing 9-match unbeaten run to open the season. They've only won one of their last seven matches, and now they travel to a Dynamo team that has made their home a fortress. While FCD has struggled overall, their road record of 2-2-3 shows they can win away from home.
NEW YORK RED BULLS VS. NEW YORK CITY FC (SATURDAY, 1:30 P.M., FOX)
Saturday kicks off with one of the most heated rivalries league-wide. The New York Red Bulls defeated New York City FC just 10 days ago in the U.S. Open Cup, and they'll aim to keep their cross-river rivals underfoot by continuing their dominance in matches between the two. While the USOC's close 1-0 affair was arguably the best NYCFC has played in Red Bull Arena, the Red Bulls will seek to stamp out any hopes growing in the blue team's camp.
NYCFC battled valiantly in their USOC loss, and now Patrick Vieira and company will need to come back with a vengeance as they seek their first ever win in RBA. Leading their sort-of in-state rivals in the Eastern Conference standings, NYCFC can widen the four point gap to a seven point valley with a victory on Saturday afternoon, as they continue their chase of the Fire and TFC atop the East.
ATLANTA UNITED VS. COLORADO RAPIDS (SATURDAY, 7 P.M., MLS LIVE)
But who can overlook the vaunted rivalry between Atlanta United and the Colorado Rapids? In all seriousness, Atlanta United will be seeking to establish some consistency in their play when they take on the Rapids this weekend. Atlanta has won just one of their last four, and lost to lowly D.C. United in midweek action on Wednesday. Such has been the story for Atlanta, which hasn't won, lost, or drawn more than two straight at any point this year. Consistency is what any team strives for, and Atlanta will hope to find it as we hit the midway point of their first season.
The Rapids have been more consistent this year, unfortunately in hot and cold streaks, with a bit more cold this season so far. After losing seven of eight, the Rapids reeled off three straight wins in recent weeks, finally put to a halt by the Galaxy on Wednesday night. Though 2017 hasn't been the year the Rapids have hoped to this point, a win would make four in their last five as we enter the second half of the season, and could spark the turnaround that Pablo Mastroeni's men have been striving for.
PHILADELPHIA UNION VS. D.C. UNITED (SATURDAY, 7 P.M., MLS LIVE)
When the Union and D.C. United meet on Saturday, it won't be a vaunted, top-of-the-East clash, but a meeting between two of the three worst teams in the Conference. The Union have had strange runs this year, with their season reading like so: two draws, four losses, two draws, four wins, three losses, in that order. They'll view D.C. United as a chance to snap their latest cold spell, and with three of their four wins this year at home, this weekend is as good a time as any to do it.
D.C. United enters the match as inconsistency incarnate. Their last five have been a palindrome of middling results: W-L-D-L-W. But at least they managed to score twice in their most recent match, a victory over Atlanta United, a feat they haven't accomplished since their last match at Atlanta on April 30th. They face a Union team that is riding a three-match losing streak, and DCU has had some success away from home. They'll have their work cut out for them in keeping their anemic offense going, but they'll need to do so in order to avoid a regression to losing ways.
COLUMBUS CREW VS. MONTREAL IMPACT (SATURDAY, 7:30 P.M., TVAS/MLS LIVE)
The Columbus Crew have already hit their midway point of the year, and through 17 matches find themselves in playoff position. They'll aim to keep it that way against the Montreal Impact, who sit just four points below them in the Eastern Conference standings. The Crew enter on the back of two road losses, to Atlanta and Colorado, and have won just once in their last five. But a return home is welcome, as the aim to return to winning form at MAPFRE Stadium, where they hold a 5-2-1 record.
The Impact dwell in the Eastern Conference basement with the Union and D.C. United, yet they sit only four points away from playoff position and have three matches in hand over the Crew in the sixth spot. They haven't lost in their last four, and a win on Saturday, while not getting them above the red line, will immediately thrust them back into the playoff conversation. They enter on the back of a 1-1 draw with Toronto FC in midweek play.
MINNESOTA UNITED VS. VANCOUVER WHITECAPS (SATURDAY, 8 P.M., TSN/MLS LIVE)
Minnesota United, far from being the worst team in the league like the beginning of the season indicated, sit just three points from playoff position. As luck would have it, they play the team currently holding that position, with a chance to earn three points and move level with the Vancouver Whitecaps on Saturday night. Minnesota has won their five matches sporadically between losses and draws this year, but they'll aim to win consecutive matches for the first time ever after their midweek win over the Portland Timbers.
The Whitecaps not only hold the six spot in the East, their 14 matches played leaves them with a 1-3 match advantage over the teams all around them. A win against Minnesota on Saturday would go a long way to further cementing their place and would have the added mental boost of bumping them over .500. They've played well of late, with a 4-2-1 record in their last seven matches, including a draw against FC Dallas above them in the standings a week ago.
CHICAGO FIRE VS. ORLANDO CITY (SATURDAY, 8:30 P.M., MLS LIVE)
The Chicago Fire have doubtless been the turnaround story of the year. Aside from being a single point away from leading the league, the Fire are on a phenomenal 8-match unbeaten run, going 6-0-2 in that span. One of the only two teams to draw them during their run, however, was Orlando City earlier in the month. The Fire will hope for a better performance at home, where they're 7-0-1 on the year, as they take aim at Toronto FC and sole possession of the league lead.
Speaking of streaky. Orlando City followed-up a four match winning streak with a six match unbeaten run, and are now in the midst of another four match unbeaten run. This latest one, though, has a bittersweet taste, as their last three have all been draws. More concerning is the lack of success away from home, where the Lions have won just once this year. It won't be easy at Toyota Park, but they'll need to sort it out.
LA GALAXY VS. SPORTING KANSAS CITY (SATURDAY, 10:30 P.M., MLS LIVE)
The Galaxy have been the enigma of the season. Unfortunately, and that is not a typo, they're playing at home this weekend against Sporting Kansas City. That's bad news for the Galaxy because they've won just once at home in seven tries this season. Typically, a team with that type of home record is near the bottom of the standings, but the Galaxy are in a playoff position. How? Their stunning 5-2-1 away record. Can they find some way to flip their unusual script when they take on Western Conference leaders Sporting KC this weekend? They'll need to in order to keep up their position in the standings.
Sporting KC has almost the exact opposite, standard problem. While unbeaten at home, SKC has just one win away on the season, and that was against Minnesota United back in April. After a scoreless draw in San Jose last weekend against the Quakes, SKC didn't have to travel very far this weekend to reach LA and start preparing for the Galaxy. Whether that increased preparation will lead to better road results remains to be seen, but it can't hurt a team that needs all the help it can get.
SAN JOSE EARTHQUAKES VS. REAL SALT LAKE (SATURDAY, 10:30 P.M., MLS LIVE)
The Quakes are on the precipice of playoff contention, and they hope their new DP signing, Georgian attacking midfielder Valeri 'Vako' Qazaishvili, will be the piece that pushes them over the top. In the meantime, they can help themselves on Saturday by snapping their three-match winless run and seizing three points from Real Salt Lake. After losing and drawing their last two at home, the Quakes need to find winning form at Avaya Stadium or risk falling off the playoff hunt.
Real Salt Lake isn't quite in playoff position, but they're just three points off the red line, which is astounding considering the team is 3-7-0 in their last ten matches. They've been weak in front of goal, with the third-lowest goals scored in the league, and even worse defending it with their 35 allowed second only to Minnesota United. Saturday night will be a chance to seize just their second win on the road this year, and they need to solidify their attack and defense to grab it.
PORTLAND TIMBERS VS. SEATTLE SOUNDERS (SUNDAY, 10 P.M., ESPN2)
Finally, the most anticipated match of the weekend comes along Sunday night. The Portland Timbers have struggled of late, with just two wins in their last nine matches, and have lost two straight, both on the road. The good news is that they've won their last two matches at home, and the winner in their series with the Sounders has been the home team each of the past six clashes between the two.
The Sounders haven't won a road match since mid-April, and aren't in much better form than the Timbers, with just three wins in their last nine. Still, the Sounders sit level with the Whitecaps and Quakes for sixth in the Western Conference, and can pull within one of the Timbers with a win on Sunday. They enter off a bad midweek draw in which they surrendered a last-second goal to Orlando City. Thankfully for them, the Timbers get no extra rest, having lost on Wednesday themselves and will also be missing Sebastian Blanco, who was sent off with a straight red.