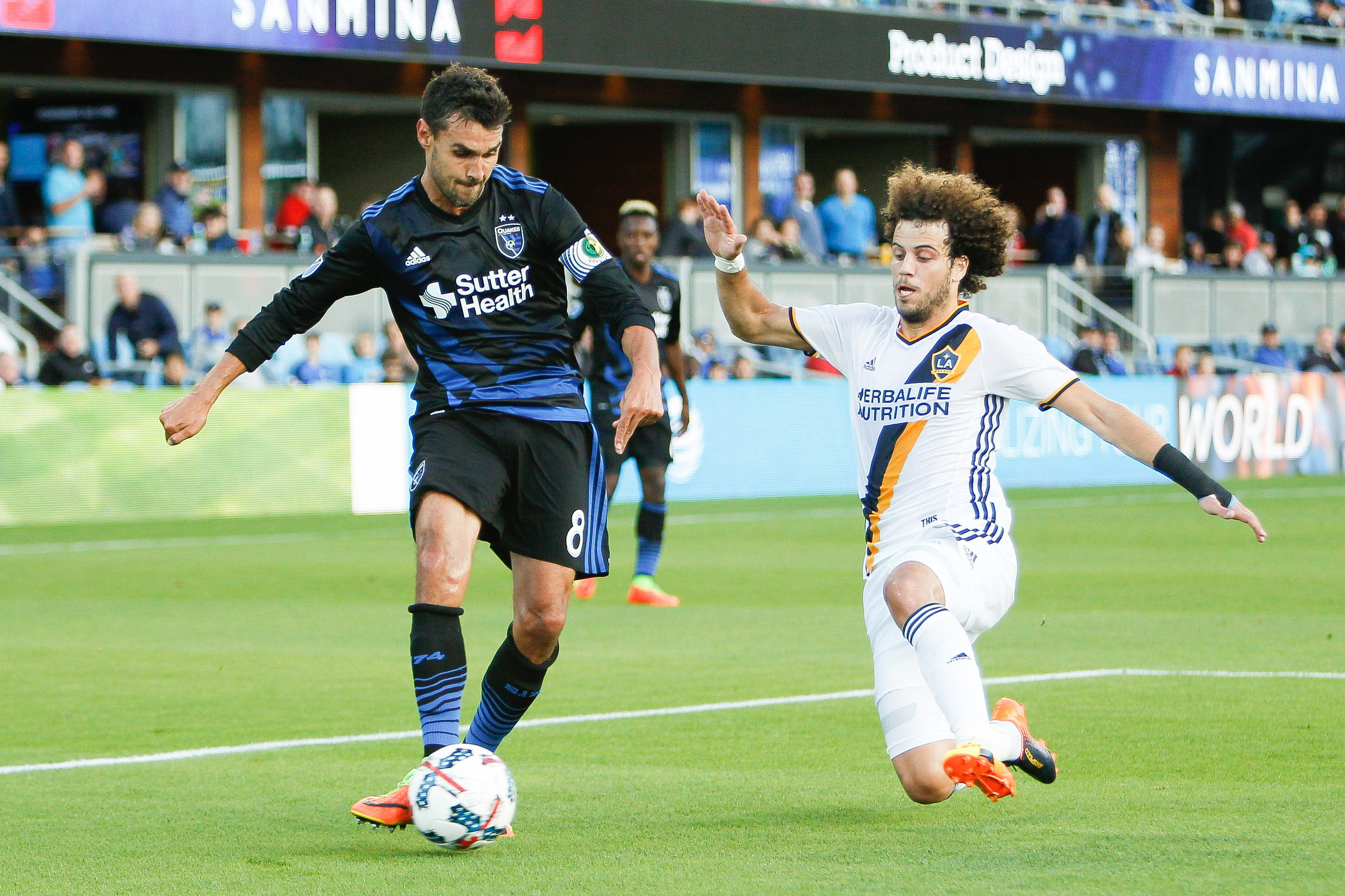 MLS week 17 is upon us and it will certainly be a 4th of July weekend filled with plenty of soccer.
The week kicks off with a pair of weekday matches. New York City FC take on Minnesota United on Thursday night, still riding the high of their 2-0 win over the New York Red Bulls at RBA. The Loons are coming off a solid four point week as well with a win over the Portland Timbers and a draw against the Vancouver Whitecaps. On Friday, Real Salt Lake welcomes Orlando City in a battle of two teams that have struggled of late.
Saturday features a nice slate of seven MLS matches in the evening to go along with a U.S. Men's National Team match in the afternoon. After the friendly against Ghana, four matches kick off at 7 p.m., headlined by a big-time, cross-conference showdown between FC Dallas and Toronto FC, with a side helping of a Western conference clash with Sporting Kansas City hosting the Portland Timbers.
Finally, Sunday sends us off before some July 4th soccer on Tuesday. The Philadelphia Union will take on the New England Revolution in an all-American showdown in the East.
Here's a look at the full weekend schedule:
THURSDAY
NEW YORK CITY FC VS. MINNESOTA UNITED (7:30 P.M., MLS LIVE)
Our holiday weekend begins in New York City. NYCFC enters fresh off the heels of their derby victory, and will have to avoid a trap game against an in-form Minnesota United. Missing Sean Johnson due to Gold Cup duties, it'll be Eirik Johansen in goal for NYCFC for the first time this year. They'll need a win at home to keep pace with the Chicago Fire and Toronto FC in a competitive Eastern Conference.
Minnesota United enter on the back of a four-point week after two matches. With an upset victory against the Portland Timbers and a come-from-behind draw against the Vancouver Whitecaps, the Loons will be feeling good heading into Yankee Stadium. They will be lacking the hero of their win over the Timbers, however, as Abu Danladi will be out with an injury.
FRIDAY
REAL SALT LAKE VS. ORLANDO CITY (9:30 P.M., ESPN)
Real Salt Lake enters Friday's match after a disappointing loss to the San Jose Earthquakes, in which RSL never truly looked like a threat to win the match. With one of the worst attacks and defenses in the league, they'll have their hands full even with a downward-trending Orlando City team. Adding to their difficulties is the potential return of key Lions striker Cyle Larin.
One team's bad news is another's joyous revelation. The return of Larin to the Orlando City lineup could mean the end of the team's four-match winless streak. After getting a point out of their last three matches, the Lions fell last weekend to the Chicago Fire in a brutal 4-0 beatdown. They'll hope their defense decides to show up this weekend.
SATURDAY
CHICAGO FIRE VS. VANCOUVER WHITECAPS (7 P.M., MLS LIVE/TSN1)
The Chicago Fire truly are the story of the year. It isn't just that they extended their unbeaten run to nine matches last weekend, it's the way they did it. Riding David Accam's first ever hat trick for the team, the Fire absolutely dismantled Orlando City en route to a 4-0 victory. They'll shoot for an even ten matches without a loss at home against the Whitecaps.
The Whitecaps, meanwhile, come into the match after two very different draws. After securing a point against FC Dallas via Christian Techera's wonderous free kick goal, the Whitecaps found themselves on the less-than-pleased side of a draw last weekend, surrendering a 2-0 lead to Minnesota United. They face a tall task in taking down the rampaging Fire, though perhaps they'll have been cooled off by their Open Cup loss to FC Cincinnati a few days earlier.
FC DALLAS VS. TORONTO FC (7 P.M., MLS LIVE/TSN4)
FC Dallas has really hit a slag in this middle part of the season. After starting out with nine straight unbeaten, FCD has managed to win just once in their last eight matches, and have struggled in their last three on the road. Perhaps a return home will sort out their issues, as the last time they played in Toyota Stadium, they defeated Real Salt Lake, 6-2.
Toronto FC is the lone reason the Chicago Fire aren't running away with the Eastern Conference. Despite a loss to the Revs and draw against the Red Bulls, TFC has won every other match in their last 11 played, a 9-1-1 record over that span. While FC Dallas has been struggling of late, they're more than capable of halting Toronto's run if they slack off, and Giovinco and company will need to keep their strong play going to seize three points.
SPORTING KANSAS CITY VS. PORTLAND TIMBERS (7 P.M., ESPN)
Sporting Kansas City, unbeaten in their last four, enter on the heels of a 2-1 win over the LA Galaxy on the road. Still firmly holding their ground atop the Western Conference, Sporting KC will try to take advantage of the Portland Timbers' recent struggles to further solidify their advantage. They'll need to do so without star striker Dom Dwyer, however, as he's been called up for USMNT duty.
The Timbers haven't managed to find a win in their last three matches, and even worse, the lone draw they managed in that span came because of a late Clint Dempsey equalizer in their match against the Seattle Sounders last weekend. The Timbers have struggled again on the road this season, though thankfully not as badly as last season's winless effort, and will have a tough time in Sporting Park, where the hosts have yet to lose.
MONTREAL IMPACT VS. D.C. UNITED (7 P.M., MLS LIVE/TVAS)
The Montreal Impact, currently sitting dead last in the Eastern Conference, have a chance to force themselves out of the basement as they take on the team directly above them. Level with D.C. United on points, a win could catapult the Impact as high as eighth in the Eastern Conference. They'll need to sort out some problems to do so, as they've gone winless in their last three and were walloped by the Columbus Crew last weekend.
D.C. United, meanwhile, sort of figured out their scoring issue last week, but then fell right back to their offensive woes. From their two wins on May 27th and June 21st, DCU has scored just three goals in nine matches since late April, entering the last match before July. Something needs to change in the DCU attack, and they'll try to make that happen this weekend in Canada.
COLUMBUS CREW VS. ATLANTA UNITED (7:30 P.M., MLS LIVE)
The Columbus Crew enter on the high of their 4-1 demolition job over the Montreal Impact last weekend. The Crew are sitting in good position at fifth in the Eastern Conference, but remain within reach of the teams directly below them, including Atlanta United. A win would go a long way to separating themselves from the pack, and perhaps overtaking Orlando City for fourth.
Atlanta United will be trying to ensure the opposite happens for the Crew. Sitting a point behind their opponents, and with a match in hand, Atlanta can further secure their own playoff hopes with a big road win this weekend. Though they've struggled so far, their 2-5-3 record away from home shows that it is possible for them to steal all three points.
COLORADO RAPIDS VS. HOUSTON DYNAMO (9 P.M., MLS LIVE)
Despite their recent winning streak, the Colorado Rapids remain a team in disarray. Their three match streak was put to a grinding halt last week, as they lost both their midweek match against the Galaxy, as well as their weekend contest against Atlanta United. The double losses dropped them back to dead last in the league, though perhaps they can turn things around against a Dynamo team that's winless on the road.
The Dynamo enter on a draw in the Texas Derby, one that solidified their place alongside FC Dallas near the top of the Western Conference. Though the Dynamo have built a strong position on the back of their unbeaten home record, they're held down by a zero in the win column on the road. The Rapids are a prime opponent on whom to snap that sort of mark, but they can expect a tough time in Colorado.
SAN JOSE EARTHQUAKES VS. LA GALAXY (10:30 P.M., UNIVISON/FACEBOOK)
The Cali Clasico comes down on Saturday night via Univision and Facebook Live. The San Jose Earthquakes, despite winning 2-1 last weekend, parted ways with long-time coach Dominic Kinnear, and Saturday's SoCal rivalry match will be the first in charge for Chris Leitch. Leitch inherits a Quakes team that has been frustratingly inconsistent, but that sit within a playoff spot out West. They can secure that spot, one ahead of the Galaxy, with a win at home on Saturday night.
The Galaxy continue to have a completely backwards season. A win on the road and loss at home last week kept a baffling record alive, and they'll hope it stays that way for one more week at least on the road against the Quakes. Sitting just a point behind their local rivals, with a match in hand, the Galaxy can really secure themselves in the playoff hunt with a few teams hot on their trail.
SUNDAY
PHILADELPHIA UNION VS. NEW ENGLAND REVOLUTION (5 P.M., FOX SPORTS 1)
The Philadelphia Union and New England Revolution do battle this Sunday to celebrate the upcoming holiday. The Union enter on a shutout victory over D.C. United that pulled them from dead last to ninth in the Eastern Conference, and astoundingly just five points, with a match in hand, away from a playoff spot. With a solid 4-3-2 home record, the Union will hope to hold off the Revs on Sunday for another three points as they aim to move further up the standings.
The Revs  sit just a point above the Union with one more match played, and will need to escape Philadelphia with something in order to avoid being leapfrogged. The challenge is a steep one for the Revs, however, as they have struggled mightily on the road, going winless so far this year and managing just three points through nine matches. They'll hope this is the one that turns that around to celebrate the holiday in style.