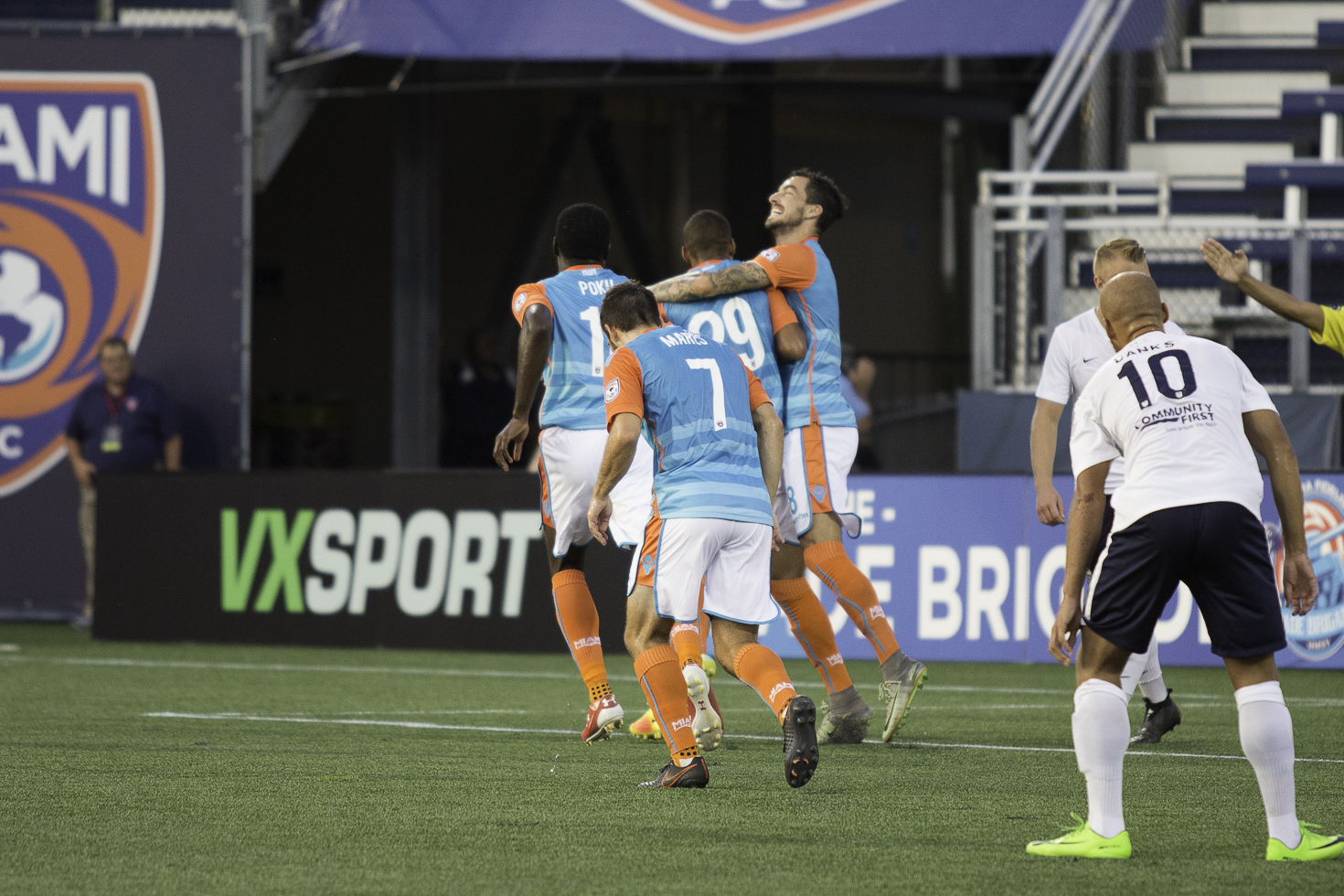 Week 12 held a lot of significance for many teams in the NASL, as 13 goals were scored throughout four matches, causing shifts in second, third, and fourth place in the league table. The league also saw a shift in the league's leading goal scorer and assist tallies. 
On Friday, the New York Cosmos completed a comeback home victory over Puerto Rico FC, catapulting the side to fourth in the league table. On Saturday, Indy Eleven secured their first win of the season against North Carolina FC while Miami FC beat Jacksonville Armada FC at home in seemingly easy fashion. Finally, the San Francisco Deltas finished the weekend in second place on the league table with a professional 1-0 win over FC Edmonton. 
Here's a closer look at the action from Week 12:
NEW YORK COSMOS 4-2 PUERTO RICO FC 
Friday night was rough for Puerto Rico FC, as they saw a 2-1 halftime lead quickly turn into a 4-2 win for the New York Cosmos. Puerto Rico's defense has plagued them all season as defensive lapses, poor marking on set pieces, and poor positioning have all led to fortunate goals for the opposition. The Cosmos were able to take advantage of this mistakes on Friday night as they jumped to third in the league table.
Puerto Rico now sits in last place in the league after registering their first win a few weeks ago.The win was meant to turn their season around, provide them with confidence and start their ascent up the table – it turns out their win might have just been a fluke. Their performance against the Cosmos was pretty bad, and even though they were away from home, 35% possession and 223 passes to the Cosmos' 414 is not good. An 81st minute red card to  fullback Rudy Dawson encapsulated the night's performance, and Puerto Rico will be hoping to do better next week against Jacksonville Armada FC.
The Cosmos have steadily been a very good team this season, consistently getting results and being hard to beat on the road or at home. On Saturday night the team showed grit, scoring their second-half  goals to give the team its fifth win of the season. Only behind the San Francisco Deltas on goal differential, the Cosmos will surely have confidence as they travel to Miami to face Miami FC next weekend. 
INDY ELEVEN 2-0 NORTH CAROLINA FC
North Carolina FC has been slipping recently, only securing one point in their last four games, and Indy Eleven took advantage of this on Saturday night at home as they fought to a 2-0 win, their first of the season. The win also shot them to sixth in the table, right below North Carolina FC, who will now be feeling some pressure to accrue results as they continue to fall. 
Lance Laing has been great for North Carolina, scoring five goals and assisting on three through twelve games. The problem, however, is that, outside of Laing, there has been a severe lack of quality in the attack and defense. North Carolina is in the middle of the table with respect to goals scored and goals conceded, so their losses have come from simply not being good enough. That is a difficult problem to fix, and they will do well to try and fix it before they face Indy Eleven again, this time at home, next weekend. 
Indy Eleven, meanwhile, won its first league match this season. Coming a couple matches after Puerto Rico FC got their first win, Indy will hope to see this result snowball into a better second part of the season, and not let this momentum dissipate like Puerto Rico. Forward Justin Braun is no doubt a big reason for their win, and their relative success this season – his continue presence in the attack will also be integral to their future this season. Indy has potential, but they'll need to fight extremely hard to reach it this season.
MIAMI FC 4-0 JACKSONVILLE ARMADA FC
On Saturday night Miami FC and the Jacksonville Armada faced off for the second time in three weeks – both times they played against each other were top of the table clashes. While the first result, a 1-0 win for Miami two weeks ago, was a close affair, Miami thrashed the Armada Saturday evening to a 4-0 result. Miami now sits seven points clear in first place, and their league dominance does not seem to be stopping any time soon.
If there is one player's name that must be mentioned when talking about Miami's success this season, it is Vincenzo Rennella. In Saturday night's game, Rennella registered two goals and an assist, while generally being a dangerous presence on the field. Rennella is now the lone top goal scorer in the league (7) and he is the league assist leader as well (4) through 12 games. His U.S. Open Cup form has also been exquisite. As long as he keeps producing at a similar rate, Miami will continue to see great success in the league and across division two. 
This was a tough set of results for the Armada, as they saw themselves slip from second to fourth place in the span of a weekend, demonstrating how close the league race is this season. Before this match, the Armada sat in second for goals conceded this season, and generally their defense hasn't been a huge issue while scoring has been. The Armada should be able to bounce back from this result as they face off against bottom of the table Puerto Rico FC next Sunday. 
SAN FRANCISCO DELTAS 1-0 FC EDMONTON
For the last game of Saturday night, the San Francisco Deltas hosted FC Edmonton. The game was fairly even as possession was split 51% to the Deltas and 49% to the Eddies, and the passing was split 263 and 249 respectively as well.
The match was ultimately decided by a penalty kick taken by Devon Sandoval in the 40th minute of the match.
Newcomers to the league, the Deltas have definitely impressed. While they have scored the second-fewest goals in the league, the have also conceded the second-fewest number of goals in the league, demonstrating a strong defense and discipline to win low scoring matches. Their win against the Eddies at home was an example of this skill. One of their strengths is that the side does not rely on one player to register assists or goals – each night is a true team performance – and the results are reflecting their fight and determination this season.
The Eddies have been inconsistent this season, but it isn't for a lack of talent. Midfielder Dustin Corea has been excellent this season, scoring and assist on a number of plays for the team, and Sainey Nyassi had a great chance to score early in the match one on one with the keeper, but was not able to finish his chance. Problems come in the defense – a side that has let in seventeen goals this season, good for third best in the league. Playing the Deltas again next weekend, the Eddies will be looking for revenge and hoping they find it at home.