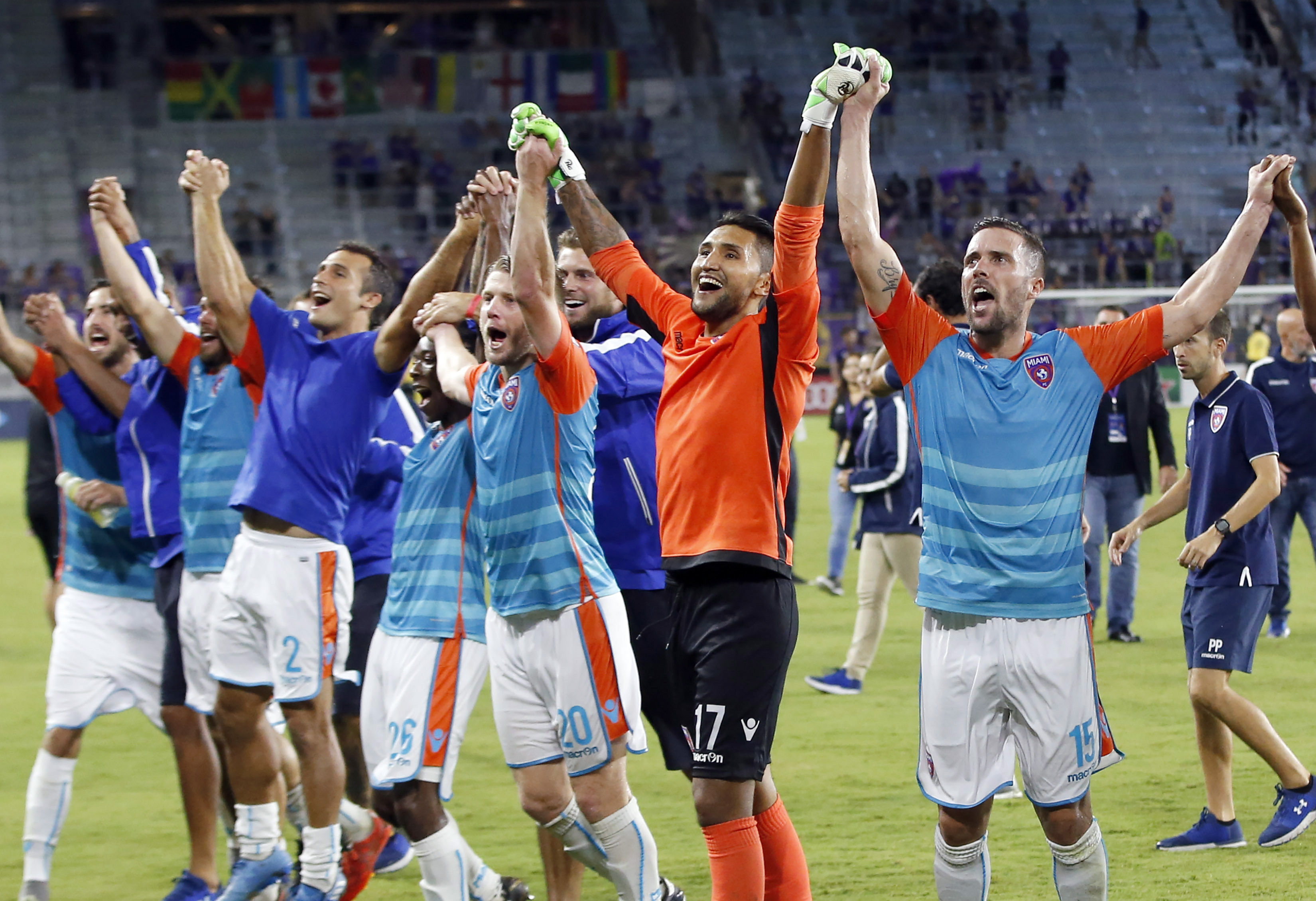 It was a busy week for NASL as the league is gearing up to return to league play this weekend. There were some big wins and some big singings which took place this week, and both of those bode well for the rest of the season.
On Wednesday, Miami FC beat Atlanta United in the Round of 16 of the U.S. Open Cup. The match was a back and forth affair, with Atlanta United and Miami FC trading goals for most of the match and it was also a statement game for the Division 2 side. Finally, in the 93rd minute, Vincenzo Rennella put great pass in the path of a speeding Kwadwo Poku, who finished his chance one-on-one, to give Miami FC the win. 
On Thursday it was announced that the San Francisco Deltas signed Dagoberto, a 34-year-old Brazilian forward who most recently played for Vitoria in the top flight of the Brazilian soccer league. Sitting in second place in the league table, the San Francisco Deltas have been very solid this season, but have struggled in attack scoring the second-fewest goals in the league. The team will be looking for Dagoberto to help bring an end to their goal-scoring woes, so that they can retain their spot in the table and continue their good form.  
In the league, Miami FC are closing in on the Spring Season title, as they sit atop the table with 30 points. At the bottom of the table are Puerto Rico FC, who despite capturing their first season win a few weeks ago, have only accrued 7 points this season.
Here is a closer look at this weekend's fixtures:
FC EDMONTON AT JACKSONVILLE ARMADA FC (SATURDAY, 7:00PM, BEIN SPORTS)
On Saturday night FC Edmonton will travel to Florida to face the Jacksonville Armada away from home. The Armada are still in the title hunt, although just barely, sitting in fourth place in the league table with a game in hand over the three teams above. If the Armada wants to keep their title hopes alive, they will need all three points against the Eddies. To their credit, they have defeated their Canadian opponents twice already this season.
FC Edmonton has been struggling this season, most recently coming off of a home loss at home against the San Francisco Deltas last weekend. A problem for the Eddies this season has been creativity in goal scoring, with Dustin Corea assisting on the most goals this season with three. Goalkeepers Chris Konopka and Nathan Ingham have been good this season, allowing on 18 goals for the Eddies this season. It is the attack that will need to get going however against a strong defensive team in the Armada. 
PUERTO RICO FC AT SAN FRANCISCO DELTAS (SUNDAY, 8:30PM, TWITTER)
Sunday night will see the second-best team in the league play against the second-worst team in the league. The San Francisco Deltas have been great this season, conceding only 10 goals this season and scoring a respectable 14. With their new signing Dagoberto coming into the side, that number is sure to rise. Still undefeated on the road, and very solid at home, the San Francisco Deltas will be a tough task for Puerto Rico on Sunday night.
Puerto Rico FC has struggled this season, and sit in last in the league. They have a good creative suite of players in Jordi Quintilla and Giuseppe Gentile, but their defending has been lackluster. Puerto Rico FC will be looking to sure up some of their defensive lapses, and hold the low-scoring San Francisco Deltas to few goals on the night. If Puerto Rico FC want to turn their season around, this will be an important game to do it in.
INDY ELEVEN AT NEW YORK COSMOS (TUESDAY, 7:30PM, BEIN SPORTS)
A surging Indy Eleven will travel to the Big Apple to play the New York Cosmos on Tuesday evening. The Cosmos are coming off of a tough loss to league leaders Miami FC this past weekend, losing 2-1 to what is arguably the best team in Division 2. The side will be looking to turn their fortunes around, and continue an impressive Spring Season campaign with a win over Indy Eleven next Tuesday. 
Indy Eleven have been very good these past couple of weeks, winning two straight matches after having not won any this season. Forward Justin Braun has found his form, tallying two goals and an assist in his last two games. If Indy Eleven is going to win on the road and continue their good form, they are going to need performances from Braun as well as goalkeeper Jon Busch. The side has the talent the compete against a consistent Cosmos, but they will need to be sharp if they want to take a result back home.
MIAMI FC AT NORTH CAROLINA FC (TUESDAY 7:30PM, ESPN3)
Coming off of a monumental win against Atlanta United on Wednesday, Miami FC will get a break before returning to action against North Carolina FC on Tuesday. North Carolina FC has been poor of late, losing its last two games and being winless its last six. While their goalkeeper, Brian Sylvestre, has been outstanding this season, leading the league with 59 saves, the rest of the side has been mediocre at best. Playmaker Lance Laing will need to step up on Tuesday, and forward Tiyi Shipalane will need to be more consistent in front of goal if the side hopes to beat Miami FC, the best team in NASL.
Miami FC has been amazing this season. It is said in every Look Ahead and Rewind, and will continue to be said until the side proves otherwise. Vincenzo Rennella and now Stefano Pinho have been electric this season, and midfielders Richie Ryan and Dylan Mares have made it possible for forward Kwadwo Poku to play freely up the pitch. The team is well run and extremely talented, and are much deserving of a break. If Miami FC continue their magnificent run of form, they should have no issue beating a struggling North Carolina FC on the road. The side has not lost on the road yet, and next Tuesday most likely will not be their first.