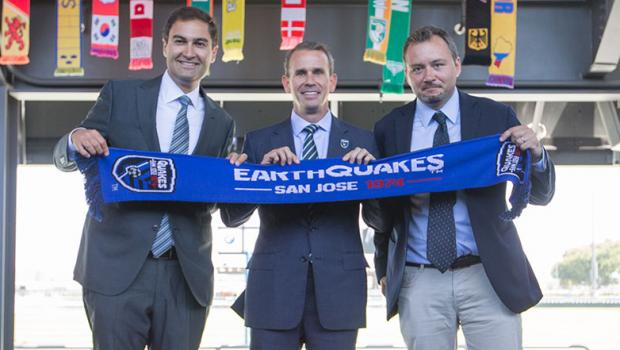 SAN JOSE – MLS teams don't often appoint a former English Premier League executive as their team's new president. The Premier League is a league with lavish spending that boasts the illusion of unlimited cash, far different to tight salary cap restrains in America.
For the San Jose Earthquakes, appointing Tom Fox as successor to Dave Kaval's seven-year tenure as president comes at a time when the club is set open their pockets for the summer transfer window. Ironically, despite Fox's arrival from the world's most lucrative soccer league, the need to transform the Quakes into a deep-pocketed team such as rivals LA Galaxy or newly minted Atlanta United is almost undesirable to Aston Villa's former chief executive.
"At some level someones willingness to lose a lot of money is not a gap you're probably ever going to be able to close and actually from my perspective nor do you really want to," Fox said. "To me in this marketplace (MLS), I think San Jose has what we want to do here (which) is (to) deliver consistency, competitiveness, and success."
Over the course of the years, the Quakes have had a long trajectory of assembling their squads with talent outside the superstar realm. When Jesse Fioranelli was appointed general manager in January, he signed five international based players with none breaking the Designated Player threshold and the majority playing a pivotal role this season. Similar to the team's most recent signings, Fox stated that the club does not have to unload millions of dollars to achieve success, and instead rely on smarts.
"We don't want to do it by spending the most money, we want to do it by spending enough money to give us the ability to be successful," Fox added. "That's the most exciting part of the journey for me: how do you enable the operation to deliver success on a consistent basis by being better at what you do? By being smarter about how you approach the football side of the operation. That's much more interesting to me than spending your way to success."
Fox will only be days into his new role by the time MLS' summer transfer window opens in July. The Quakes new president made it clear that Fioranelli and co. will lead the operation as he will provide the tools necessary for positive acquisition(s) and successful results.
"On the football side particularly, I'm so excited about Jesse (Fioranelli), Chris (Leitch), Bruno (Costa), and Alex (Covelo) and what they bring to the table," Fox said. "My job is not to try and come in and try to know as much football as they do. My job is to make them as successful as possible and give them every resource that they need."