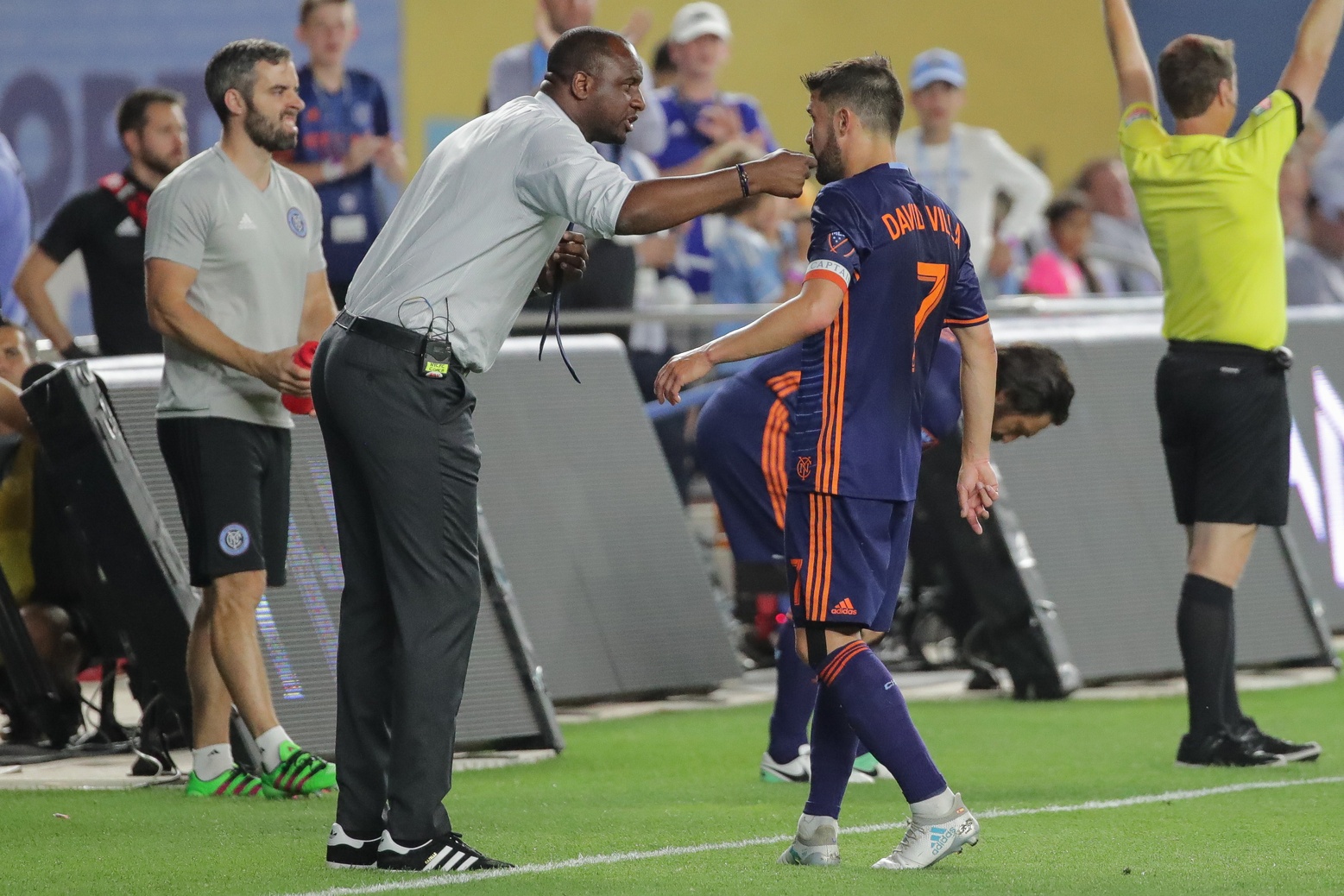 The New York City FC coaching staff, as part of its normal course of match preparation, had formulated a plan against the expansion Minnesota United Thursday night at Yankee Stadium. In addition to the starting XI and the squad of 18, the scheme included pre-emptive problem solving with the anticipation of match scenarios.
Not integrated in the forecast were the sudden match-day demotions of RJ Allen and Ethan White. Together, they arrived late for a pre-match team meeting. Allen, off the finest performance of his NYCFC career in the 2-0 NY Derby win at Red Bull Arena, was slated to start at right back. Instead, he was relegated to the bench. White was originally in the squad but was removed and viewed the game from the stands. That the pair are both fullbacks further limited the options for head coach Patrick Vieira.
Just two weeks earlier, Vieira exclaimed that Ben Sweat was not a proper right back but elected to move Sweat to that precise spot. Ronald Matarrita, originally slated at left wing, dropped into a fullback role on the port side. Rodney Wallace, initially on the bench was elevated to the XI as the familiar wide attacker in front of his Costa Rican compatriot, Matarrita.
When Matarrita collapsed with an injury inside of 10 minutes, Vieira was faced with a dilemma. Allen was the only fullback on the bench. The second-year coach chose to insert Mikey Lopez, a midfielder by trade who has trained just briefly at the back. Lopez proved to be an admirable fill-in on the right while Sweat happily shifted to the left.
There was once a sage administrator who succinctly instructed an aspiring coach, uncertain about suspending his talisman as it might have negatively impacted the result of the match.
"He needs to be disciplined and here's what you do," he said. "If you lose, you tell him it was his fault. If you win, tell him you didn't need him."
While Vieira would not be as harsh in his assessment, he indicated that a vital lesson was absorbed and galvanized his side. Down 1-0, NYCFC stormed back with three unanswered goals to defeat the Loons, 3-1.
"Rules are rules," said Vieira. "I enjoyed this game more than any other. The way we fight back, the way we keep our focus and concentration high – the character we showed – you look at all the teams that have won titles – what they have in common is the character and personality. This will make us better."
Vieira lauded the performances of David Villa, Yangel Herrera and Tommy McNamara but the revelation of this 2017 team may well be Sweat, a trialist in pre-season who was signed for his versatility at the back rather than as a permanent first-team fullback. Since his Major League Soccer debut at Columbus, NYCFC is 7-1-2 in matches started by the Floridian and Vieira has preferred to select Sweat ahead of Matarrita, who had missed eight matches with a high ankle sprain. Matarrita will now be sidelined an additional three months or more following surgery to repair the fifth metatarsal of his right foot.
"All credit to Ben," said Vieira. "He's a really smart guy and understands tactically what I want him to do. There is no reason why I shouldn't play him."
Alex Ring, earning plaudits from scouts in Europe, provided another glimpse of the tools necessary to secure the midfield in Vieira's 4-3-3 system. In a Man-of-the-Match type performance, Ring won 15 of 20 duals, had 13 recoveries and bolstered his MLS lead in tackles to 79. Entering Thursday's match, no other player had more than 59. Plus, Ring completed 92-percent of his 96 passes. He is arguably NYCFC's most valuable commodity on a team that includes Villa (11 goals, 6 assists), sophomore sensation Jack Harrison (8 goals, 5 assists) and playmaker Maxi Morales (2 goals, 7 assists).
New York City's First Homegrown
When James Sands was 10 years old, NYCFC Sporting Director, Claudio Reyna already recognized the exceptional skills and considerable acumen of the rangy midfielder while playing for the New York Soccer Club. It would still be two years before the City Football Club and MLS announced the founding of NYCFC. Last week, the 16 year old from Rye, New York signed the first Homegrown contract in club history. Sands was thrust into the first-team environment in pre-season with a roster of players that included World Cup and European Champions, Villa and Andrea Pirlo.
"My game, I can adapt to whatever environment I'm in, whether its people my own age or pros," Sands told SBI Soccer. "And I think with the legendary pros at this club it makes it that much easier to do my job."
As a member of the starting XI at a pre-season friendly in Guayaquil, Ecuador, the teenager was offered another beneficial experience.
"When you get out there for warm-up its kind of overwhelming," said Sands prior the NYCFC's 2-2 draw against Emelec. "It really went by quick. All I could hear were the fans. Teammates had to come close to me to tell me to keep calm – it was crazy."
"Age is just a number – it's about his desire to compete and the talent," Vieira told SBI in Ecuador. Vieira signed his first professional contract at 18 and strongly considered inking Sands before the end of pre-season. "He understands the game like a 30 year old. He's got personality and he's really good on the ball."
In consultation with the club and his parents, Sands elected to place his commitment toward the U-17 World Cup this fall. In between U.S. training camps, he will be found in Purchase, New York, training with Spain's all-time leading goal scorer.
"He's really an amazing guy – so smart, so smart," said Villa. "We are all very impressed with James. It's good news – very good news for New York City."
If Sands was not pursuing soccer at the highest level, he says he would have chosen between lacrosse, football or basketball.
"My favorite sport to watch on TV other than soccer is football," said Sands. "Despite playing for New York City, I'm a Philadelphia Eagles fan – I'm not going to say anymore than that."