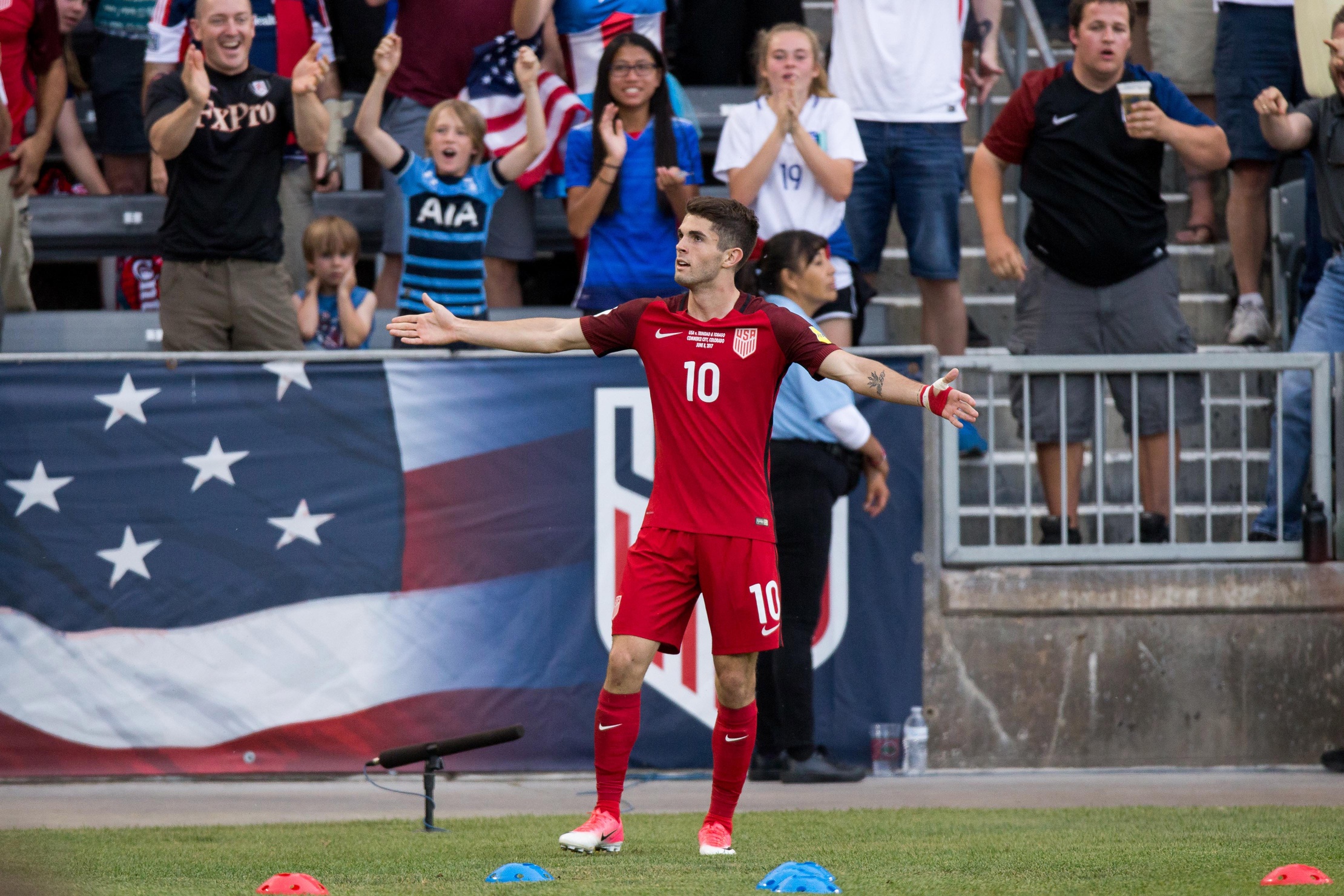 There's still a quiet hesitation when it comes to Christian Pulisic. U.S. Soccer has been down this road, seen talented youngsters come and go. But, each and every time Pulisic takes the field, it becomes quite clear that the U.S. Men's National Team has never seen anything like him.
Pulisic led the USMNT with a brace on Thursday night, pushing the U.S. to a 2-0 win over Trinidad & Tobago. In just 15 matches, the Borussia Dortmund product now has seven goals and five assists, a ridiculous tally from a player who is still a teenager. Of the USMNT's last eight finishes? Pulisic has four goals, three assists and a drawn free kick that paved the way to the eighth. In other words, he's always involved.
Bruce Arena isn't one to mince words. The USMNT manager rarely holds back and seldom keeps his opinion to himself.
For months, many scattered throughout U.S. Soccer have held back when it comes to anointing Pulisic. There's a fear of too much, too fast for a player that just reached his 18th birthday. But, at this point, Arena can't keep quiet on the topic, at least not after performances like Thursday's.
"He's played big games. He's a big boy now," Arena said, "and to be honest with you we're not playing in an age group competition. No one cares how old you are or anything like that and he's going to have to deal with it and he'll be fine. I think he made out okay tonight."
Okay is an understatement. In a match where T&T was content to bunker and counter, Pulisic helped lead the USMNT's charge. He was effective off the dribble and direct in his runs, even before getting his goals. Pulisic and fellow newcomer Darlington Nagbe were among the USMNT's most dangerous players, helping threaten the T&T defense before the breakdown came.
That breakdown began in the second half as Nagbe and Pulisic finally got through for an opening goal. Following a brilliant run from Nagbe, the ball worked its way to DeAndre Yedlin, who worked a cross into the box. Who was there? Pulisic, who tapped home from close range for the game's opener.
Pulisic's second came just moments later. With Jozy Altidore set to receive the ball, Pulisic darted through the Soca Warriors' backline and found himself on the ball and alone on the goalkeeper. What ensued was a calm finish near post, effectively ending the game and sealing three points.
"They were tough in the first half, definitely," Pulisic said. "They had a lot of guys behind the ball and we just couldn't work our way through them. Once we got the first one it kind of opened up and we just felt more comfortable.
"It's not just scoring goals," he added. "Just being out there is a dream of mine, to wear the USA crest and just to be playing with the players I am for the country, it's amazing. And the fact that these goals are coming is just a little bonus."
It's a major bonus for the current USMNT as well. Arena continues to give Pulisic more and more responsibility, and the young attacker continues to seize his chances. Pulisic continues to settle into a role as the USMNT's No. 10, one he likely won't relinquish for years. Arena also charged him with taking free kicks and corner kicks, heaping more responsibility on his youngest player.
There are still times where Pulisic is hesitant and there are still aspects of the game that he needs to adjust to. Hard fouling is one of them, for sure. Pulisic says he's working on staying focused through the physicality but, by and large, it's easy to see he's feeling right at home.
"He's having fun. I just think he's a natural for the game," Arena said. "He sees the game very well and has good instincts on getting in good spots, especially his running off the ball. It's exceptional. As he gets a little bit better and a little bit more experience, I think his ability to be a playmaker and a better passer of the ball in the last half of the field will improve.
"I'm trying not to get in his way too much, but I do have to say something every once in a while," Arena joked. "He's young and I gave him the responsibility to take free kicks and corners and he said he wasn't sure and I said to him yesterday. 'If I get fired because you can't hit free kicks and corners, I'm okay with that'."
After the match, Pulisic's boldness showed through, as if it didn't during the game. The young playmaker said that the USMNT was going to go into the Azteca on Sunday and win. It's a task that remains among the toughest in world soccer, and Pulisic said it's one the U.S. would accomplish on Sunday.
It may have been an adrenaline high or maybe it was just pure bravado. No matter what it was that led him to make the claim, it showed one thing: Pulisic is ready for the big lights and big matches that are on the horizon.
"Mexico, they're a good team and they're not easy to beat at home," Pulisic reiterated after the match, "so it's going to take a lot but with the guys we have, and the confidence we have, I think there's no reason why we can't do it."
But is he ready to go a full 90 minutes after a physical effort against T&T?
"Yeah, absolutely," Pulisic said. "I'm still young."
That he is.