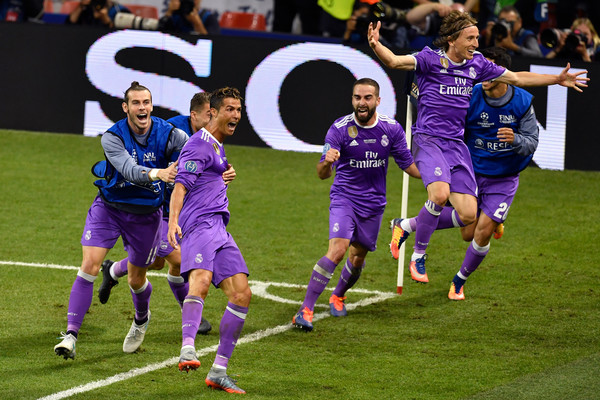 Real Madrid became the first team to win back-to-back UEFA Champions League titles, and it was the team's biggest star that led the way in Saturday's UEFA Champions League Final.
Cristiano Ronaldo scored a goal in each half on Saturday as Real Madrid toppled Juventus, 4-1, to win the UEFA Champions League. The win gives Real Madrid the club's 12th all-time European championship including three in the past four seasons.
Real Madrid opened the scoring in the 20th minute, and it was obviously Ronaldo who fired the first goal. The Portuguese star worked the ball to Dani Carvajal before delaying his run into the box. Carvajal centered a pass to the trailing Ronaldo, who fired a shot past Gianluigi Buffon to give Real the lead.
That lead lasted seven minutes before Mario Mandzukic leveled the scoreline with an all-time finish. Following several volleyed passes, the Croatian unleashed a bicycle kick up and over Keylor Navas, tying the game at 1-1 in spectacular fashion.
Real emerged as the better team in the second half before scoring a deserved go-ahead goal in the 61st minute. It was an unfortunate deflection for Buffon as Casemiro's long-range shot smashed off Sami Kehdira and into the back of the net.
Just moments later, it was Ronaldo again with his second goal of the match. The ball came in from Luka Modric and Ronaldo smashed home a shot at the near post, pushing the lead to 3-1.
A late red card to Juan Cuadrado added insult to injury. The Colombian speedster, brought in as a second half substitute, was sent off with a dubious second yellow card for an incident with Sergio Ramos.
Down to 10-men, Juventus pushed for an equalizer late but never got close as Real Madrid added a fourth in the 90th minute. The finish came from Marcos Ascensio, who fired home a cross from Marcelo to close out back-to-back Champions League crowns.