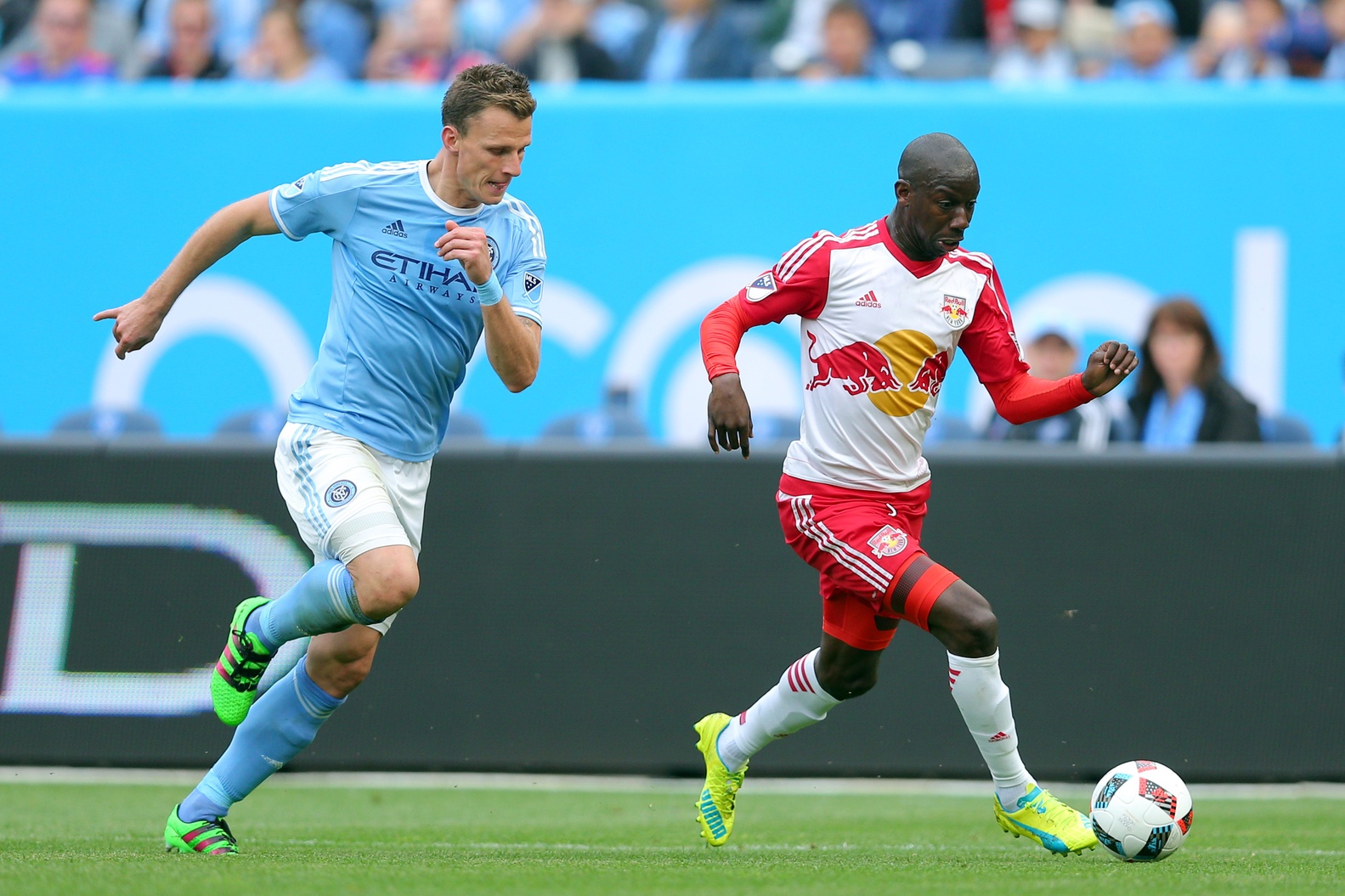 From a certain standpoint, there is no need to question the legitimacy of the rivalry between the New York Red Bulls and New York City FC. The geographic distance — or lack thereof — makes the dynamic between the sides fit the international definition of a derby. Many in the league have accepted the Hudson River Derby as not just a clear rivalry, but meetings between the teams as marquee events of the regular season.
From the point of view of NYCFC, there is no better option. Yet for the Red Bulls, it is a bit more complicated.
The Red Bulls, one of MLS' original teams, were part of the league almost two decades before their counterparts had kicked a ball. In that time, the club has had a very well-documented rivalry with D.C. United, meaning there has been a question as to whether or not NYCFC is the true rival of the Red Bulls. As the rivalry starts its third year of existence, the Red Bulls themselves have accepted NYCFC as their main rival — almost.
In anticipation of the first league match between the two this season, some members of the New York Red Bulls were very blunt. As Chris Armas, filling in again for Jesse Marsch, puts it, NYCFC is "the Red Bulls' biggest and closest rival."
Bradley Wright-Phillips, who has scored eight times in seven matches against NYCFC, took it a step further than Armas, using the word "hate" to describe the opposition.
"From the first season they've been there, I've not liked them," Wright-Phillips said."…I would hope my children do not like NYCFC."
The dislike extends to teammate Luis Robles, who admits that NYCFC receives more attention than their rival.
"The spending is definitely tilted towards New York City. The attention is definitely tilted towards New York City. They have higher profile DPs, and that's fine," the goalkeeper said, before adding that it gives his team "a chip on our shoulder."
Robles also concedes that there are a lot of attractive qualities about NYCFC but, "that's what fuels us because we almost get swept aside." He added that all the little things play into the Red Bulls' mentality.
Wright-Phillips added that the feeling is mutual. According to the forward, the players have "little digs at each other," making it a hostile atmosphere on the field.
The Red Bulls have also given priority to matches against New York City FC over those against longtime rival D.C. United. Wright-Phillips says he feels that NYCFC is now the club's biggest rival.
"It's just got a bigger feel, for me, than any other one," he added, though he still recognizes D.C. as a fierce rival. "There's a couple of teams that think they're our rivals, but if it's not D.C. or NYC, it's not really a rivalry to me."
Sacha Kljestan recognized that the fixture is always of high importance to supporters, but was more subdued in his tone.
"This, to me, is not normal," Kljestan said, "to come here once per season to talk about one game that is equally as important as 33 other games."
Kljestan also discussed the now famous 7-0 drubbing by the Red Bulls last year, quoting opposing coach Patrick Vieira following the defeat.
"Patrick Vieira said it best," Kljestan said. "…He said it's the same as losing 1-0. It's just three points."
"Right now, we're four points behind them," he added, "so we need to play catch up a little bit."
The captain added that the match is "always a chance to take three points off your rival."
Kljestan, though, like many of his teammates, admitted that the rivalry is "fun," a word Robles also used, laregely due to the fact the Red Bulls have won six of seven.
"I would always say you always have it in you that you don't want to lose to your rivals," Kljestan said.