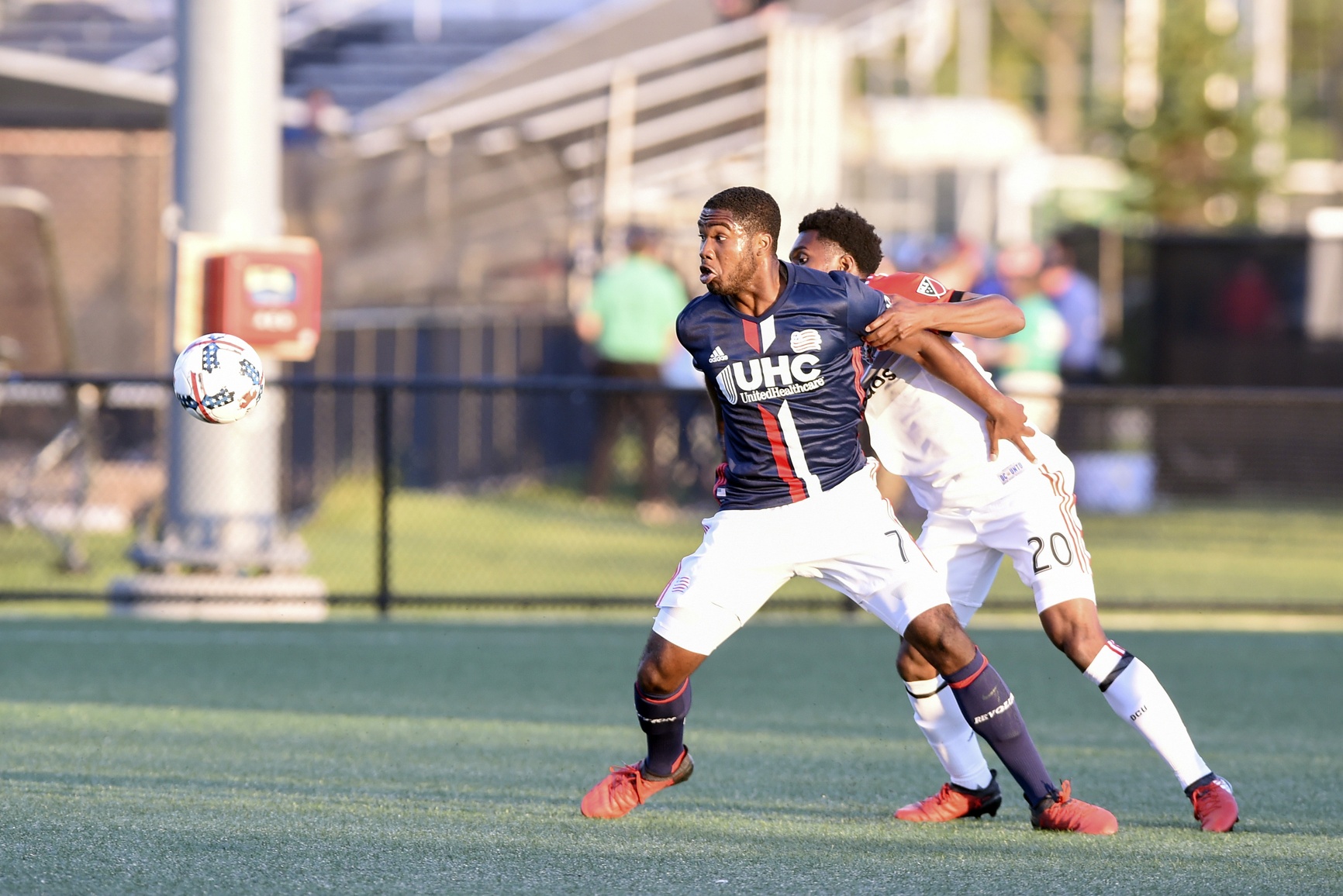 BOSTON — For the first six minutes of the second half of Wednesday night's U.S. Open Cup round of 16 game against D.C. United,  New England Revolution rookie forward Brian Wright showed the upside that made him a 20th overall pick in this past winter's 2017 MLS Draft.
Making just his second appearance for the Revs, the burly 22-year-old shielded off D.C. defender Sean Franklin as he turned and scored from 10 yards out with a low shot inside the left post in the 48th minute to send the Revs to a 2-1 come-from-behind win at Harvard University.
"I think tonight was a good first step and hopefully it leads to more, and should lead to more opportunities," Revolution coach Jay Heaps said of Wright's breakout game.
Wright's tally was sandwiched between a pair of strong chances as he led a Revs rally out of the intermission, also hitting the crossbar and then later missing the right post by inches.
"We talked about at halftime Jay said we ended the first half pretty well," said Wright, who drew the foul that set up Diego Fagundez's 44th-minute free kick equalizer.
"I had a couple opportunities and I missed the first one, I hit the crossbar, but I was happy to get that second one and turn on the defender and put it away," Wright added.
Three minutes after his goal, the 6-foot-1 Wright had a similar chance in the box, again using his strength to create space. This time, Wright mixed it up and aimed for the far post, sending his 51st-minute shot just inches wide right of goal to keep it a one-score game.
"We see that and I think we want more of that," Heaps said. "That's where Brian continues — if he can stay that consistent and do that — we see that in training, we've just go to get that onto the big field."
Wright will need a few more showings like Wednesday to climb up the depth chart, as he currently sits behind Kei Kamara, Juan Agudelo — who is away with the U.S. Men's National Team — and second-year forward Femi Hollinger-Janzen on the pecking order.
"I feel like the guys know what I'm capable of," Wright said. "I wouldn't say they really put pressure on me, they just have belief in me and say, 'Go out and do your thing,' and I was able to do that."
With Agudelo out, the University of Vermont graduate could be in line to make his MLS debut on Sunday when the Revolution play on the road against the Philadelphia Union.
Wright made his first appearance in all competitions for the Revs in their last U.S. Open Cup match, starting in a 3-0 win over over the United Soccer League's Rochester Rhinos on June 15. He previously made his professional debut on loan with the USL's Tulsa Roughnecks back in March.
"A couple weeks ago in the Open Cup against Rochester there were moments, but tonight was a really solid performance for him all the way around," Heaps said. "Even his holdup play in the first half was excellent. I thought he was really good. Unfortunately, obviously, he's not 90 minutes fit yet, so he ran out of gas a little bit, but he can be really proud of the way he came about and scored his goal."
The rookie left the field at Harvard on Wednesday to the Revolution supporters chanting his name.
"It was a pretty good feeling, to be honest," Wright said. "Hopefully there's many more of those."
The Revs will return to Jordan Field when they play the New York Red Bulls in the U.S. Open Cup quarterfinals and Wright will be looking to pick up right where he left off.