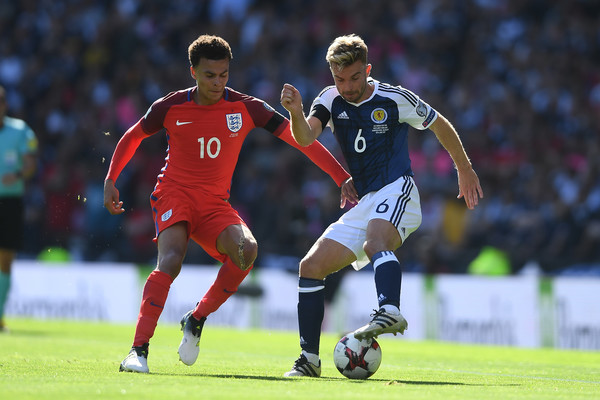 In the must-watch match of the day in UEFA World Cup Qualifying, England used a 93rd-minute equalizer from Harry Kane to salvage a point at Scotland.
Gareth Southgate's side saw a second-half lead slip in a matter of minutes thanks to a three-minute brace from Scottish striker Leigh Griffiths. Alex-Oxlade Chamberlain opened the scoring for England after 70 minutes, finishing nicely with a left-footed effort. Griffiths'  free-kick after 87 minutes pulled the hosts level before the Celtic man beat Joe Hart again three minutes later. However, the Three Lions kept their composure, as Kane's right-footed finish in stoppage time at least earned the visitors a point. Scotland's Craig Gordon made seven saves while, Hart made one. England stays atop Group F with 14 points, while Scotland is in fourth with eight points.
Elsewhere in Europe, reigning World Cup champs Germany routed San Marino, while Slovenia defeated Malta at home. Northern Ireland got a late victory at Azerbaijan, while Poland impressed in a victory over Romania.
Here is a rundown of all Saturday's World Cup Qualifying action:
GROUP C
Germany remained perfect in qualifying, rolling past San Marino, 7-0, in Nurnberg. A hat-trick from Sandro Wagner highlighted the performance by Joachim Low's side. Julian Draxler opened the scoring after 11 minutes, before Wagner added a pair of goals before the half-hour mark. Amin Younes made it 4-0 prior to halftime for Germany. Arsenal's Shkodran Mustafi extended the lead to 5-0 after 47 minutes, scoring from off a corner-kick. Julian Brandt's 72nd-minute header added to the demolition, before Wagner headed home his third goal of the day after 85 minutes. San Marino did not record a single shot on target, only completing 62 passes in the match. The hosts remain atop Group C, while the visitors remain winless and in last place in the group.
Northern Ireland received a 92nd-minute winner from Stuart Dallas, to defeat Azerbaijan, 1-0, in Baku. Michael O'Neill's side only had two shots on goal, but saved the best for last to earn three points. Dallas' right-footed effort in the center of the box, beat Kamran Aghayev to the bottom-left corner. The victory made it three in a row for Northern Ireland, who stay in second place with 13 points. Azerbaijan have now lost three qualifiers in a row, sitting in fourth place.
Norway fought back for a point at home, in a 1-1 draw with the Czech Republic. A 55th-minute penalty kick goal from Alexander S∅derlund drew the Norwegians level, after being down at halftime. A right-footed blast from Theodor Gebre Selassie put the Czechs ahead after 36 minutes, but neither side could find a winner late. Norway held the edge in shots on goals, by a six-to-four margin. Norway stay in fifth place on four points, while the Czechs sit in third on nine points.
1. Germany | 18 points | 6-0-0 | 27 goals scored | 1 goal allowed
2. Northern Ireland | 13 points | 4-1-1 | 11 goals scored | 2 goals allowed
3. Czech Republic | 9 points | 2-3-1 |9 goals scored | 5 goals allowed
4. Azerbaijan | 7 points | 2-1-3 | 3 goals scored | 9 goals allowed
5. Norway | 4 points | 1-1-4 | 6 goals scored | 10 goals allowed
6. San Marino | 0 points | 0-0-6 | 1 goal scored | 30 goals allowed
GROUP E
In the early match in Group E, Denmark cruised to a 3-1 victory at Kazakhstan. Nicolai J∅rgensen opened the scoring after 27 minutes, slotting home a right-footed effort. The hosts were reduced to 10-men after Bauyrzhan Islamkhan saw a straight red for violent conduct after a foul on William Kvist. Tottenham's Christian Eriksen extended the Danes lead to 2-0 after 51 minutes, scoring from the penalty spot. Islambek Kuat pulled the hosts to within one after 76 minutes, but Kasper Dolberg re-extended the two goal advantage for Denmark five minutes later. Denmark stay in third, on 10 points while Kazakhstan are in bottom with two points.
Group leaders Poland used a hat-trick from Robert Lewandowski to defeat Romania, 3-1, in Warsaw. A 29th-minute penalty kick goal by the Bayern striker opened the scoring for Adam Nawalka's men. Lewandowski extended the hosts lead after 57 minutes, heading home Piotr Zielinksi's cross. The striker capped off his hat-trick just five minutes later, again proving good from the penalty spot. A 77th-minute consolation striker from Bogdan Stancu gave Romania something to cheer about, but the Polish held on for three points. Poland remain unbeaten in qualifying, sitting on 16 points so far. Romania sit in fourth, with only one win so far in qualifying.
A hat-trick from Stevan Jovetic propelled Montenegro to a 4-1 home win over Armenia in Saturday's late match. Fatos Beqiraj kicked off the scoring after two minutes, finishing off Vladimir Jovovic's cross. Jovetic's first goal, came after 28 minutes as the Sevilla striker blasted home from long-range. The striker extended the lead to 3-0, finishing nicely on a Montenegro fast break. The 27-year-old capped his hat trick after 82 minutes, this time finishing off Beqiraj's cross to the bottom-left corner. Ruslan Koryan pulled a consolation goal back for Armenia seven minutes later, but the visitors sunk to their fourth defeat in qualifying. Montenegro are in second with 10 points, while Armenia is in fifth with six.
1. Poland | 16 points | 5-1-0 | 15 goals scored | 7 goals allowed
2. Montenegro | 10 points | 3-1-2 | 14 goals scored | 7 goals allowed
3. Denmark | 10 points | 3-1-2 | 10 goals scored | 6 goals allowed
4. Romania | 6 points | 1-3-2 | 7 goals scored | 7 goals allowed
5. Armenia | 6 points | 2-0-4 | 7 goals scored | 14 goals allowed
6. Kazakhstan | 2 points | 0-2-4 | 4 goals scored | 16 goals allowed
GROUP F
Group F's other early contest of the day came from Ljubljana as hosts Slovenia eased past Malta, 2-0. Josip Ilicic gave Slovenia a 1-0 halftime lead, after rifling home a right-footed effort to the top left corner. Milivoje Novakovic added an insurance goal after 84 minutes, getting on the end of Ilicic's assist. Malta keeper Andrew Hogg made six saves in the defeat, while his teammates only recorded one shot on goal offensively. Slovenia stay in third place on 11 points, while Malta remains winless with zero points.
The late match in Group F saw visitors Slovakia edge out Lithuania, 2-1, in Vilnius. Vladimir Weiss's right-footed effort after 32 minutes opened the scoring for the visitors. Napoli's Marek Hamsik extended the lead in the 58th-minute from a right-footed free kick. Lithuania made things interesting as Arvydas Novikovas pulled a goal back in second-half stoppage time. However that was the closest the hosts would get to a comeback, as Slovakia made it four wins in a row. The visitors are in second place, while Lithuania are in fifth place with five points.
1. England | 14 points | 4-2-0 | 10 goals scored | 2 goals allowed
2. Slovakia | 12 points | 4-0-2 | 12 goals scored | 4 goals allowed
3. Slovenia | 11 points | 3-2-1 | 6 goals scored | 3 goals allowed
4. Scotland | 8 points | 2-2-2 | 9 goals scored | 10 goals allowed
5. Lithuania | 5 points | 1-2-3 | 6 goals scored | 11 goals allowed
6. Malta | 0 points | 0-0-6 | 2 goals scored | 15 goals allowed