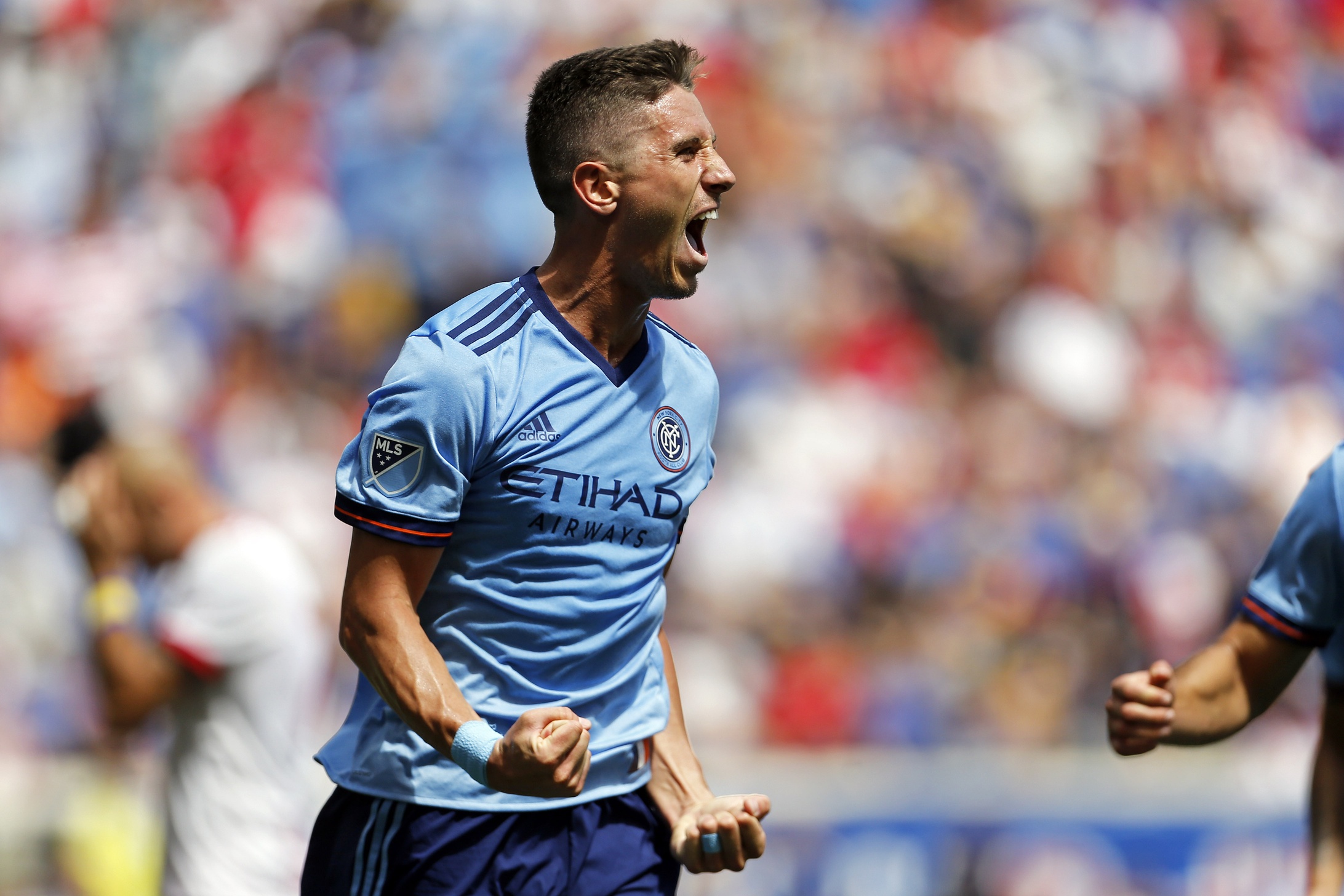 Just three-and-a-half years into his professional career, Ben Sweat has experienced a lot. He's felt the high of being drafted as a first round pick and the low of being promptly discarded just one year later. He's experienced the grind of working his way back up to where he feels he should be and the anxiousness that comes from wondering if he'd get an MLS second chance.
Now, Sweat has found a home with New York City FC, where he's gotten his career back on track with a string of performances that started well before a Hudson River Derby stunner that finally cemented his place in MLS.
The NYCFC defender, who made exactly zero MLS appearances during his time with the Columbus Crew, is suddenly a fixture in NYCFC's backline. Sweat has made nine starts for the third-year club throughout the season, amassing three assists along the way. Since Sweat joined the starting XI on April 29th for his MLS debut, NYCFC has collected 20 of 30 possible points.
Now, Sweat is far from the only NYCFC player in a solid run of form, and he's not the only player within the club to shine throughout what has been a spectacular two-month period. However, on Saturday, Sweat was once again one of several standouts as his looping header beat New York Red Bulls goalkeeper Luis Robles for the second goal in a 2-0 win. The headed finish notched Sweat his first MLS goal and NYCFC the club's first win at Red Bull Arena.
"With that angle, I'm trying to put it back across obviously," Sweat told SBI while playing coy on whether the finish was meant to be a shot or a pass. "I ended up getting some sort of spin on it and sent it into the back of the net. I was beyond happy to see that.
"I got my first assist against Columbus, which was my old team and was an awesome feeling, but having my first goal in the derby match was even better. It was a great match from back to front from the entire team and I was happy I was able to contribute."
Sweat's road to contributing in MLS was a winding one. Selected 14th overall by the Crew in the 2015 MLS Draft, the former University of South Florida standout looked like he was on his way to a productive MLS career. He featured primarily for the club's USL affiliate, the Dayton Dutch Lions, while making one appearance for the club in a friendly against Crystal Palace. At 6-foot-2, Sweat has all the size needed for a prototypical central defender while his ability to play at fullback, where he's thrived for NYCFC, made him a valuable depth option across the backline.
He remained just that: depth, and that depth was never used. Just one year after he was drafted, Sweat was waived by the Crew. Head coach Gregg Berhalter said the club didn't want to stunt Sweat's development by keeping him in a situation that would keep him off the field, so they let him go as he looked to pursue game time.
That opportunity came with the Tampa Bay Rowdies. The Palm Harbor, Fla. native returned home in an effort to kickstart his professional career, and he did. Through two seasons, Sweat became a regular within the the Rowdies backline, as he finally got a fair chance to show off his abilities as a regular contributor.
"It's just experience. I got a ton of games with the Rowdies and, as a young player, that's all you need," Sweat said. "If you're not playing, you're not going to have game experience that you might need to reach that next level, a starting level. Going to the Rowdies was huge because I got around 40 games. Coming here with that confidence that I can play at the next level, a higher level, it's everything I needed."
Even so, Sweat's road back to MLS hasn't all been butterflies. His preseason trial with NYCFC was far from flawless. His MLS debut, a match that ironically came against the Crew, was one that began with an almost instantaneous yellow card. Even now, his spot seems seemingly questionable at best as incumbent starter Ronald Matarrita returns from injury.
Sweat is nowhere near as dynamic as Matarrita, who burst on the scene in 2016 as one of the league's most electric attacking fullbacks. What Sweat has proven to be, though, is a sturdy defender who somehow has a knack for turning a simple play into a goalscoring chance.
It remains to be seen how NYCFC boss Patrick Vieira will line up as the Costa Rican star returns. Has Sweat done enough to earn the starting nod at left back? Can Matarrita be pushed up the field where he can thrive in a more attacking role? It remains to be seen but, given his recent efforts, it's safe to say Sweat has earned the trust of his head coach.
"It's part of the beauty of our game," Vieira said of the depth and the ensuing tactical decisions that come with it. "Games can be different from one game to the other. Today, I made the right decision and maybe next week it will be the other side. If you look at Ben and the way he's been playing the last few months and weeks, he's been really good."
Sweat knows he'll have to continue to be really good in the coming weeks and months. Matarrita could very well be off with Costa Rica for Gold Cup duty, opening the door for more time on the field. If that opportunity comes, the 25-year-old defender is hoping to seize it and continue to impress Vieira while finally piecing together a long-awaited MLS career.
"It means the world to me to have one of the best midfielders of all time to have confidence in me," Sweat told SBI. "All I can do is work hard and keep performing and giving them what they want in our system. I need to keep working hard for this guy. He's put his faith in me and I have to fill in that spot and work my ass off and keep performing."