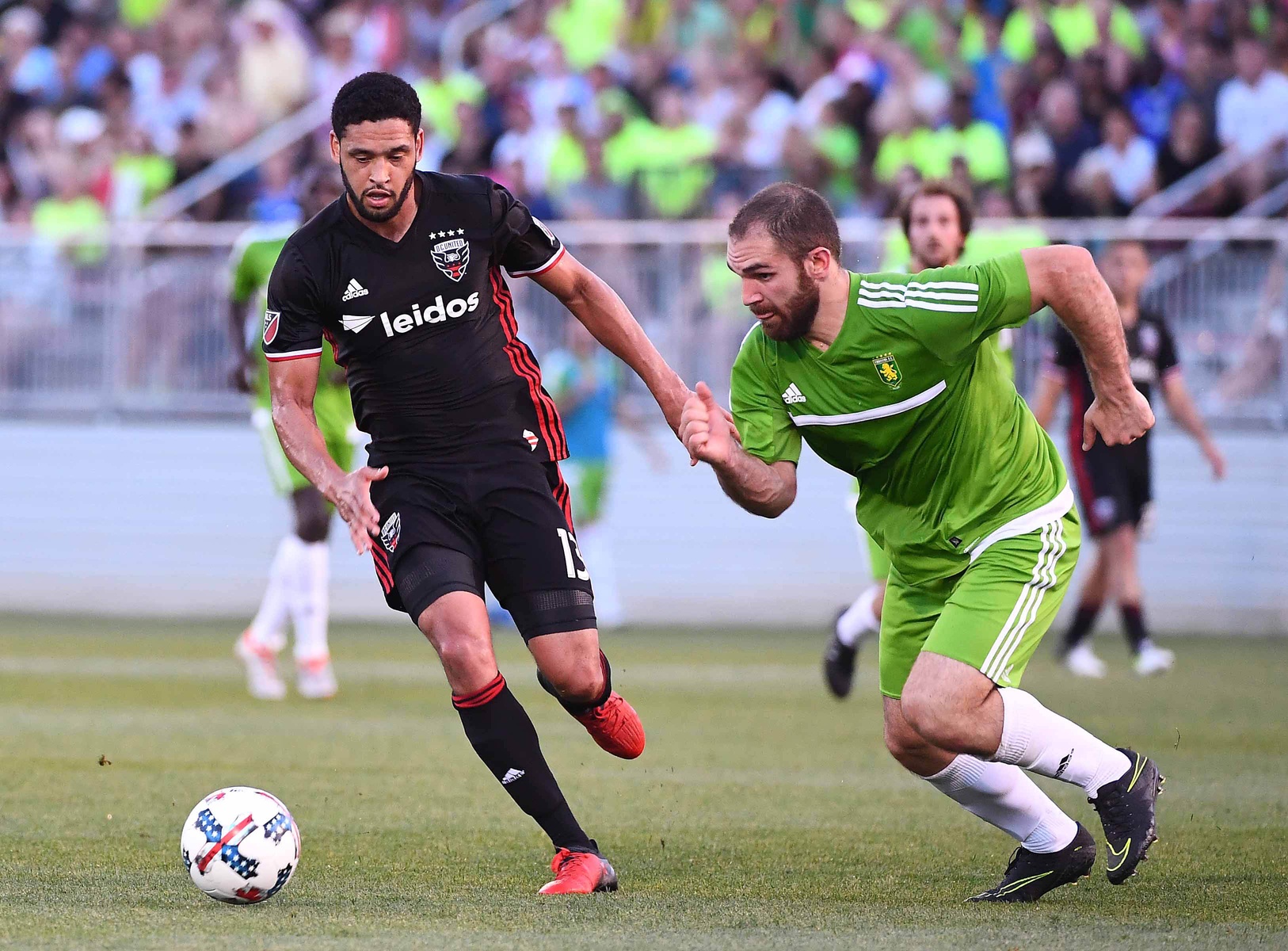 The fourth round of the U.S. Open Cup began on Tuesday with three matches featuring four MLS teams.
Christos FC, the only amateur club remaining in the tournament, managed to push a goal across against D.C. United before finally capitulating late in the match. The Colorado Rapids needed a second half comeback to get through OKC Energy. Finally, Portland Timbers and Seattle Sounders renewed their storied rivalry with reserve and USL  players.
Here's the full rundown of Tuesday's action:
D.C. United 4-1 Christos FC
The liquor store-owned Christos FC gave their rowdy fans 12 minutes of belief that they would come through ahead of their MLS foes.
Mamadou Kansaye curled in a stellar free kick to open the scoring and give the amateurs the lead in the 23rd minute. However, Julian Buescher would be able to level the score in the 35th minute. United controlled the flow of play for just about the remainder of the match, however it took until the 81st minute to find the winner.
The underdogs did well to weather the storm and looked to be holding out for extra time until they succumbed to their low levels of physical fitness. Substitute Lloyd Sam snuck a shot through goalkeeper Phil Saunders. Buescher and Ian Harkes would add insurance goals in the final minutes to truly end the storied run of Christos FC. The match ended with stoppage time remaining after the fourth United goal as Christos players were cramping up on the pitch.
Colorado Rapids 3-2 OKC Energy
OKC Energy pulled out to a two goal lead at the break thanks to goals from Daniel Gonzalez on a 38th minute counter attack and Phillip Rasmussen just before the half time whistle.
However, that lead would not stand the test of the second 45 minutes. The Rapids' comeback began straight away in the second half with Dominique Badji scoring in the 49th minute. Eric Miller would equalize in the 66th and Dennis Castillo would knock in an 89th minute corner to give the home side the win.
Seattle Sounders 2-1 Portland Timbers
This latest chapter in the famed Seattle-Portland rivalry was fought out with MLS reserves and regulars in the USL.
Neither side fielded a regular starter and both called up numerous members of their USL teams to fill in the roster. The Sounders got things started early through Aaron Kovar's third minute tally.
The Timbers equalized in the 38th with Augustine Williams's first career senior team goal. A handball in the box against Portland's Omar Mohamed allowed Zach Mathers to get the Sounders back in front from the penalty spot in the 54th minute.
The rest of the match didn't produce any chances to speak of. Even as the clock ticked down and the Timbers entered desperation mode, nothing could be created.