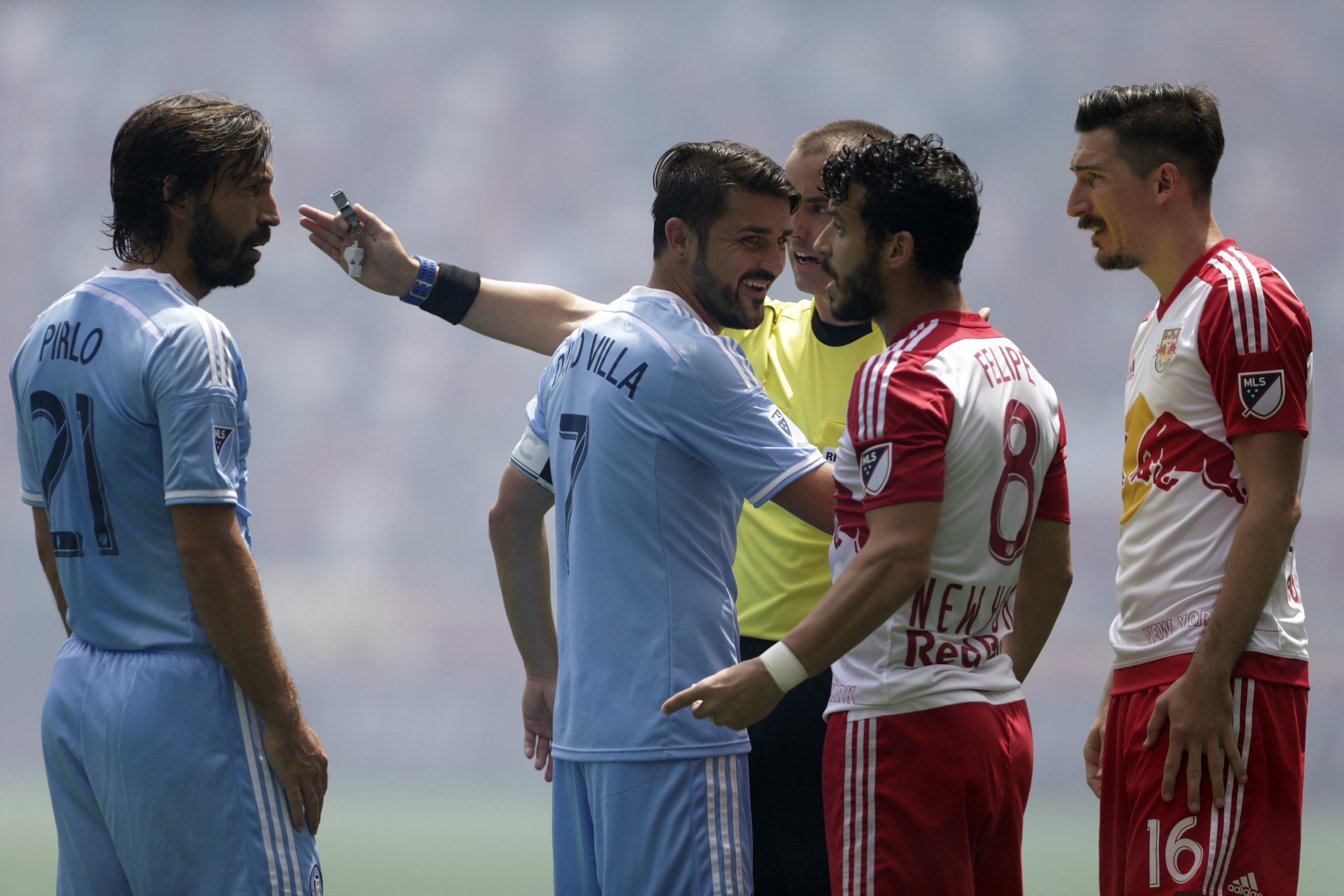 The Fourth Round of the U.S. Open Cup begins on Tuesday as MLS teams join the fray.
Many of the top tier teams are well rested after the international break, but do have league matches coming up this weekend. As always, look for giant slayings as the lower league clubs get their shot at the big boys.
There is one amateur side remaining in the tournament to keep an eye one. Christos FC will take on D.C. United as they try to become the second ever amateur team to defeat an MLS foe.
Here's the full rundown of games to be played tonight and tomorrow:
Tuesday, June 13
D.C. United (MLS) vs. Christos FC (Md.)- 7:30 p.m.
The one amateur team left in the tournament is little Christos FC from Baltimore. The Maryland Major Soccer League champions already took down the USL's Richmond Kickers this season, and now have their sights set on D.C. United.
Colorado Rapids (MLS) vs. OKC Energy FC (USL)- 9:00 p.m.
OKC Energy went through the Colorado Springs Switchbacks to get here, and now they have to travel to the Rocky Mountains to face an MLS foe. The Rapids are on a modest two-game winning streak in the league, but still sit in last place in the Western Conference, so an upset isn't out of the question here.
Seattle Sounders FC (MLS) vs. Portland Timbers (MLS)- 10:30 p.m.
There were fireworks last time the two Cascadian arch rivals met in the Open Cup. Portland won the game, 3-1, but it was more well known for Clint Dempsey tearing up the referee's notebook as just one of three red cards issued to the Sounders in the match.
Wednesday, June 14
FC Cincinnati (USL) vs. Columbus Crew SC (MLS)- 7:00 p.m.
FC Cincinnati, who regularly beat Columbus Crew in attendance figures, will now get the chance to take them down on the field. They fought past USL rivals Louisville City to get to this point and could like their chances at a Cupset on their home turf.
North Carolina FC (NASL) vs. Houston Dynamo (MLS)- 7:30 p.m.
North Carolina FC defeated in-state rivals Charlotte Independence to earn this match with Houston Dynamo. They Dynamo struggle on the road in MLS play, so NCFC are hoping that form carries over against NASL sides.
New England Revolution (MLS) vs. Rochester Rhinos (USL)- 7:30 p.m.
Last year's runners up start their campaign against the last non-MLS team to win the tournament. The Rhinos beat a pair of amateur teams to get here, so the competition gets a little stiffer this time around.
Philadelphia Union (MLS) vs. Harrisburg City Islanders (USL)- 7:30 p.m.
The City Islander are also experiencing quite a jump in competition after getting through amateur Ocean City Nor'easters and Reading United. The Union, despite their struggles, are a whole different animal to those guys and the City Islanders will have to be at their best to get a win.
Atlanta United FC (MLS) vs. Charleston Battery (USL)- 7:30 p.m.
Atlanta United's Open Cup debut comes against their one time USL partner in the Charleston Battery. The Battery were the last non-MLS side to reach the final back in 2008, part of a run where they were quarterfinalists or better for four straight seasons. They haven't been past the fourth round since 2010.
Orlando City (MLS) vs. Miami FC (NASL)- 7:30 p.m.
Miami FC beat a Florida rival last round and take on another Floridian team this round. Orlando City has won at least one Open Cup game in each of their two seasons while Miami are at this stage for the first time in their even shorter history.
New York Red Bulls (MLS) vs. New York City FC (MLS)- 8:00 p.m.
The first New York Derby of the season takes place on Wednesday . NYCFC has never won a U.S. Open Cup match in their first two years of play. They lost to New York Cosmos in each of those years and now get a tougher New York area opponent in the fourth round.
Saint Louis FC (USL) vs. Chicago Fire (MLS)- 8:00 p.m.
Chicago Fire have won the Open Cup four times, tied for the most of any MLS team. They are red hot right now as they travel to take on Saint Louis FC, who have played amateur sides up to this point.
FC Dallas (MLS) vs. Tulsa Roughnecks FC (USL)- 8:00 p.m.
FC Dallas opens their Open Cup title defense against the Tulsa Roughnecks, who are in the fourth round of the tournament for the first time after outlasting San Antonio FC in a shootout. FC Dallas won an Open Cup-Supporters Shield double last year, the second team in three seasons to do so after the Sounders in 2014.
Sporting Kansas City (MLS) vs. Minnesota United FC (MLS)- 8:30 p.m.
Minnesota United gets a baptism of fire for their first ever Open Cup match. They will face Sporting Kansas City for the third time this year and the second straight game overall. SKC won, 3-0, at home back on June 3, but United triumphed 2-0 in Minnesota on May 7.
Sacramento Republic FC (USL) vs. Real Salt Lake (MLS)- 10:30 p.m.
The last time Sacramento Republic faced an MLS team was in the 2015 Open Cup, when they took San Jose Earthquakes to penalties after a hard fought 2-2 draw. They are hoping for better luck this time around against an RSL team that can't get anything going in the league right now.
Los Angeles Galaxy (MLS) vs. Orange County SC (USL)- 10:30 p.m.
Last year, the Galaxy needed extra time to take down amateur LA Wolves in their fourth round matchup. This time, it's a professional local rival coming into the StubHub Center looking to upset the two time winners.
San Jose Earthquakes (MLS) vs. San Francisco Deltas (NASL)- 10:30 p.m.
The Deltas will play their first ever MLS opponents in the fourth round as they head to the South Bay to take on San Jose Earthquakes. The Quakes have lost their last two league matches and are hoping to find a little form agaisnt the NASL new guys at Avaya Stadium