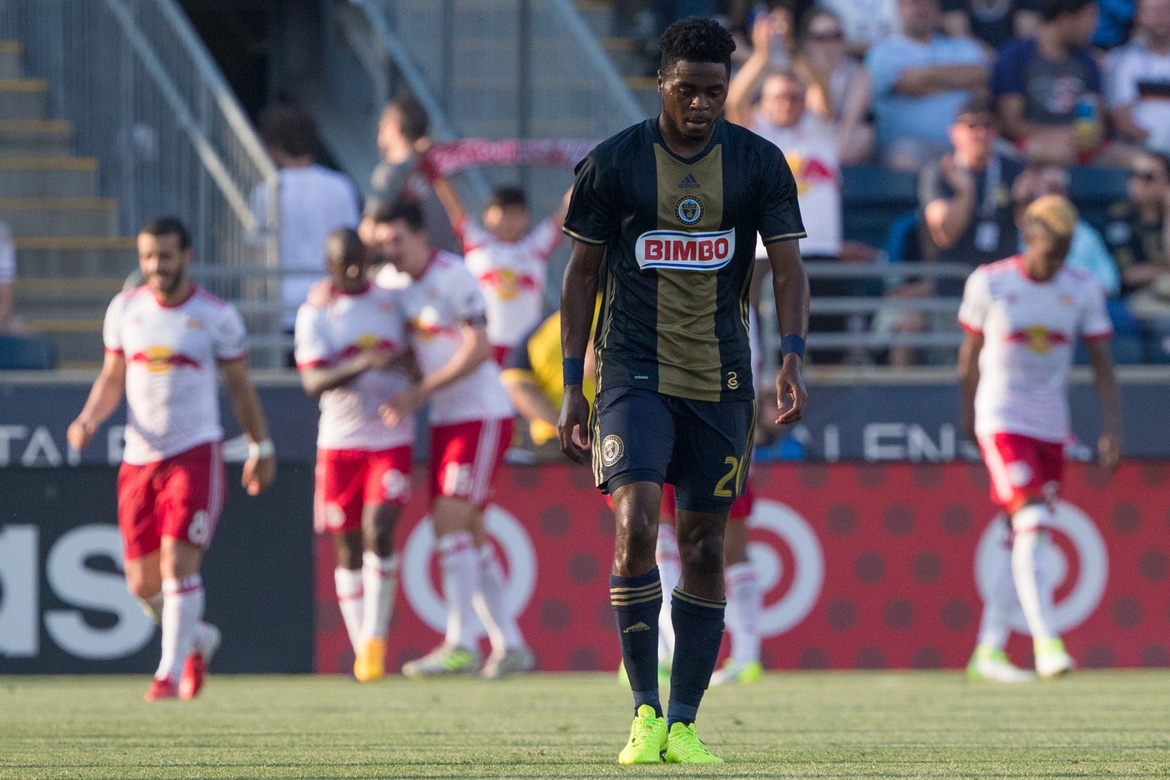 The Philadelphia Union's hopes of starting a three-game league homestand on good footing went to flames faster than a poorly constructed bonfire on Sunday night.
After failing to convert on any chances in the first half, the Union went down a man in the 53rd minute after Derrick Jones slid in with two feet and his studs up against Felipe.
"I don't think it's a red card," Union midfielder Haris Medunjanin said. "Jonesy went for the ball and with a player like Felipe who likes to jump. I think everybody saw it was not a red card. It killed our game."
"I think he may have baited the ref a little bit, made it look a little worse than it was," Union manager Jim Curtin said."(Felipe)'s drawn five red cards this season on opponents. Not a surprise there. You would like to see the referee maybe pause, take a deep breath, think about it, not just be so quick to show the red. I think he could've gotten some communication form the sidelines maybe."
"I think it just happened to fast and the red card was quick," Curtin said. "Derrick does tackle over the ball, but he doesn't really touch Felipe, so again, you can get into all kinds of different arguments on the call, but obviously red cards change games."
Following the ejection, the Union were forced to sit back and soften the blow against the pressure of the New York Red Bulls, a tactic that almost worked to perfection, but Bradley Wright-Phillips struck for a pair of goals in the final seven minutes.
The game-winner from Wright-Phillips in the 83rd minute came off a back shoulder run off Oguchi Onyewu. Jack Elliott tried to slide in to deflect Kemar Lawrence's cross, but the Englishman's efforts did not succeed.
The second tally from the Red Bulls forward was as easy as they get for a natural goal scorer. Wright-Phillips drifted into space behind Onyewu and Elliott failed to cover the striker before he beat Andre Blake.
"He's definitely one of the best drifting off the shoulder and making it difficult to locate him," Elliott said. "Me and Gooch just talked to each other, and it takes the whole back line and midfield to keep him out. He's a good player."
The poor performance from the center backs brought up a few questions about the Union's defensive strategy. With four healthy center backs in the squad, Curtin has been tasked with finding the right combination, and it appears Onyewu and Elliott may be running out of luck.
Curtin didn't want to take too much weight into the showing from the defensive pair, but being down a man didn't have anything to do with how poorly Onyewu and Elliott tracked Wright-Phillips in the closing stages of the defeat.
"They're guys that have put together a good run, haven't conceded a lot of goals in our last seven or eight games, so consistency there," Curtin said. "On a different day, you could judge the backline a little differently, but they had to deal with being down a man and taking a lot of crosses and we didn't get the job done, if we can get away with a shutout and a point there, we're talking differently. But I thought the backline played well, but those were the choices that were made."
Now Curtin has to go back to the drawing board, and with Josh Yaro and Richie Marquez healthy, he could alter his defensive setup. There's also a choice to be made for Saturday's clash of cellar dwellers with D.C. United with Jones out and Alejandro Bedoya recovering from a small injury.
If the Union can take any positive away from Sunday, it's that Warren Creavalle, the next defensive midfielder on the depth chart, continued to impress.
"Warren is a great professional player," Medunjanin said. "He trains every training like a game. He wants to show that he's part of the team and part of the 11 and he got a chance today and you see today he took some balls and created some attacks from them. He's a great player and I'm happy that he's playing with us."
The only choice for the Union now is to find a way to resurrect their season once again with two league home games in a row, and try to enact revenge against the Red Bulls in the U.S. Open Cup on June 28.
"We have two more games at home so we need to come back and stand behind each other and win on Saturday," Medunjanin said.