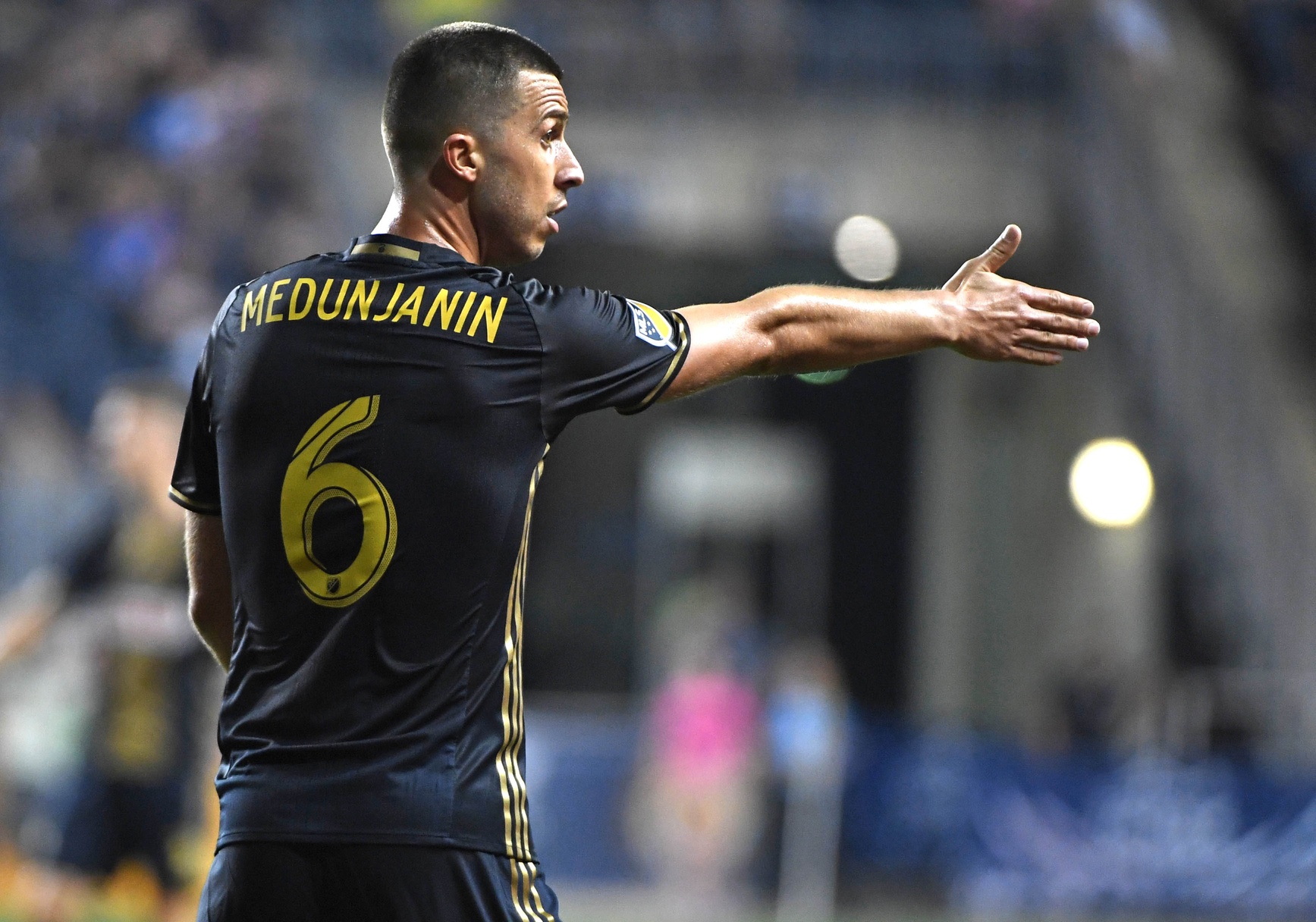 The search for leadership and direction out of the defensive midfield position was a long one that seemed to have no solution in sight when Vincent Nogueira left the Philadelphia Union last summer.
Over the last two months, the Union have found the replacement with the combination of Haris Medunjanin and Alejandro Bedoya shutting down opposing playmakers like Sacha Kljestan and Giovani dos Santos.
That's why there was so much concern with the international break looming that the Union might be without both players for Saturday's clash at Yankee Stadium with New York City FC. Bedoya is already training with the U.S. Men's National Team, but Medunjanin opted to stay for the weekend before heading over to Bosnia and Herzegovina for a crucial UEFA World Cup qualifying match with Greece.
"The national team wanted me to come June 1, but I told them I have a game against New York that's important for us," Medunjanin said. "I wanted to stay with the guys here and hopefully we can win this game and have a nice feeling into the international break." 
"He really wants to be a part of the game against NYCFC and we're more than excited to have him on the field for what will be a difficult game," Union manager Jim Curtin said. "If you were to talk about a guy you want young players to emulate and look up to for all the things he does on the field and off, he's a true professional." 
Medunjanin will be partnered with Warren Creavalle in midfield for Saturday's match. Creavalle, who was a rock in midfield last season for the Union, drew high praise from Medunjanin a few weeks ago as the Bosnian compared him to Chelsea midfielder N'Golo Kante because he gets to every ball in training and during his time on the field in games.
Although the Union struggled mightily in the loss to Real Salt Lake, Curtin probably won't make many more alterations to his starting XI other than Creavalle's forced entry for the absent Bedoya. That means Ray Gaddis is still the starter at right back after supplanting Keegan Rosenberry on April 22. To be fair to Curtin, it appears to be the right move given how poorly Rosenberry started the season and how well Gaddis has played, especially during the six-game unbeaten run that lasted up until last weekend.
"They're both starting caliber right backs, which is a good thing to have," Curtin said. "Even if I make the 'wrong decision', it could work out right. Keegan did have a slower start to the year and he'll get another opportunity down the road. We have a crowded schedule coming up. Everyone's going to be called upon. Ray has done a great job. Keegan each and every day is pushing in training just like Ray was when Keegan was starting." 
Another change will be coming soon to the defense with Josh Yaro cleared to play after shoulder surgery during preseason. Yaro's entrance to the back four might even come on Saturday, although Curtin admitted he wasn't sure where Yaro would get minutes this weekend.
"Josh is cleared to play," Curtin said. "He went through today pain free. Whether it's with Bethlehem this weekend or the first team is still to be determined." 
When Yaro eventually enters the first team, Curtin will be tasked with finding the right combination of center backs like he has with Oguchi Onyewu and Jack Elliott recently. Yaro, Onyewu, Elliott and Richie Marquez will all be in contention for a starting spot. If one had to guess, the Union may stay consistent this weekend and then look for a the right pairing during the 15-day break before the June 18 matchup with the New York Red Bulls.
The same could be said about midfield, where Ilsinho has held down the No. 10 role since Roland Alberg suffered a quad injury. It might be the smart thing for Curtin to keep Ilsinho and his brilliant technical ability in the XI on the tight field at Yankee Stadium and then continue to ease Alberg back into the fold for the Red Bulls game in two weeks.
In addition to Alberg being a potential option off the bench on Saturday, rookie Marcus Epps is expected to see more time as he continues to impress. The void left by Fabian Herbers' injury appears to be Epps' to fill.
"(Marcus) has a ton of potential,"Curtin said. "With an injury to Fabian now, he has an opportunity to step in and perform. I think it's only going to be more and more minutes with the way he's playing."