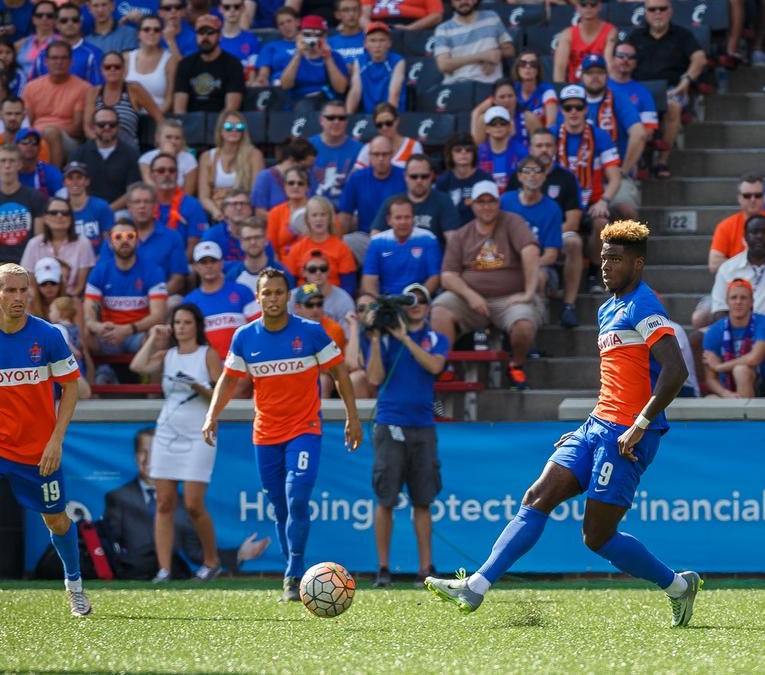 After US Open Cup play dominated the midweek action, there's a full slate of USL matches ahead this weekend. The Rochester Rhinos will be looking to find consistency in their match with FC Cincinnati but it wont be easy as Cincy has won two straight.
Swope Park Rangers will be looking to end San Antonio's 11-game unbeaten streak as well. Last week, San Antonio ended the Rangers' eight game home winning streak thanks to a lone goal by Mark O'Ojong. Can the Rangers end the streak at Toyota field?
Let's take a look at this weekend's USL action:
FRIDAY
Saint Louis FC vs. Toronto FC II, 8:30 p.m.
Both of these teams will look to put their winless streaks to bed in this one. Saint Louis is winless in five while Toronto is winless in 10. Toronto will also have the added challenge of playing without Anthony Osorio for the next three games due to violent conduct with Alex Lee of the Richmond Kickers.
SATURDAY
Rochester Rhinos vs. FC Cincinnati, 6:05 p.m.
Rochester will look to close out their five game homestand by moving into the playoff places in the Eastern Confrence. Opposing them will be an FC Cincinnati team that is finally finding its form and has won two straight. Danni Konig has been the danger-man for Cincinnati as he has scored three goals in his last two games.
Charleston Battery vs. Louisville City FC, 7 p.m.
The Battery will look to rebound from stumbling to New York Red Bulls II but they'll have their work cut out for them against a strong Louisville team. This is a rematch of the 2016 USL Eastern Conference Semifinals. The Battery will hope that Louisville are rusty in this one as they haven't played since May 20th.
Pittsburgh Riverhounds vs. Orlando City B, 7 p.m.
The Riverhounds will look to rediscover their form that saw them win three straight as Orlando City B comes to town. The Riverhounds are coming off of a draw while Orlando City B is coming off of a loss to Charlotte Independence. Orlando City B will be without Richie Laryea for this one thanks to yellow card accumulation.
Richmond Kickers vs. New York Red Bulls II, 7 p.m.
Two teams moving in different directions will meet at City Stadium on Saturday. The Kickers are looking to break a six game winless streak while Red Bulls II are looking to build momentum from a win over the Eastern Conference leading Charleston Battery. While both of Red Bulls II's goals came from set pieces, the Kickers just allowed five to the Ottawa Fury so goals shouldn't be hard to come by.
Colorado Springs Switchbacks FC vs. OKC Energy FC, 8 p.m.
The Energy are finding their form having won two straight while the Switchbacks are winless in their last four. This will be a rematch of their midweek US Open Cup match-up that the Energy won by a 2-1 scoreline. Will the Energy topple the Switchbacks again?
Orange County SC vs. Real Monarchs SLC, 8 p.m.
The Blues will be hosting only their second home game of the season at Orange County Great Park but they will be up against stiff opposition. The Monarchs have won six straight while Orange County has lost two straight in the league. The Blues were able to take down the LA Wolves in Open Cup action can they keep their momentum going?
San Antonio FC vs. Swope Park Rangers, 8:30 p.m.
San Antonio suffered a loss in Open Cup play to the Tulsa Roughnecks on penalties but their 11-game unbeaten streak in the league goes on. The Rangers will be looking for revenge after San Antonio snapped their home winning streak last Friday.
Seattle Sounders FC 2 vs. LA Galaxy II, 10 p.m.
Los Dos and Sounders 2 will be meeting for the second time this season. Seattle won the first match by a 2-1 scoreline but they are currently riding a three game winless streak. Los Dos only have one win in their last five and they will also be without Hugo Arellano due to yellow card accumulation.
Sacramento Republic FC vs. Rio Grande Valley FC, 11 p.m.
The Toros will be coming to Sacramento in good form as they are unbeaten in three straight. They have also netted five goals in their last two matches. Sacramento Republic has been struggling having only won one game in their last five but they were able to battle back for a draw against Sounders 2 last weekend.
SUNDAY
Bethlehem Steel FC vs. Ottawa Fury FC, 5 p.m.
The suddenly potent Ottawa Fury FC lost their Canadian Championship series to Toronto FC after winning their opening leg 2-1. They will be looking to bounce back against Bethlehem Steel FC. Both sides are still searching for their form and consistency. While it is early days in the season, this one should still look like a playoff match for two very hopeful teams.
Portland Timbers 2 vs. Vancouver Whitecaps 2, 5 p.m.
The Portland Timbers 2 have languished at the bottom of the standings for weeks. Portland continues to struggle in front of the net and come up against an equally struggling Cascadia rival, Vancouver Whitecaps 2. The Whitecaps have just three wins this season, and two of those have come against their rivals, Portland, and Seattle.
Charlotte Independence vs. Tampa Bay Rowdies, 7 p.m.
Charlotte Independence's early season rival is on. After struggling to find their form, the Independence are now on a two-game winning streak. That could be bad news for Tampa Bay Rowdies. Tampa is winless in their last two, including losing to Miami FC in the U.S. Open Cup. Charlotte will want to pick up maximum points to utilize the large number of games in hand they have over the rest of the east.