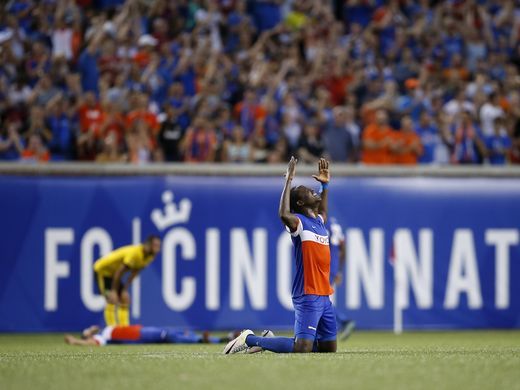 FC Cincinnati pulled off an improbable upset in the U.S. Open Cup midweek, defeating the Columbus Crew SC.
With a proposal for a new stadium, the Open Cup victory, and the massive crowds, Cincinnati should be on cloud nine. Their results in the league don't inspire the same way their off-the-field happenings do right now. Charleston Battery have been fierce this year, and might well be running away with the league, even at this early stage of the season. The clash between the eastern teams is definitely one to keep an eye on.
Let's take a look at the weekend USL action:
FRIDAY
New York Red Bulls II vs. Bethlehem Steel FC, 7 p.m.
Bethlehem Steel FC carry momentum into the match against New York Red Bulls II Friday night. Seku Conneh is the man on fire for Steel, scoring three goals in his last three games. The Red Bulls will need to shake off a bad home loss to Louisville City last Sunday and look for a result in what should be a classic six-point swing for the victors.
Portland Timbers 2 vs. OKC Energy FC, 10:30 p.m.
OKC Energy nearly scalped Colorado Rapids in the U.S. Open Cup, but let in three second half goals to fall to the MLS side. In USL play, OKC looks to have turned around some of their early season struggles and now has just one loss in their last five. The Timbers struggles are well documented. Their sole win is from week 1, and since have managed to pick up just one point in twelve games. If OKC can get a result, they could find themselves in the top half of the table.
SATURDAY
Rochester Rhinos vs. Ottawa Fury FC, 6:05 p.m.
It seems like a long time ago that Ottawa Fury FC were at the bottom of the table. Their four-game unbeaten streak now finds the team sitting in seventh place and rising. Rochester Rhinos aren't setting the league on fire, but their consistent play has them unbeaten in 7. Even better for the Rhinos, their defense hasn't surrendered more than a goal a game through most of that run.
Charlotte Independence vs. Harrisburg City Islanders, 7 p.m.
Charlotte Independence welcome Harrisburg City Islanders in a clash of two teams struggling to find their form this season. After winning two of their first three games, Harrisburg is winless in eight. The Independence brief turnaround of back-to-back wins may prove to be an outlier in their season. Both teams have struggled to put the ball in the net, and may still this week. Give the edge to Charlotte with Enzo Martinez and Jorge Herrera capable, but still lacking their quality from a year ago.
FC Cincinnati vs. Charleston Battery, 7 p.m.
FC Cincinnati will surely be riding high after their upset win in the U.S. Open Cup over Columbus Crew. Djiby Fall's goal should help to reignite the player's form after returning from long term suspension a few weeks ago. Charleston will be picking up the pieces after allowing a comeback victory in their own Open Cup campaign against MLS debutantes Atlanta United FC. The result is surely not what they had hoped for, but they managed to give Atlanta fits, even without Romario Williams. This is a game to keep an eye on.
Richmond Kickers vs. Tampa Bay Rowdies, 7 p.m.
Two teams on the opposite end of the spectrum meet Saturday night. The Richmond Kickers languish at the bottom of the table, while the Tampa Bay Rowdies are challenging for a top spot. The Rowdies have cooled from their impressive start to the 2017 season, winning but once in their last five games. Still, the Rowdies are proving to be a tough opponent this year, and Richmond may not be up to the task. The Kicker's record doesn't paint the full picture, but it isn't far from the truth. The offensive struggles are real for Richmond, and solving them at home against Tampa Bay may not be in the cards.
Louisville City FC vs. Pittsburgh Riverhounds, 7:30 p.m.
Louisville City FC are on a big upswing. After handily defeating the New York Red Bulls II on the road last weekend, Louisville is now unbeaten in their last four matches. The Pittsburgh Riverhounds are winless over that same stretch, scoring only two goals in that time. Corey Hertzog and Romeo Parkes will look to ignite the offensive output that has largely been missing for Pittsburgh this year. A win for Louisville has the potential to see the team slide into second place with three games in hand on current holders Tampa Bay.
Rio Grande Valley FC vs. LA Galaxy II, 8:30 p.m.
LA Galaxy II struggles are largely offensive. Despite a talented attacking group, the young side has struggled in 2017 after a crop of players "graduated" from the program in the offseason, including last year's top scorer Jack McBean. Rio Grande Valley FC failed to defeat LA Galaxy II May 20th, so maybe an upset is in the making. Look for Memo Rodrigues to get his scoring ways back on track against an LA team susceptible to mistakes at the back.
San Antonio FC vs. Tulsa Roughnecks FC, 8:30 p.m.
San Antonio FC dropped down into the second seed in the west with a a pair of draws. If they want to keep pace with Real Monarchs SLC, they will need to get back in the win column against Tulsa Roughnecks. Tulsa is ripe for the taking after losing three of their last five games in league play and dropping a 2-1 decision against FC Dallas in the U.S. Open Cup. Tulsa's loss in the Open Cup was made all the worse by losing on an own goal in second half stoppage time. Will they bounce back or wilt under the weight of the loss?
Sacramento Republic FC vs. Vancouver Whitecaps FC 2, 11 p.m.
If Sacramento Republic FC needed to build some momentum coming into their match with Vancouver Whitecaps FC 2, their big victory over Real Salt Lake in the U.S. Open Cup should serve as a spring board to their season. Vancouver have a game in hand, and a nearly identical record. A win for either side can propel them from 10th/11th place all the way up to 5th. That's a big swing in the early season days of USL.
SUNDAY
Swope Park Rangers vs. Phoenix Rising FC, 5 p.m.
Didier Drogba's USL account is open. The ancient Ivorian played a hand in both of Phoenix Rising FC's goals last week in their 2-1 win over Vancouver Whitecaps FC 2. Will Drogba show his consistent goal scoring form from his days in EPL and MLS? Time will tell. Swope Park Rangers haven't surrendered more than a goal a game since Phoenix brutalized them for four back on April 23rd. Is this the time for the Rangers to get their just desserts?