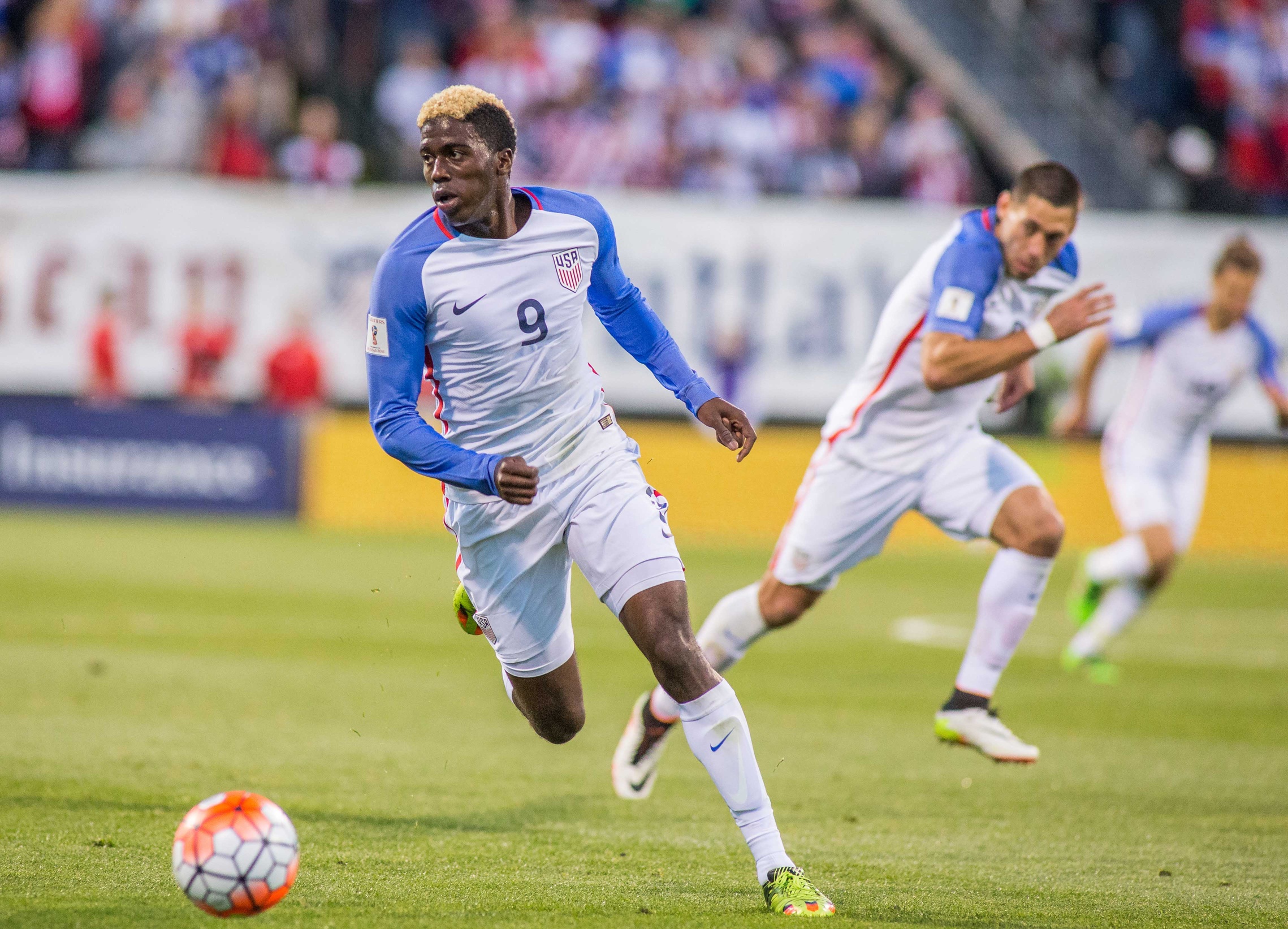 Heading into the second half of 2017, the U.S. Men's National Team's forward pool might be as deep as it has ever been. Bobby Wood is fresh off a very good season with Hamburg. Jozy Altidore has been in good form with Toronto FC and appears as confident as ever. Clint Dempsey, now healthy, remains the wily veteran that stands on the precipice of a goalscoring record.
That trio will likely lead the way next summer if the USMNT qualifies for the World Cup. That doesn't mean there aren't spots to be had, though, and several young forwards could go a long way towards claiming them with strong Gold Cup performances.
Dom Dwyer, Juan Agudelo and Jordan Morris are listed as the primary forwards on Bruce Arena's 23-man roster for the upcoming tournament while Gyasi Zardes, listed as a midfielder, could also play up front. All four have plenty to prove in the next month or so and all four will be looking to step up and make a statement with vital qualifiers and, ultimately, a World Cup on the horizon. Their time may be limited as Arena has the chance to make changes, making the next few weeks important for each as they look to build their respective cases.
Of the four, Morris and Zardes are the most familiar. The two bring speed and athleticism to the mix, even if their games are different. Morris' ability as a goalscorer has been proven since his time at Stanford while his unique blend of pace and strength make him a handful for opposing defenders.
Zardes, meanwhile, isn't as talented in front of goal, but the LA Galaxy forward does create matchup problems of his own. The 25-year-old forward, who is just getting into form after missing the start of the MLS season due to injury, wreaks havoc with his movement and size.
The two remain contenders to be on the squad next year thanks to their versatility. Both can be deployed on the wing and both have shown well there on the club level. However, both have their faults as well. Zardes' injury issues kept him out for large stretches while his numbers have declined in a big way since his breakout 2014 campaign. Morris' first touch still lets him down while his one-footedness has been often talked about since his rise up the ranks
Agudelo is also versatile and has been cast in a number of roles for the New England Revolution. He's played up top alone, up top as part of a two-striker formation and as a withdrawn forward. He brings technique and creativity to the mix. However, Agudelo has been out of the picture for some time as he's tried to find a consistent spot on the club level. He's done so thus far in 2017, scoring seven goals in MLS play, but he'll need to stay hot to be in the mix heading toward the fall.
Dwyer, meanwhile, is the wild card. His work rate should make him a very valuable asset against CONCACAF teams content to sit and bunker, but work rate is far from enough when you take on the big dogs. So far in 2017, the goals haven't quite been there for the Sporting KC forward, who has scored just five goals this season and none since May 3.
He does, however, fit a need. Arena cited Dwyer's left foot as a valuable asset due to the absence of pure left-footed strikers in the pool. The Sporting KC striker, at this point, is a mystery on the international level, and he'll have to make up for lost time with a strong Gold Cup performance if he wants to push his way up the depth chart.
With all of that in mind, the next several months will see several notable battles within the USMNT as players' stocks rise and fall with the World Cup looming. There are plenty of variables in play when it comes to the forward position, and the Gold Cup should provide at least a few answers as to who is ready to step up and claim a regular spot for the important matches ahead.