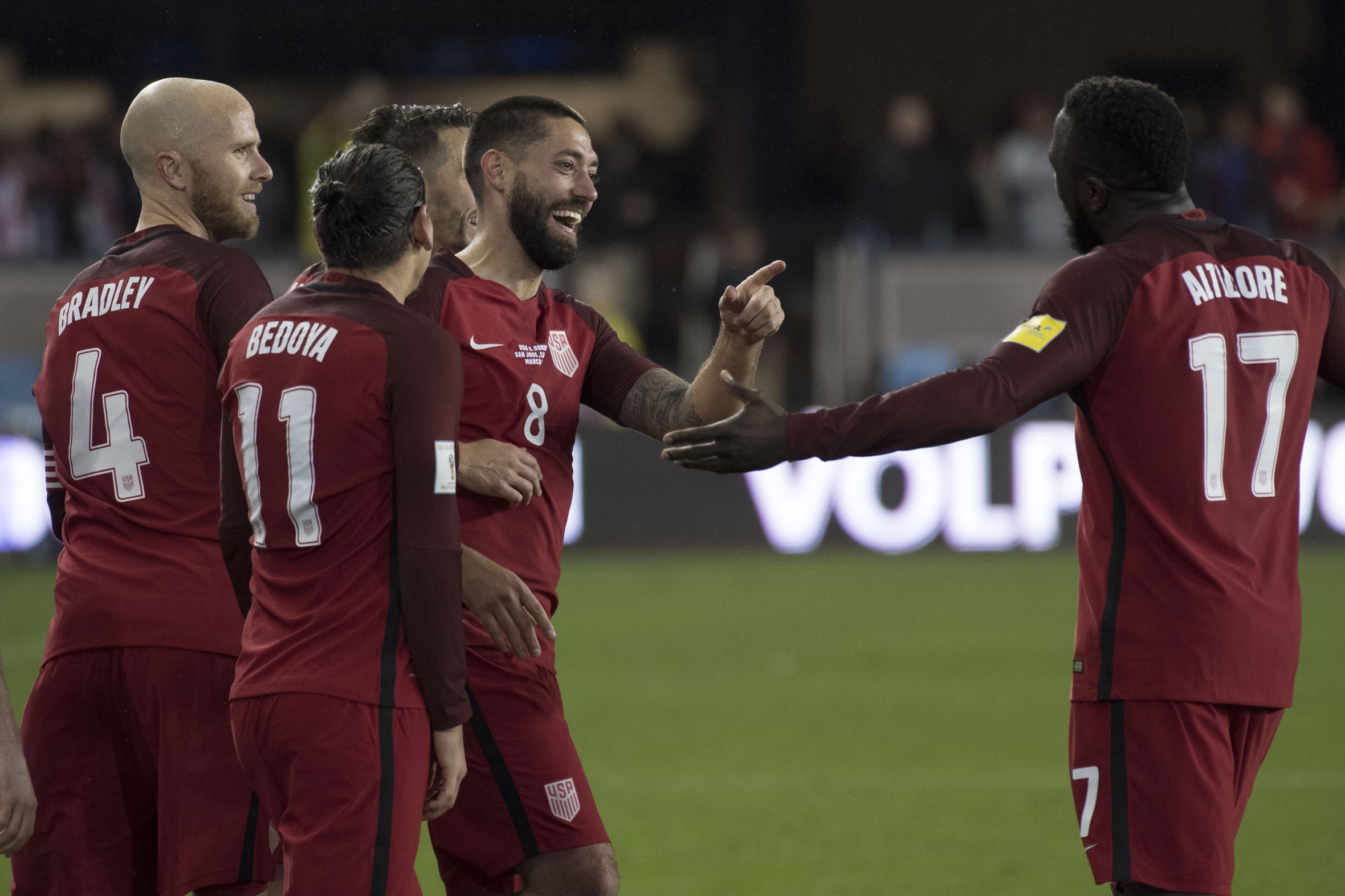 The U.S. Men's National Team's depth at the forward position is as good as its been in quite some time. It's an interesting mix of players, each bringing a different skill set and level of experience to the table.
With two World Cup qualifiers coming in a four-day span, Bruce Arena will likely rely on each of those forwards, taking full advantage of depth for two games that will require very different tactics.
After missing out on the friendly against Venezuela, Jozy Altidore has joined Clint Dempsey, Bobby Wood and Jordan Morris to make up the USMNT's current forward pool. It's a unit that faces a unique set of challenges against a resilient Trinidad & Tobago team before heading to the daunting Azteca to take on Mexico on Thursday.
"When you look at our team, I think Bruce, if there's one thing he's good at, it's putting teams together," Altidore said. "I think it'll be tough for a lot of guys to play Thursday and then play Sunday so I think everybody has to be ready.
"I think it's definitely one of the better national teams we've had in recent years," he added. "You have a lot of guys playing at a high level, playing at a good level and playing well. It makes everything that much better. You feel confident as players coming off the bench knowing that the guy ahead of you is doing well and vice versa."
Thursday's match will no doubt be much, much different than the challenges posed by Mexico. Against Trinidad & Tobago, and on home soil, the U.S. expect to have a bulk of possession. They'll have the opportunities to attack and create, but they'll need to be decisive and vicious when it comes to playing that final ball. The area inside the box will be restricted as the starting forwards will need to be a bit trickier to find their way through.
Against Mexico, the game will potentially be a bit more open as El Tri looks to control the ball. The U.S. will likely look to spring quick counter attacks and take advantage of space. Hold up play will be vital while rapid runs into the back will be the USMNT's best chance of unsettling an experienced El Tri backline.
Each brings a different aspect, even if all four forwards could find their feet in either match. Dempsey, Altidore and Wood remain the likely starting contenders with Morris bringing a burst of pace off the bench. While Wood is still relatively new to World Cup qualifying, both Dempsey and Altidore have a history of success at this level.
Altidore, unbeknownst to him when asked, is the USMNT's all-time leading goalscorer against T&T. The forward insists there's no secret to the stat, which is just that, a stat. Rather, it's more of right place and right time, or wrong place and wrong time if you're a T&T defender.
Dempsey's record pursuit, meanwhile, is much more meaningful. After scoring four goals in two games in March qualifiers, Dempsey is now just one goal behind Landon Donovan as he looks to become the USMNT's all-time leading goalscorer.
"You never really know what's going to happen obviously," Dempsey said of the record. "You try to go out and get goals. My goals-per-game ratio with the national team has always been pretty good, but to get four in two was a little bit of a surprise I would say. There's a lot of quality on the team. They put you in good positions to get chances. I think that's why, you get better looks in front of goal and I think that's why you get more goals."
"That's not an easy thing to do," added Altidore. "To score at a consistent level over a number of years is never easy. I think (Dempsey) is just a guy who pops up in good spots. He's not a number nine, but he's got that mentality of a nine, of knowing where the ball is going to pop up. I think that's what's made him successful over the years because you can't always score the golazos. He's able to score those grimy goals and that's why he's so important to us and I think that's why he's done it for such a long time."
Dempsey says that both he and Altidore are "hungry" for this round of World Cup qualifiers. The Seattle Sounders forward says he likes playing alongside Altidore, a player that can hold the ball and bring him into the play. The two have shown an ability to score and create for one another, which could be a major benefit against a bunkered T&T.
Regardless of who starts the opener, the group of forwards are all expecting to get their chance, and they're preparing as such. With two games in quick succession, each of them will be ready to go if called upon in what could be two defining games of the World Cup qualifying campaign.
"That's the goal, that's the hope: to come in here and, if I get the opportunity to play, to play well," Altidore said. "Any time you come here to the national team that's the goal. You want to play well, and these games are really important games.
"Anybody that plays, the job is to get three points moreso than how you play individually I think at this point in time."