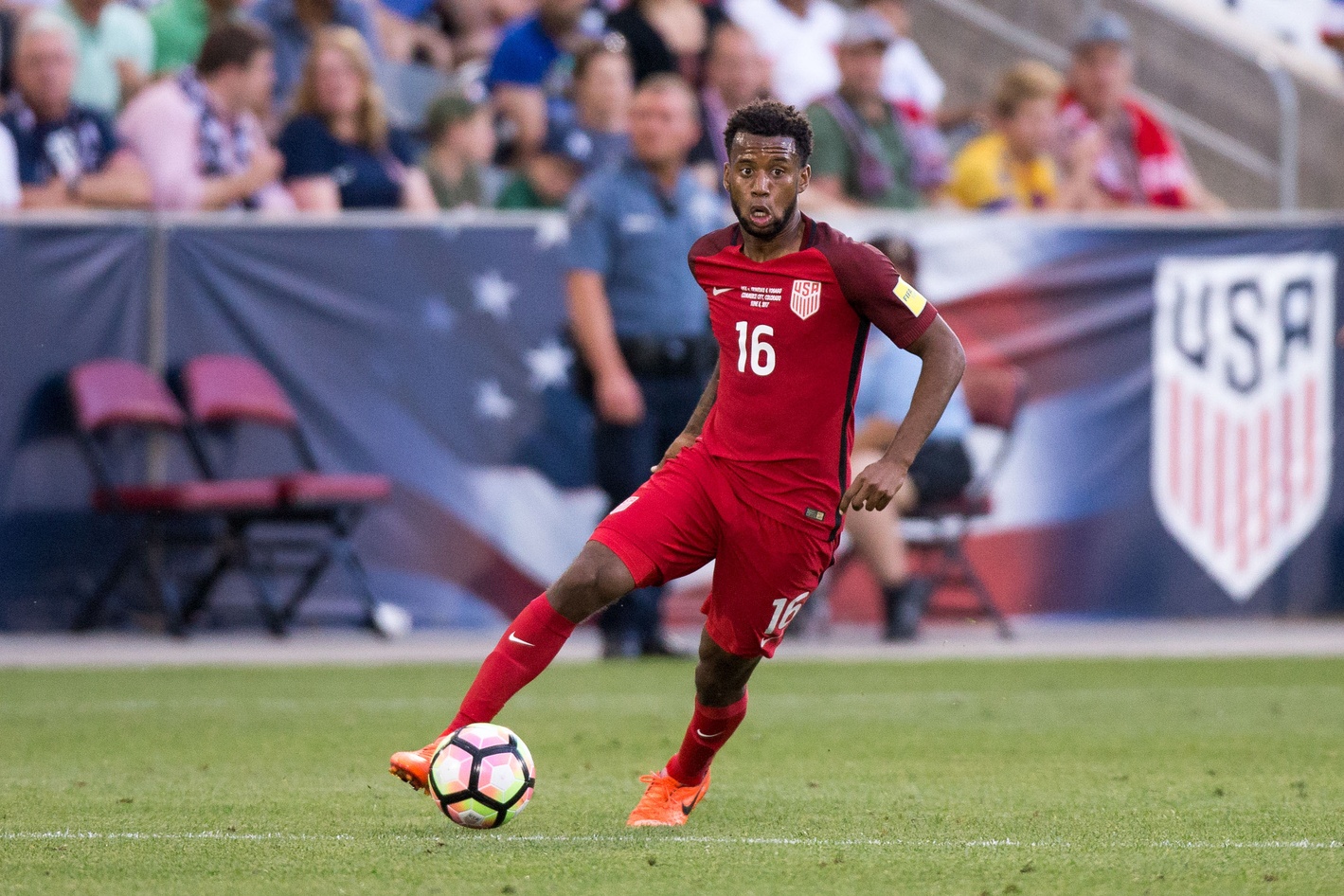 Kellyn Acosta's rise from prospect to legitimate contributor has come quickly. The FC Dallas midfielder, at just 21 years old, was thrust into the USMNT midfield against Mexico last month, a big step for even the most experienced national team players.
His play has possibly vaulted him into consideration for a World Cup spot. But, for that to happen, he'll need to continue to impress Bruce Arena.
So far, the FC Dallas star has done just that. He's shown that he can be a solid partner for Michael Bradley in the center of the field while his club displays have shown an increased ability in the attack. His game continues to round out, and Arena expects more from the young midfielder in the next few weeks.
"I think the national team program is a long process throughout this year and certainly next year," Arena said. "Kellyn has now positioned himself for more playing time. This tournament is going to be important for him. He continues to be a player that's more comfortable in our environment so I'm looking forward to him having a good Gold Cup."
Here's a look at some more USMNT news and notes:
VILLAFANA LOOKING TO BUILD ON STRONG DEBUT YEAR
Jorge Villafana finally got his chance during January camp, and the Santos Laguna fullback has spent the last few months showing exactly why he was long viewed as a potential USMNT regular. Now that he's fully involved, though, Villafana is just hoping to keep that rhythm going through the Gold Cup.
Villafana is one of few USMNT regulars included on the Gold Cup roster, and he's more than earned that distinction in the few months since his USMNT debut. Since his January camp call-up, Villafana has played six times and rapidly become the starting option at left back.
Since the USMNT's win over Trinidad & Tobago last month, though, Villafana has been out of action. The past several days have been vital for him to get his fitness back and, now that he's feeling more like himself, he's targeting another strong run of performances.
"I think it's a really great honor that I got the opportunity to be a part of January camp and show myself. I kind of won a spot there, and I'm really happy for the opportunity. I'm really happy for the opportunity Bruce has given me to be a part of this team and be a part of the U.S. Men's National Team."
MORROW BACK AFTER FOUR LONG YEARS
Four years. That's how long Justin Morrow has waited. A lot has changed for the Toronto FC defender since he last wore a USMNT shirt.
Now, given another chance, Morrow is looking to bring the experience of a veteran to only his third USMNT camp.
Morrow made his USMNT debut back in January 2013, starting in a draw against Canada. He was called in to March qualifiers a few months later, but failed to get off the bench for matches against Costa Rica and Mexico. Since then, nothing, even as he's refined his game as a vital member of Toronto FC.
Now back, Morrow joins a fullback group that includes Villfana and Eric Lichaj as potential left back options as he looks to once again prove himself as a potential national team contributor.
"It's a pleasure to be back. It feels like four years of hard work. It was four years ago that I was in camp and it feels great to be back.
"I think I'm here to express myself, enjoy the moment, help the team win, get forward be hard to play against defensively and be a little bit of a veteran presence out there."
ARENA REITERATES PRAISE FOR MLS PLAYERS
In off year Gold Cups, the U.S. Men's National Team generally looks towards MLS to build a roster. It's not a new concept. With a World Cup looming, it makes sense to rest the program's European regulars, giving them a chance to be fresh ahead of what is always a big season on the club level.
Bruce Arena isn't reinventing the wheel with his latest USMNT roster, which includes 16 MLS call-ups. Arena, though, continued to talk up the development of the American player and the impact MLS has had on that development.
"The league has improved. I think the American player has more opportunities today than ever before," Arena said. "It's interesting to see the combination of young players and more experienced players that we have. It's encouraging, and it's certainly a positive for Major League Soccer as well."