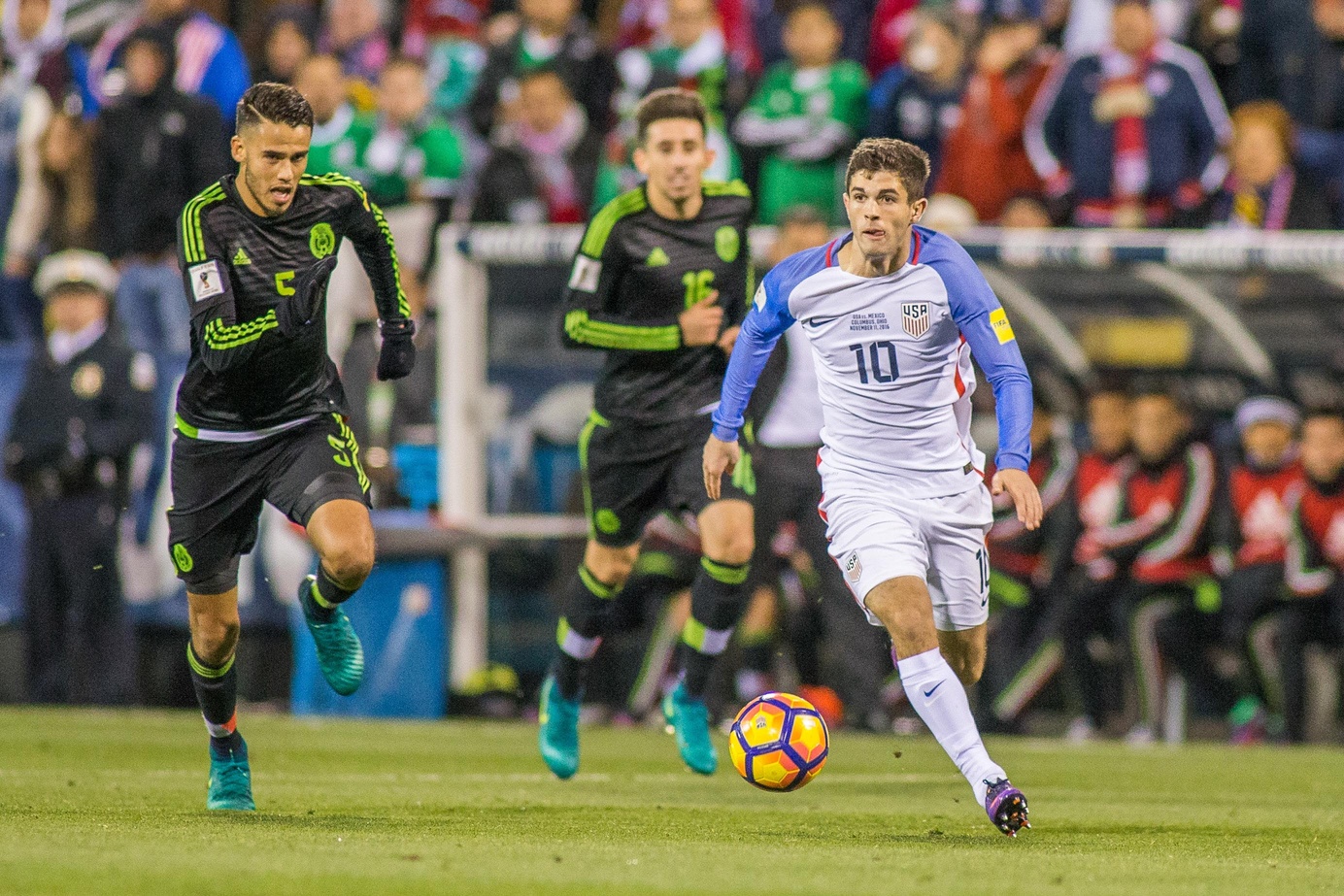 You generally know how a match between the U.S. Men's National Team and Mexico will look. It will be physical and, at times, downright nasty. There will be confrontations and scuffles. There will be hard tackles and late bumps.
Every match feels special, and Sunday's will be no different. It's a match with plenty to dissect, especially with the stakes.
After topping Trinidad & Tobago on Thursday, the U.S. heads to the Azteca with some confidence. They'll need it. Mexico is  39-2-7 against the USMNT on home turf in World Cup qualifying, and their recent form gives plenty of reason to believe that success could be coming again. They've captured 13 of 15 possible points in the Hexagonal thus far and enter Sunday's match fresh off a thrashing of Honduras with a B team.
Still, the U.S. certainly has a chance to battle everything that faces them in the Azteca. Here's a look at some of the key storylines to watch on Sunday:
MEXICO BATTLING INJURIES
Mexico remains a strong team, but El Tri will have to push on with several notable injuries.
Rafa Marquez, Andres Guardado, Carlos Salcedo and Miguel Layun will not take part in Sunday's match, leaving Mexico without four expected starters. The injuries deprive Mexico of several vital leaders, including Marquez, who scored the winner against the USMNT last fall.
Hector Moreno remains a very good defender and Oswaldo Alanis has been solid at the back, easing some of the concerns. However, missing out on so many veteran players is never ideal, and Juan Carlos Osorio's side will certainly be weakened without their presence.
Mexico is still very, very deep, especially in the midfield, but it will be interesting to see how El Tri lines up given the absences.
PULISIC'S GUARANTEE
Christian Pulisic made a bold statement following the USMNT's win over Trinidad & Tobago. Now, he'll have to live up to his words in a match that will be his biggest challenge to date.
Matches between the USMNT and Mexico are, for lack of a better word, vicious. It's never a walk in the park, especially for the team's biggest stars. It's physical and, at times violent, and Pulisic will get his first taste of that on Sunday. He's faces Mexico before, sure, but the Azteca, in many ways, is a whole different animal.
After his claim that the U.S. will win Sunday's match, expect the day to be extra physical for the young forward. El Tri was already planning on pushing the forward's buttons, but now they have extra motivation to lay into him when the time comes. Pulisic will need to keep composed and not be drawn into any extracurricular activities although, so far in his young career, he's been able to do that.
Pulisic will need to manage the physical and mental challenges of Sunday's match but, if he can perform even half as well as he did on Thursday, the U.S. will be just fine.
DEFENDING THE SET PIECE
Set pieces can be talked about ad nauseum, I get it. It remains a major talking point each and every time the U.S. takes the field but, on Sunday, they'll be as important as ever.
The USMNT's ability to defend set pieces has been, at best, suspect and, at worst, downright awful. While the defense has been monstrous in open play, they've been anything but on balls in the air. Dating all the way back to the fall, set pieces have been particularly troublesome for the USMNT.
Mexico, meanwhile, thrives from dead ball situations. The absence of Marquez hurts a bit, but El Tri will still look to threaten on balls into the box. At times, Mexico can be too lethargic despite dominating the ball, but set pieces always give El Tri a chance to snag a goal or two.
The U.S. defense, and it remains to be seen who will be starting in that defense, will need to be more alert and more committed. If not, Tim Howard may need to pull off some Belgium-like nonsense to keep Mexico off the board.
SHORT REST
While Mexico was able to rest several key starters against Honduras, the U.S. didn't have that luxury. Knowing that, Bruce Arena has some decisions to make heading into the Azteca altitude.
Arena was able to sub off several regulars, players like Clint Dempsey, Fabian Johnson and Jozy Altidore. Bobby Wood played limited minutes as did midfield options in Alejandro Bedoya and Kellyn Acosta. This USMNT squad is one of the deepest in quite some time, so there are options in there, but Arena will have to navigate them.
Several players, like Jorge Villafana, looked gassed down the stretch in Thursday's match. The altitude does that, and it won't get any easier in Mexico. Expect a bunch of reshuffling and reshaping.
MENTALITY IS KEY
The U.S. can enter Sunday's match with one of two mentalities, and that mentality will play a big part in how the team will approach the game.
On one hand, Arena can look at the challenge ahead, assesses it's difficulty, and determine a point would be just fine. You can't argue with that fact. A point from the Azteca has historically been a success and any sort of result on Thursday would do wonders for the team's World Cup qualifying push.
Or, Arena could do the opposite and determine that the U.S. has nothing to lose. It's also true. A loss on Sunday is, in many ways expected, and would do little to hurt the USMNT's standing. Their spot in the table would still be relatively secure with several more winnable matches on the horizon. Arena and the U.S. could go for broke to try and steal a win, while jumping up the table in the process.
You'll be able to tell a lot from how the USMNT lines up but, if the U.S. hangs with Mexico for an extended period, it wouldn't be surprising to see Arena opt to attack the game and hope for the best.