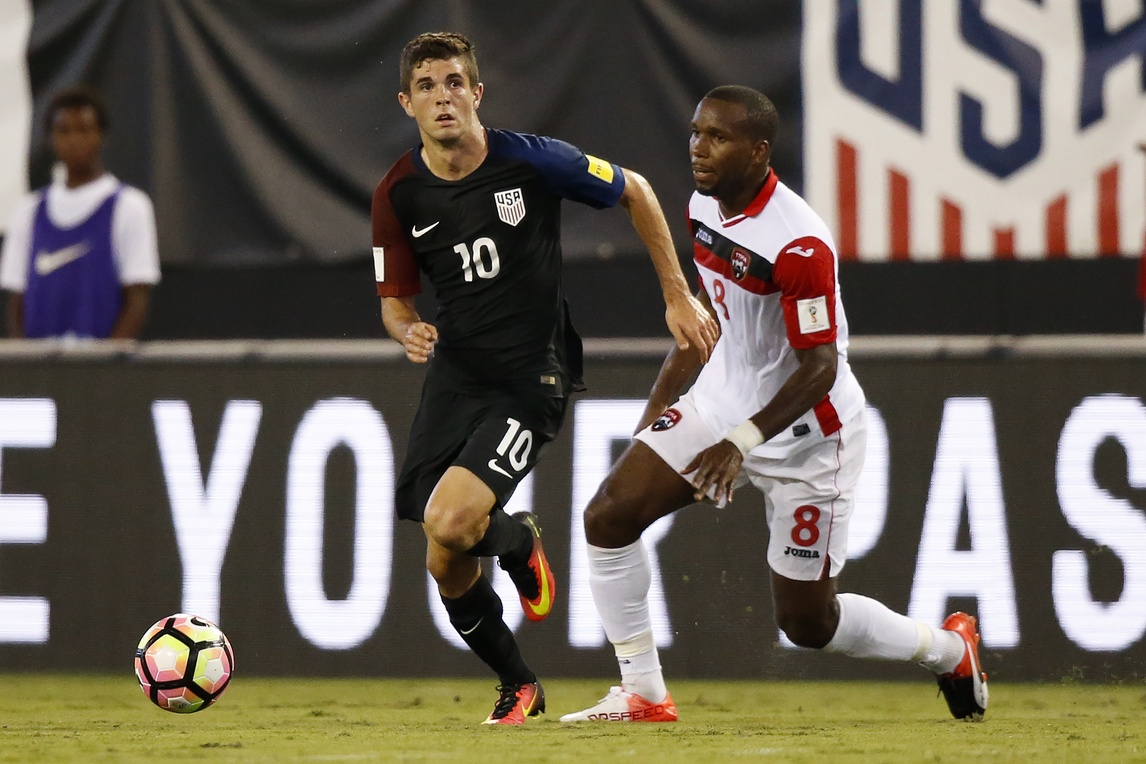 There's a major focus on the big picture when it comes to the U.S. Men's National Team. The next two games are vital to World Cup qualifying hopes, and it's easy to get caught up in everything going on throughout CONCACAF's qualifying process.
But, before the U.S. can truly think ahead, they must handle business against Trinidad & Tobago. It's a Soca Warriors team that's currently in last place through four games, a team that is certainly an underdog heading into Thursday's match. Regardless, it's a match that remains a dangerous one for the U.S., especially with Mexico looming.
T&T possesses several players capable of changing a game, and the U.S. will need to be diligent and focused throughout the 90 minutes. A win is far from a foregone conclusion, and the U.S. will need to clean up several aspects of their game if they hope to leave Dick's Sporting Goods Park with a firm grasp on their qualifying place.
With that in mind, here's a look at several storylines to watch for on Thursday:
CONTAINING MOLINO
Trinidad & Tobago has a number of weapons. Kenwyne Jones is a battering ram atop the field. Joevin Jones is in good form. Still, it's Kevin Molino that is very much the Soca Warriors most dangerous attacker.
The Minnesota United midfielder, who scored the lone goal in T&T's win over Panama to open the Hex, remains the Soca Warriors' most creative presence. Molino has the ability to both score and pass, making him a force in the midfield. He has five goals and three assists in 12 MLS matches this season as he enters Thursday's match in solid form.
With T&T likely to be on the counter, the Soca Warriors will need to feed Molino quickly to get the attack going. Whether he's on the wings or down the middle, Molino will be vital towards kickstarting that T&T counter whenever they do get the ball.
Molino brings a unique bit of pace and technique, and he should be a handful for the U.S. defense when T&T does get the ball.
PULISIC'S CONTINUED RISE
By now, everyone knows that Christian Pulisic is vital to the USMNT, but it's important for the Borussia Dortmund star to continue asserting himself as a playmaker.
Mainly a winger on the club level, Pulisic has been used as a No. 10 for the U.S. With his pace and ability to beat players one-on-one, Pulisic is a weapon no matter where you put him, but his continued development as a central playmaker is important to the USMNT's present and future.
He took his chance wonderfully in Saturday's draw with Venezuela, showing that he can still make an impact in what was a lackluster performance from the entire team. It's a star quality. Great players simply find ways, and Pulisic's move central should help his push towards being a truly great player at any level.
The young midfielder torched T&T back in September, providing an assist while wreaking havoc throughout. He's one to watch on Thursday, although you can say that about him for most USMNT matches these days.
ALTITUDE EFFECT
It's perhaps talked about a bit too much, but there's little doubt that altitude is a factor at Dick's Sporting Goods Park.
The USMNT made sure to get out ahead by training in Denver for an extended period, helping the team adjust to the issues that lie ahead. Denver has long been a welcome spot for the USMNT, a place where the U.S. can take advantage of a little home field climate in front of a generally pro-American crowd.
Thursday should be no different, and it will be interesting to see how T&T handle the climate. They've trained in altitude as well but, as the game wears on, look to see which team's fitness stands out. It may be the difference if things go down to the wire.
DEFENDING SET PIECES
Set pieces have long been the bread and butter of U.S. Men's National Team soccer, but the defending of them has been pretty terrible for quite some time.
One can think back to Rafael Marquez's header back in the fall, a finish that set the U.S. into panic mode just 90 minutes into the Hex. The problems have persisted for quite some time, and they were felt again in Saturday's draw against Venezuela. The Venezuela goal? It came from a set piece, as did another chance that was somehow saved by Tim Howard.
If John Brooks is good to go, he'll have to be particularly alert with someone like Kenwyne Jones in the box. The same goes for Geoff Cameron or Omar Gonzalez or whoever Arena selects at centerback. Set pieces are one of T&T's best ways into the game, and the U.S. will need to manage them intelligently.
DEMPSEY'S PURSUIT
It remains to be seen which forward pairing will start on Thursday, but we all know which forward will be the most motivated to step up.
Clint Dempsey is just one goal away from Landon Donovan's record and, given his current international form, it could very well come on Thursday. Dempsey fired four goals during March qualifiers and, given the USMNT's history against T&T, there are goals to be had on Thursday.
Dempsey, in many ways, is a good fit for Thursday's lineup. Against a T&T team likely to bunker, Dempsey's creativity could help open up several gaps in the Soca Warriors defense. If Jozy Altidore can hold the ball and draw eye to him, Dempsey should be able to find and exploit gaps in the back line.
The Mexico game may not be tailored to his strengths, but Thursday's match is surely one for Dempsey, and it could be a record-breaker if the Seattle Sounders forward can work himself into dangerous spots.