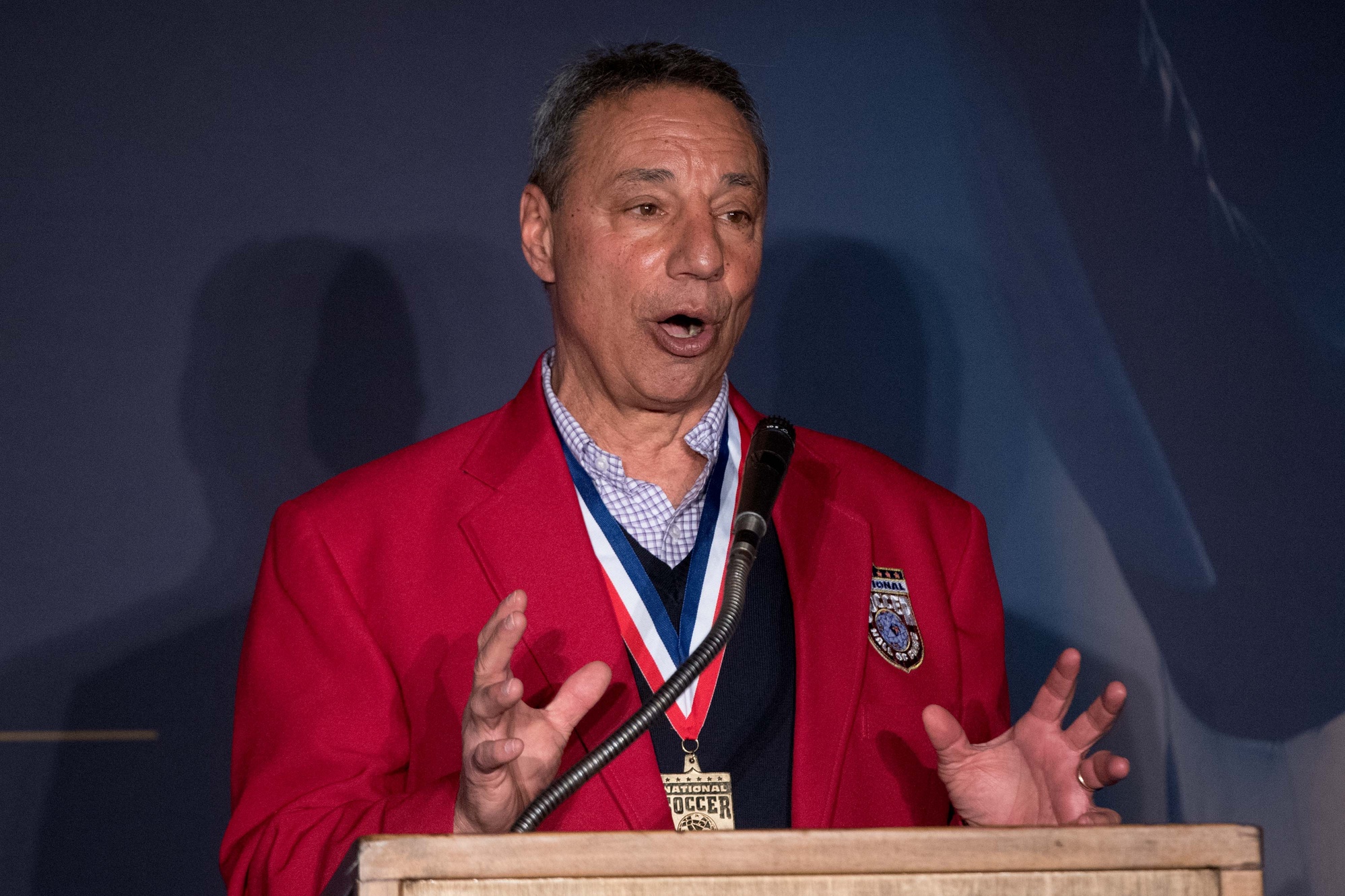 Tony DiCicco had devised a hand-ball warm-up for the U.S. Women's National Team. When he observed that one of his leaders, Julie Foudy, was not buying in to the exercise, the head coach of the eventual World Cup champions felt the need to discipline the squad with an old fashioned consequence – sprints.
"So he takes off on a sprint and says, 'Everybody better stay with me'," remembered Mia Hamm, who joined Foudy, Brandi Chastain and Anson Dorrance in a tribute to DiCicco on SiriusXM FC's, The Coaching Academy. "We were whispering, 'He can't make it that much longer.' He gets around about three-quarters of the field and is gassed. Here he is trying to be super hard on us and in the end we were all laughing. He had the ability to laugh at himself and bring us together in that moment."
DiCicco, the most decorated coach on the international level in American soccer history, passed away on Monday after an extended illness. He was 68.
He was the head coach of the 1996 Olympic Gold Medal squad while guiding the USWNT to the 1999 World Cup title on home soil. Hamm was the integral talisman on both those teams with Foudy in the midfield and Chastain at the back. They lauded DiCicco for his ability to perfect the blend necessary to succeed with women at the elite level.
"He allowed us to be silly," said Foudy. "People ask me what I miss most about the team – I miss the laughter and Tony allowed us to be us. He realized he had this feisty group of crazy women that loved to be around each other. We'd be pulling pranks all the time and he'd be in the middle of them. I think that's hard for coaches because there needs to be this boundary. He balanced that masterfully."
"That was part of his character and personality," added Chastain. "Some people say he wasn't tough enough but he had a way to be tough without getting in your face. You would know through the delivery of the words. You were listening to the words and not the decibel level."
DiCicco was inducted into the National Soccer Hall of Fame in 2012. In his acceptance speech, he credited his approach to coaching women from his upbringing in Connecticut.
"My mom was a great athlete, we would play basketball in the driveway," DiCicco said. "For me, females always had to right to play sports and have that arena to dominate in."
Foudy suggested that DiCicco was master class in promoting the Hamm doctrine: "Coach us like men but treat us like women".
"He demanded excellence, he demanded that we were competitive, he demanded that we kick the crap out of each other in training," said the former USWNT captain. "But then you have to adjust how you talk to women. Tony doesn't get enough credit for that, the way he was able to do that continually on teams and make them successful. That's where he was master class."
"Tony was always about positive energy and no matter if it was a friendly or the World Cup Final, that you owned the space and deserved to be there," said Hamm. "When you have 18-20 women feeling that way about themselves but more important collectively, it's a powerful force. That's the environment he created and not for just his players but for his staff. Every staff member knew they were important. You can't say that about a lot of businesses and teams."
DiCicco also won a U-20 World Championship. In all, the former Springfield College goalkeeper and Founder of Soccer Plus Goalkeeper Schools coached in five World Championships and was victorious in four – including 1991 when he assisted Anson Dorrance at the inaugural Women's World Cup. DiCicco eventually replaced Dorrance in 1994.
"Tony was the perfect choice," said Dorrance. "These were people I really, really cared for and loved. I wanted to make sure they were going to have a coach who felt the same way. He was so clearly in favor of helping them as human beings in addition to becoming better soccer players under his leadership. He is one of the Mt. Rushmore people in American soccer."
DiCicco called supplanting Dorrance the grandest challenge of his professional life. Dorrance, a legend in the women's game, has won 22 National Championships at the University of North Carolina.
"Anson had set the foundation for our national team in such a wonderful way," said Foudy. "We roll up our sleeves, no one ever out battles us, that was our mentality. Then Tony added layers. He said we are going to play different systems and play more sophisticated. He built on the great things that Anson had started."
"He was the right coach at the right time for us," said Hamm, who won four national titles with Dorrance at UNC. "Our game has forever changed because of Tony – because of his vision, his courage and his sense of decency."
While mourning the loss of DiCicco, the celebrity trio have had a chance to impart their sorrow and joy with many former teammates.
"We have all shared these life experiences, not just soccer experiences,'' said Chastain. "Immediately when people started writing after he passed away we were right back together with Tony at the middle of everything."
"The thing that sticks with all of us that comes out loud and clear in all these messages to each other is the lasting impact he's had on our lives," said Foudy. "Every single player said he brought out their passion. Passing on the passion and love for life – that was Tony's great gift."
"I've talked to many of my teammates and through all the tears we just kept saying – we were so lucky – so lucky to be coached by him," said Hamm.  "He is one of the most decent human beings you'll ever meet."