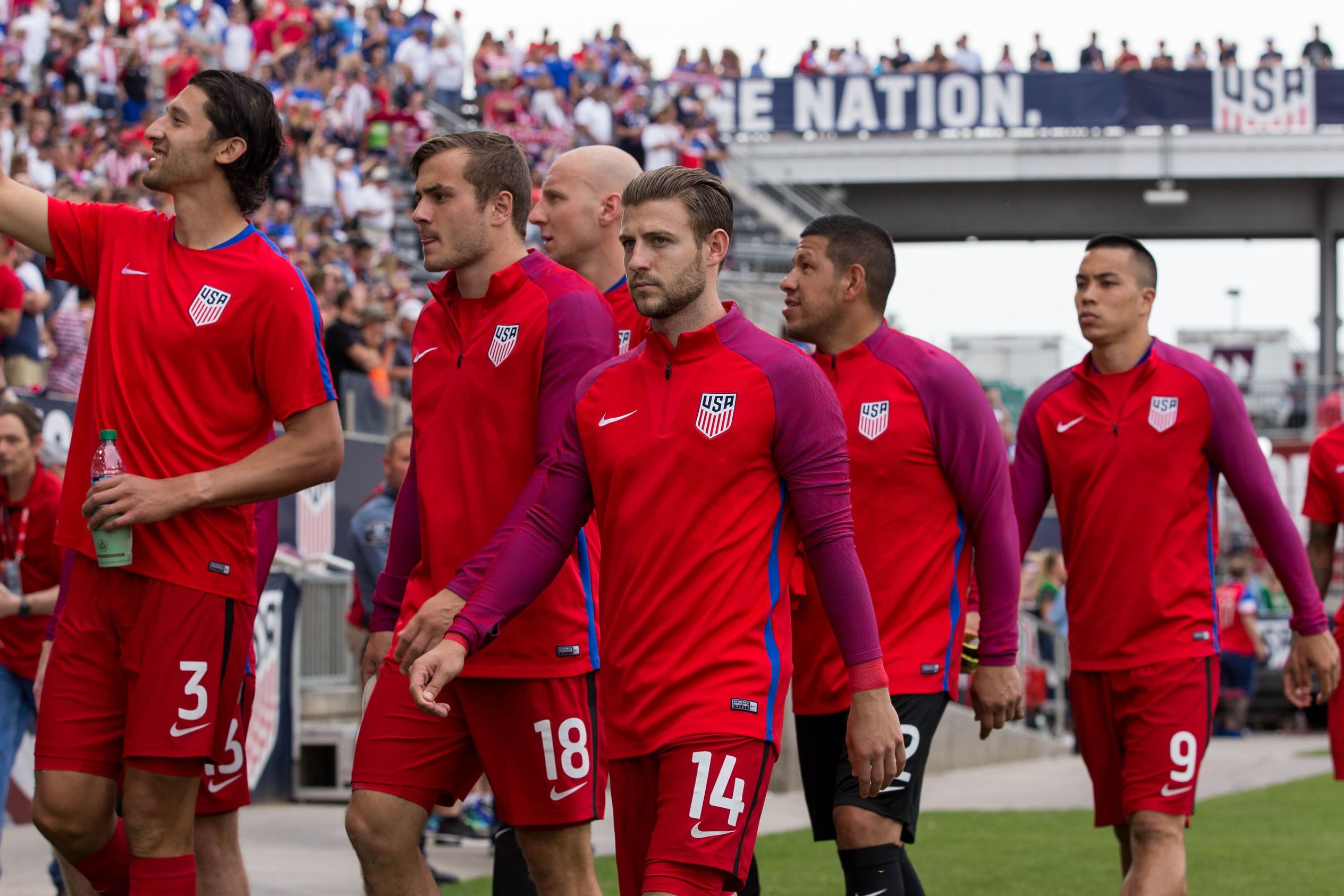 The Gold Cup is just around the corner, and Bruce Arena will get his first look at his new-look U.S. Men's National Team roster on Saturday afternoon.
Arena's squad features a slew of new faces and players eager to make impressions while moving from the USMNT fringe to World Cup contention. That process begins on Saturday afternoon as the U.S. takes on rival Ghana for a pre-Gold Cup friendly.
Now, Saturday's match won't have the heat of the two teams' previous clashes, but it is an important moment for the USMNT. It's the start of a four-game set for players to make impressions and show Arena what they can do at the international level.
With that in mind, let's take a look at one possible USMNT lineup:
—————Morris—————
–Zardes—-Agudelo—-Arriola–
———Acosta——Roldan———
Morrow–Gonzalez–Hedges–Lichaj
——————Hamid—————–
Some thoughts:
It's admittedly hard to predict which way Arena will go with Saturday's lineup. There are so many new faces, so many variables at play that Arena is likely the only one fully confident in how the USMNT will line up against Ghana.
That said, there are several parts of the field to watch out for.
Centerback is an interesting one given the varying experience in the squad, but it would make sense for Arena to utilize his first-choice pairing to start Saturday's match. Omar Gonzalez is almost certainly a starter given the fact he's one of the few experienced members of the team, even if there will be reshuffling throughout the group stages. With that in mind, it makes sense to give Gonzalez a run out with someone like Matt Hedges to build chemistry. Someone like Matt Besler is also in the mix, but we know that Gonzalez and Besler have chemistry given their shared history, so it's a good idea to get a look at someone else.
Fullback is also a tricky point as Jorge Villafana is battling back to full fitness. The defender has been out of action since the match against Trinidad & Tobago and admitted earlier this week that he wasn't at peak fitness when he entered camp. Given his standing with the team, there's no reason not to rest him for the real matches ahead while giving him a second half appearance to find his feet again. Luckily, the team has several veterans like Graham Zusi, Eric Lichaj and Justin Morrow to step in at the fullback position.
Meanwhile, other veterans, like Gyasi Zardes and Juan Agudelo, will look to make their mark after absences from the USMNT. The two have been a part of this group in the past but, with a World Cup looming, both are likely on the outside looking in as things stand.
The most intriguing players, though, are the newcomers. Cristian Roldan, Dom Dwyer, Kenny Saeif and Kelyn Rowe represent the USMNT's newest faces, and one would expect at least a few of them to get involved at some point on Saturday, even if they aren't named to the starting XI. Roldan is perhaps the most interesting given his skillset, and partnering him with someone like Kellyn Acosta could be a legitimate starting midfield pairing throughout the group stage.
All in all, expect a general blend of names in the starting XI and plenty of rotation. It's a friendly, and it will be treated as such as the U.S. looks to fine-tune before the Gold Cup starts. The lineup will be very fluid and plenty will get their chances during what will likely be a fairly experimental match against a familiar foe.