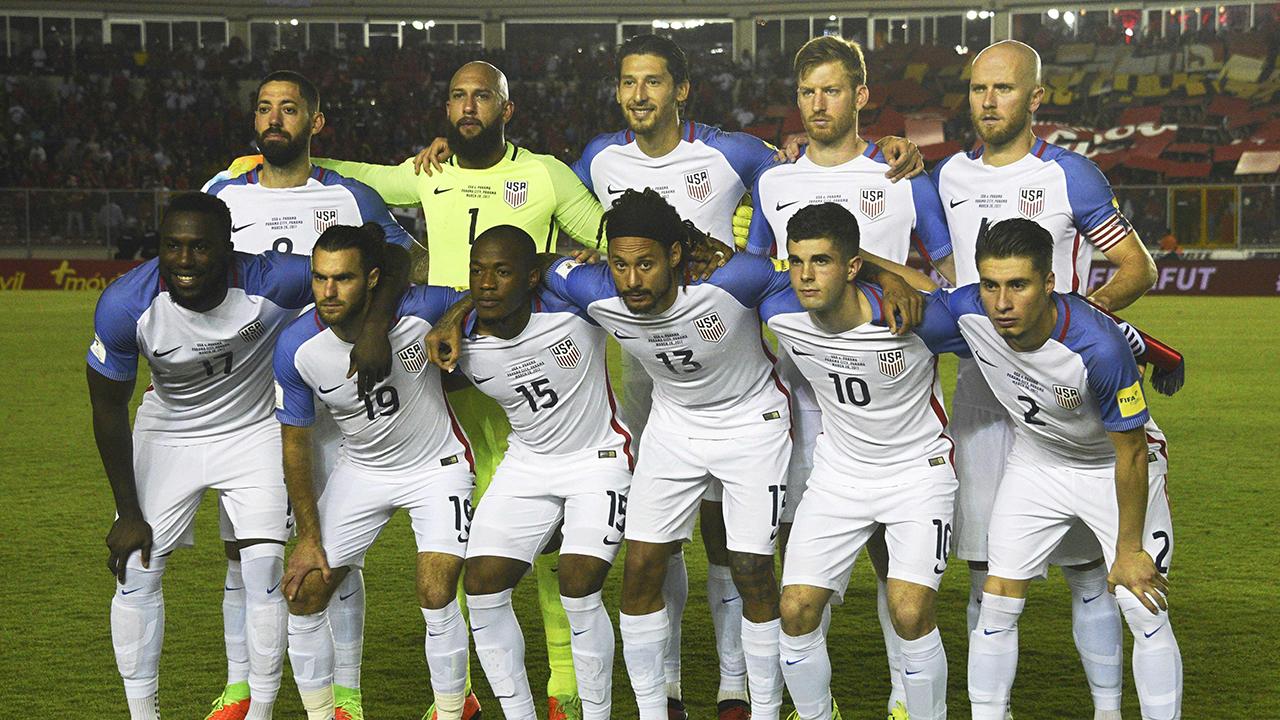 It's an important period for the U.S. Men's National Team. Vital World Cup qualifiers are suddenly set to begin as the U.S. looks ahead to matches against Trinidad & Tobago and Mexico.
But first, the U.S. faces off with Venezuela in Saturday's friendly, a match that gives Bruce Arena to integrate and experiment a bit while utilizing his first-choice lineup for the very first time.
For the first time under Arena, the U.S. is generally healthy and ready to go. Players like Fabian Johnson, DeAndre Yedlin and Bobby Wood are in camp following strong European seasons while Jozy Altidore, Michael Bradley and Clint Dempsey are in shape now that the MLS season is in full swing. Arena finally has a full arsenal, and he could certainly use it against Venezuela.
Still, expect some shuffling and experimentation as big matches loom. Saturday's match is a perfect chance to develop much-needed chemistry and flow, but look for Arena to experiment a bit too.
With that in mind, here's a look at one lineup Arena could go with on Saturday: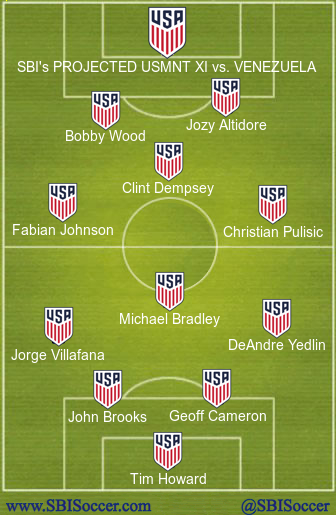 Some thoughts:
With T&T and Mexico looming, it makes sense for Bruce Arena to deploy his first-choice lineup. To date, that lineup has largely been separated for a variety of reasons as the U.S. hasn't truly been at full strength since the Copa America. Saturday's match provides a chance for that unit to get some decent work in, even if it is brief.
Starting from the back, we know Howard will be the first-choice goalkeeper, so you can pencil him in for at least some gametime on Saturday. Nick Rimando, Ethan Horvath and Brad Guzan are also on the roster, and Arena may be tempted to give the former some minutes in front of his home crowd late in the game.
Defensively, John Brooks and Geoff Cameron are both healthy. The two remain the first-choice centerback pairing, even if options like Omar Gonzalez are riding strong club seasons. At right back, DeAndre Yedlin is all but penciled in as he joins an Arena-led camp for the first time.
Left back is a point of contention (as always). Arena has stated that he would like to push Fabian Johnson up the field and into his club role of left midfield, so let's assume he takes that option. That leaved left back open for Jorge Villafana who, so far, has done quite well. Villafana has proven to be an answer at the position thus far, so one would expect him to get the nod through the upcoming qualifiers.
The midfield picture has options, even if the No. 6 is locked down by Michael Bradley. If Arena goes with a 4-4-2, someone like Alejandro Bedoya, Darlington Nagbe or even Dax McCarty could slide in, and that might be the move to make against a Mexico team that will bring the heat at the Azteca. However, against T&T the U.S. could, and should, be a bit more adventurous, leaving Bradley to do the dirty work with talented attackers in front of him.
With Johnson on the left and Christian Pulisic on the right, the U.S. has plenty of attacking firepower on the wings, especially with Yedlin's ability to get forward. Johnson and Pulisic should prove a handful for any team in CONCACAF, although it remains to be seen how the chemistry works with both winger and fullback pairings.
Then there's the forward position. Back in the fold following his heart issue, Clint Dempsey is back to his old self, and on the cusp of tying a USMNT record. He can play in a more withdrawn role, opening the door for Bobby Wood and Jozy Altidore to re-form their partnership for the first time under Arena. It's important that Wood and Altidore continue to get reps together, forming a bit of chemistry as they continue.
With that in mind, don't expect this XI to stay on the field very long. Arena says he anticipates plenty of substitutions, giving him a chance to check out plenty of options. With such a short turnaround between T&T and Mexico, Arena will need more than just his first choice XI, and the Venezuela match provides the perfect opportunity to experiment a bit once the first team has gotten their game time in.