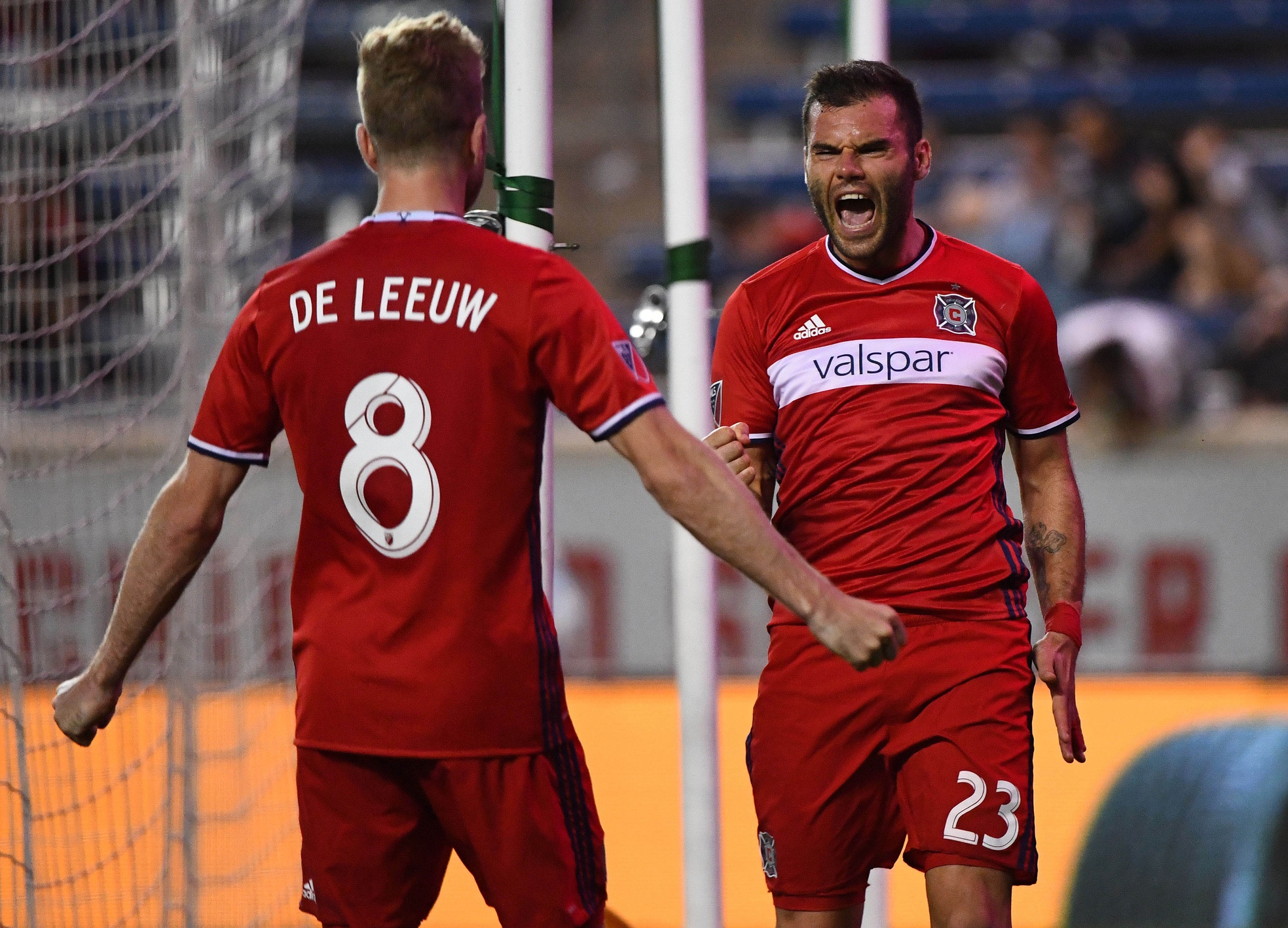 The summer transfer window is a funny one. At this point in the season, you generally know what you have and what you don't, but the process of addressing those needs in the mid-summer window is a tough one. Midseason additions always bring in mixed results, and adding the wrong one could set teams back in a major way.
That said, when done right, a midseason signing could be the difference between a good team and a great one. Just look at Nicholas Lodeiro's impact last season and how he led the Seattle Sounders towards an MLS Cup. Now, players like Lodeiro are few and far between and signing a player with that kind of impact is hardly commonplace, but the precedent is there.
At this point in the season, five teams standout in the Supporters' Shield race. The Chicago Fire and Toronto FC have proven the class of the East, unleashing long win streaks while showing off their depth all over the field. NYCFC also remains in the East hunt behind the likes of David Villa, Jack Harrison and strong offseason signings like Alexander Ring and Rodney Wallace.
Out West, Sporting KC has built around a strong defense to catapult their way to the top of the conference while last year's Shield winners, FC Dallas, certainly remain in the hunt.
Each team has a strong core and star players leading the way, but each team also has a need or two that could push them from contender to champion.
Here's a look at the biggest needs for the top 5 Supporters' Shield contenders:
CHICAGO FIRE
The Chicago Fire already boosted their hopes with the signing of Bastian Schweinsteiger this summer. It was a much-criticized signing at the time, given the depth in the midfield, but the German star has certainly vaulted towards the top of the MVP race alongside fellow newcomer Nemanja Nikolic.
Barring an injury, the midfield is locked up with Schweinsteiger, Dax McCarty and Juninho holding things down while David Accam joins Nikolic to create one of the league's more vicious attacks. They've been linked to Juan Quintero, who is certainly an enigma, but if he comes committed and ready to play, that attack is unstoppable.
Questions remain in defense, though. Matt Polster's play at right back has made that position less of a concern after it looked like a major weakness to start the season. Central defense, though, could be addressed. Are defenders like Joao Meira and Johan Kappelhof good enough to stop the Jozy Altidores and David Villas of the world? Maybe or maybe not. Without a DP spot to work with, it would require some finagling, but the Fire could use another defender to help solidify what looks like the team's biggest weakness at this point in time.
FC DALLAS
By now, it's widely known just how deep and talented FC Dallas is. Their defensive pairing, Matt Hedges and Walker Zimmerman, are both U.S. Men's National Team defenders. Kellyn Acosta is among the most talented young players in MLS. Mauro Diaz may be the best creator in the league.
Still, problems persist. Forward signing Cristian Colman did not hit the ground running like many thought he would but, fortunately, Maxi Urruti has stepped up to pick up the slack. Urruti has already surpassed his career high for goals and has proven to be one of the league's most effective goalscorers this season.
Is FC Dallas ready to ride or die with Urruti, though? At this point, probably. Given the roster they have, FC Dallas is unlikely to make a big splash this summer but if a solid depth signing comes around a la Carlos Ruiz last year, it wouldn't be a bad idea. Right now, FC Dallas is likely to pretty much stand pat and hope Urruti can keep it up for the long haul.
NEW YORK CITY FC
Patrick Vieira's vision is finally coming to fruition. We knew David Villa was going to be good, but assembling the pieces around him took time. Jack Harrison and Rodney Wallace have proven great fits on the wing while Maxi Moralez has been great in his deeper role. Alexander Ring was unheralded entering the season, but has rapidly made his claim as the league's top No. 6 alongside fellow monster Yangel Herrera. Pretty much every offseason move has been a hit and, unsurprisingly, NYCFC is really, really good.
What they aren't is really, really deep, and that's an issue. When Herrera has been absent, NYCFC has been a completely different team. Villa may be the league's most irreplaceable player in the league. Their defense, while much better, is still a question mark due to injury issues.
Fortunately, they have a good trade piece in Tommy McNamara should they look to make a move in MLS, although McNamara certainly still has a part to play with this NYCFC group should he remain. Then there's the elephant in the room in Andrea Pirlo. If there's a way to wiggle out of Pirlo's DP deal and use it to bring in an elite central defender, NYCFC would suddenly become an MLS Cup favorite.
SPORTING KC
Defense wins championships. That's the old saying, and a mantra Sporting KC will hope rings true.
Sporting KC has allowed just 14 goals in 20 games which is, for lack of a better word, ridiculous. A healthy Ike Opara is an absolute force while Graham Zusi and Matt Besler continue to shine with a World Cup on the horizon. And Tim Melia? An almost unanimous Goalkeeper of the Year honoree at this point.
That defense, though, can use some depth, especially given Opara's injury history. Is Erik Palmer-Brown ready to step up, and will he even be around to do so or will he be off on a transfer to Europe? Another depth centerback would be a good signing either way.
Then there's the attack, which remains very reliant on Dom Dwyer. Gerso Fernandes' six goals are a big misleading since he fired half of them in one game. Another goalscorer would certainly help lessen the load on Dwyer and help balance a team that is relying heavily on its defense to stay healthy.
TORONTO FC
Last year, Toronto FC was a Stefan Frei fingertip from an MLS Cup. They were good last year and they're probably just as good this year.
Sebastian Giovinco hasn't quite lived up to the ridiculous expectations his play has now saddled him with, but he's still probably the best player in the league. Jozy Altidore is doing what Jozy Altidore does while Michael Bradley has been strong once again. They've navigated a brutal schedule while utilizing their insane depth and should be in for another run as the summer continues.
The defense has been good yet again, but there are still concerns on the injury front. Do they have centerback depth to overcome losses like Drew Moor and Nick Hagglund down the stretch? How do they handle the wingback positions in a pinch? The front of TFC's lineup is as strong as any in the league, but the back could use some work.
Even so, TFC is another team that probably won't break the bank for much of anything as they should be in the mix come the fall yet again.