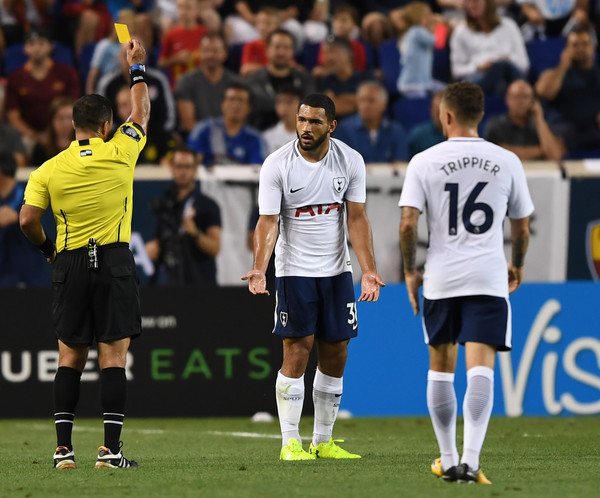 HARRISON, N.J. – Cameron Carter-Vickers just wants to take his chance.
Throughout the 2016-17 season, he got a taste of the Premier League from the bench as he joined a Tottenham team that finished second in the Premier League. That taste was nice, sure, and he certainly learned a lot from riding along for a Premier League title race. Now, though, it's nearly time to prove he truly belongs on the field alongside some of the club's biggest stars.
The initial push comes throughout Tottenham's preseason, which has brought Carter-Vickers back to the U.S. as he pursues a senior team chance. He's currently viewed as a member of Tottenham's first team, but just how big a part he can play might be determined by how he handles the next few weeks.
On Tuesday, Carter-Vickers had an up and down effort. He battled hard throughout his 45 minutes against Roma, regularly going up against talented attacker Diego Perotti. He won several battles, but lost a few more, including one with Eden Dzeko that produced a yellow card. His big moment, though, came early, as Radja Nainggolan's attempted cross hit Carter-Vickers square in the arm, giving Roma a penalty kick and the early lead.
After the match, Carter-Vickers admitted he was "disapointed" to concede the penalty kick but, other than that, he felt okay about the impression he made.
"At the moment, I'm just trying to focus on getting fit," Carter-Vickers said after Tuesday's match. "It's preseason. You just keep working hard in training to get back to match fitness.
"It's been good," he added. "We get to see lovely places all around America and play against the top teams of the world. It's been good."
The trip to the U.S. is a big one for several of Tottenham's youngsters, and Carter-Vickers is one of the team's up-and-comers looking to break into the first team. He got an extended appearance on Tuesday alongside Premier League stars Jan Vertonghen and Toby Alderweireld, playing as part of a three-man backline that certainly had its growing pains in the first half.
With the two Belgian stars firmly sealed as starters, Carter-Vickers is battling alongside Kevin Wimmer to impress Mauricio Pochettino and earn looks when Vertonghen and Alderweireld are out of the lineup. Last season, Carter-Vickers earned four appearances in cup play, but failed to earn a match in Premier League action.
His performances in preseason have shown he has work to do. Against Paris Saint-Germain in Orlando, the 19-year-old struggled on a pair of PSG goals. Against Roma, he had the handball call, albeit an unlucky one, while also experiencing difficult moments through his 45 minute shift. It's hard to judge a young player based on two preseason appearances, and Pochettino is balancing what he's seen over the past few weeks with how much he's seen the defender grow over the last few years.
"We need to judge him in a collective sense," the Tottenham boss said. "He is so young and needs to improve and learn a lot. He is a potential player, yes, but then we'll see what happens in the end… Different players that are with us and have the possibility to play, to learn and show their quality, but it's important that we are talking about players that are so young and need time to settle in the first team and squad."
"Every footballer wants to play," Carter-Vickers added. "Training is always at a high level. It keeps you sharp. It's up to the manager really. You have to do what you can do to impress him."
Pochettino isn't the only person Carter-Vickers is trying to impress.The 19-year-old was called into U.S. Men's National Team camp for the first time last fall, joining Jurgen Klinsmann's group after becoming a mainstay with the U-20s and U-23s. He didn't make an appearance, but he certainly enjoyed his first chance at impressing with the senior team.
In the months since, he battled injuries to help guide the U.S. U-20s at the U-20 World Cup but, thus far, he hasn't been in contact with new USMNT boss Bruce Arena.
"I think, first, I have to focus on here at Tottenham and trying to get more minutes here," Carter-Vickers said, " but that's the next step, yeah."
To Carter-Vickers' credit, he's impressed several of his Tottenham teammates. After playing alongside Carter-Vickers as a wingback on Tuesday, Kieran Trippier said the young American has "grown a lot" in recent years. The experience of playing in preseason can only make him better, Trippier says, and those experiences will help him make the leap from youth prospect to first team player.
There's a lot of work to be done, and Tuesday's missteps were evidence of that, but at 19, Carter-Vickers has the blessing of time as he looks to truly begin his senior career.
"He's still a young player. He's only 19," said goalkeeper Hugo Lloris. "He's got a lot of talent and he's very strong. He has a good personality and he has a good (ability) to become a great player.  He has to keep going the right way with the same mentality, the same energy and try to get the chance, get the chance to be competitive and to be a part of the team."