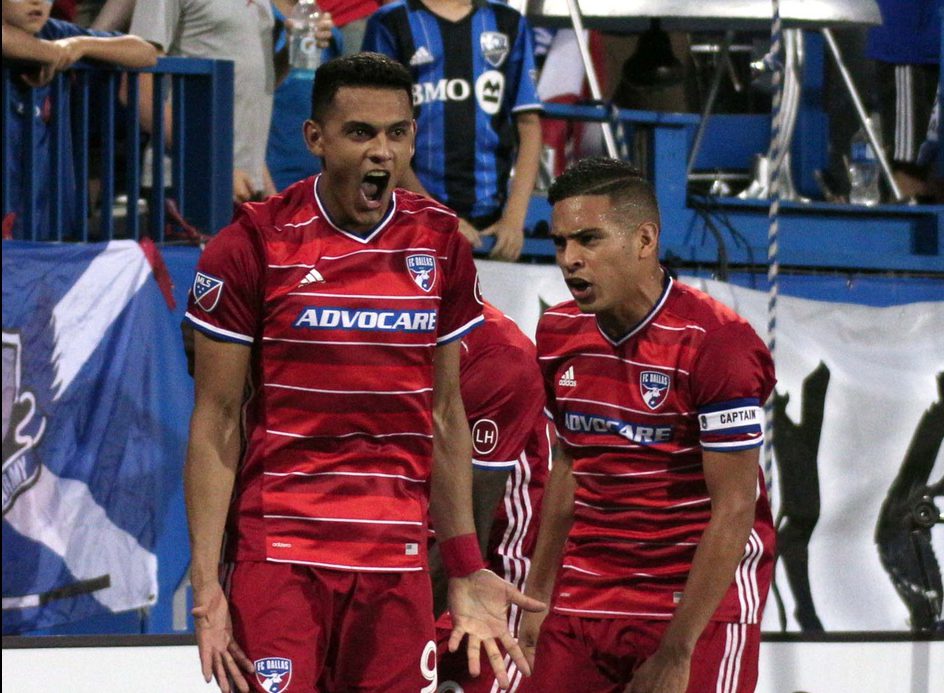 A goal drought for a striker is the worst thing that can happen. It can lead to giving up easily when chances don't go their way. It can lead to a loss of that much-needed confidence and it can lead to plenty of self-doubt.
With 13 games in and still without his first MLS goal, Cristian Colman could have given up mentally when his goal was disallowed in the first half of Saturday's FC Dallas game in Montreal.
"I think the ball got in, actually, I'm sure the ball got in but things happened," said Colman about the goal through an interpreter. "I thought that the referee had stopped the play, I thought it was a goal but things happened and next time we'll get the goal."
However, the Paraguayan opened his MLS account in spectacular fashion later in the match. Colman scored the equalizing and game-winning goals in the second half, giving his team a 2-1 win.
"It's important for Cristian to score. He's been waiting for this moment," said head coach Oscar Pareja. "He worked hard, he's been trying to adapt to the league and all that he has done is keep working and the game rewarded him."
"In the last couple of weeks I told him, 'You're gonna score in Montreal, here,'" said Roland Lamah. "I told him before coming here: 'Believe, believe, you can score two,' and he scored two. I'm happy for him."
Despite not completely remembering Lamah's good words, Colman praised the support he has gotten from his teammates and the FC Dallas coaching staff. After a slow first half of the season, the 23 year old is confident on becoming a goal threat going forward.
"It was a frustrating first half because I kept working hard and the goals kept not happening. No matter what, I was not getting that goal," said Colman. "It was a frustrating first half, frustrating semester, but I'm so glad that the goals opened up for me today, I got my goal and I'm ready for the second semester working hard and trying to get more goals."
A true sign of resilience for FCD was shown by defender Maynor Figueroa. The Honduran flew from the Gold Cup, where he played for Honduras, arrived in Montreal the very same day and still featured at center back in the starting XI.
"Maynor came back last night at 2 a.m. and it's something that you gotta highlight," said Pareja.  "We asked him this morning at breakfast and Maynor said 'I'm ready to go.'"
"With not much rest, that says a lot to the kids as well and the program that we have in teaching the players what this game means and what it takes to win. Maynor today was excellent and we're very pleased and grateful," he added.
For Figueroa, it was simply the right thing to do. The Honduran said that as professional soccer players, they should keep ready to play at 48-hour intervals if needed and felt fit fit enough despite the trip.
"They made me travel, it was a long flight, it was an eight-hour flight, and if I came all the way here it was not to sit," said Figueroa with a smile, through an interpreter. "I wanted to help the team and now I'll rest."
Pareja had some doubts on whether Figueroa should start after having to endure eight hours in a plane and playing for his national team the Thursday before. However, the coach put his trust in his player and in the end it paid off.
"The responsibility as a coach is always to take care of your players but when you see this energy and this commitment, the you have to put that aside and say: 'You know what, we'll take the risk,'" he said.
For Pareja, who is still going through his team's Gold Cup purgatory without key players Matt Hedges and Kellyn Acosta, coming back from a 1-0 deficit to win 2-1 was important for his players.
Their readiness to step up to the task and getting the road win despite some of the key players, which also included the injured Mauro Diaz, solidified FC Dallas in MLS Cup contender talks. For now, the head coach stresses that the team is taking their road to the playoffs one step at a time but doesn't shy away from sharing their MLS Cup-winning objective.
"We were close in the last two years. The boys are learning the lessons," said Pareja. "The game keeps teaching us because we're a young team and we embrace all of those lessons. We have got to be better in November and December and we are going for that."