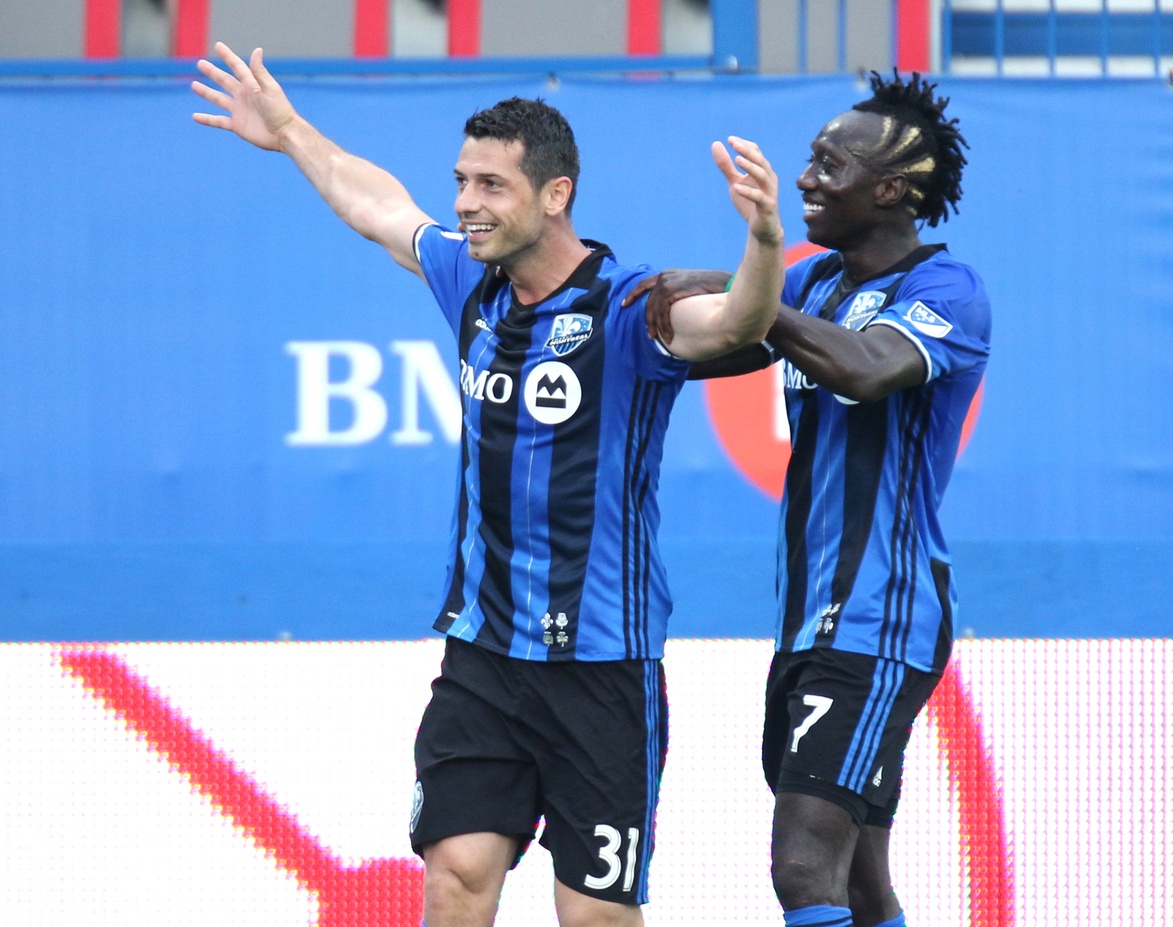 The Montreal Impact used the bottom of the Eastern Conference to push itself up.
All the lights were turned on Blerim Dzemaili and his Canada Day exploits on Saturday night's 2-0 win over then co-Eastern conference bottom feeders D.C. United. However, the performance the Impact will want to look back on is the solidity of their backline.
With Patrice Bernier out on international duty and Ignacio Piatti on the injury list, Hassoun Camara was given the captain's armband. The Frenchman had a solid performance, notably by blocking two shots from Luciano Acosta early in the game.
"I think he's a leader on this team. I decided to give him the armband tonight and he took it with that leadership and you saw that in his play," said Biello citing Camara's two early blocked shots. "That's what we want and that's what we expect from him."
"It's fun. I have the coach's trust in Nacho [Piatti] and Patrice [Bernier's] absences. I take this responsibility and I'm proud of it," said Camara.
The right back dismissed that getting the armband gave him more fuel but rather placed the emphasis on Saturday night's win on the team's collective play and their willingness to help the new man in town, Dzemaili.
"That's what I think fails us, individual plays are good, they're great, but in the end we need to rely on our collective work, that's what Dzemaili did for example," said Camara. "He was able to rely on our willingness to help him and press and we need to continue on that front, not pay attention to what is being said on the outside and stay focused on our own work collectively."
The team's willingness to play for Dzemaili was at its most evident on Chris Duvall's goal. The Duluth, Georgia native gave the ball to his Swiss teammate before making a run for him to give the ball back by way of an overhead through pass. Duvall tapped the ball past a clueless Travis Worra to bring the score to 2-0.
"With a guy like that, you make the run and just know that he's going to put the ball where you need it," said Duvall. "You kinda learn that there's no excuse to really stop your run."
"It's good to see players that work so hard get rewarded," said Biello of Duvall. "He's up and down every game, he gives it all. For him to get that goal, it's fantastic. Great pass from Blerim but finishing it wasn't easy."
The Impact have now left the bottom of the Eastern Conference and getting a clean sheet is a great feeling as the team head on the road to take on the Houston Dynamo on July 5. Despite reminding themselves of Saturday's result and a reasonable performance during the Canadian Championship, Dzemaili—who will earn time off this month as promised by the club—is looking forward to bigger things ahead.
"Going forward I can do even more for this team," said Dzemaili. "Like every player [on the team], we need to do even more. I am not satisfied with this season and no player should be."