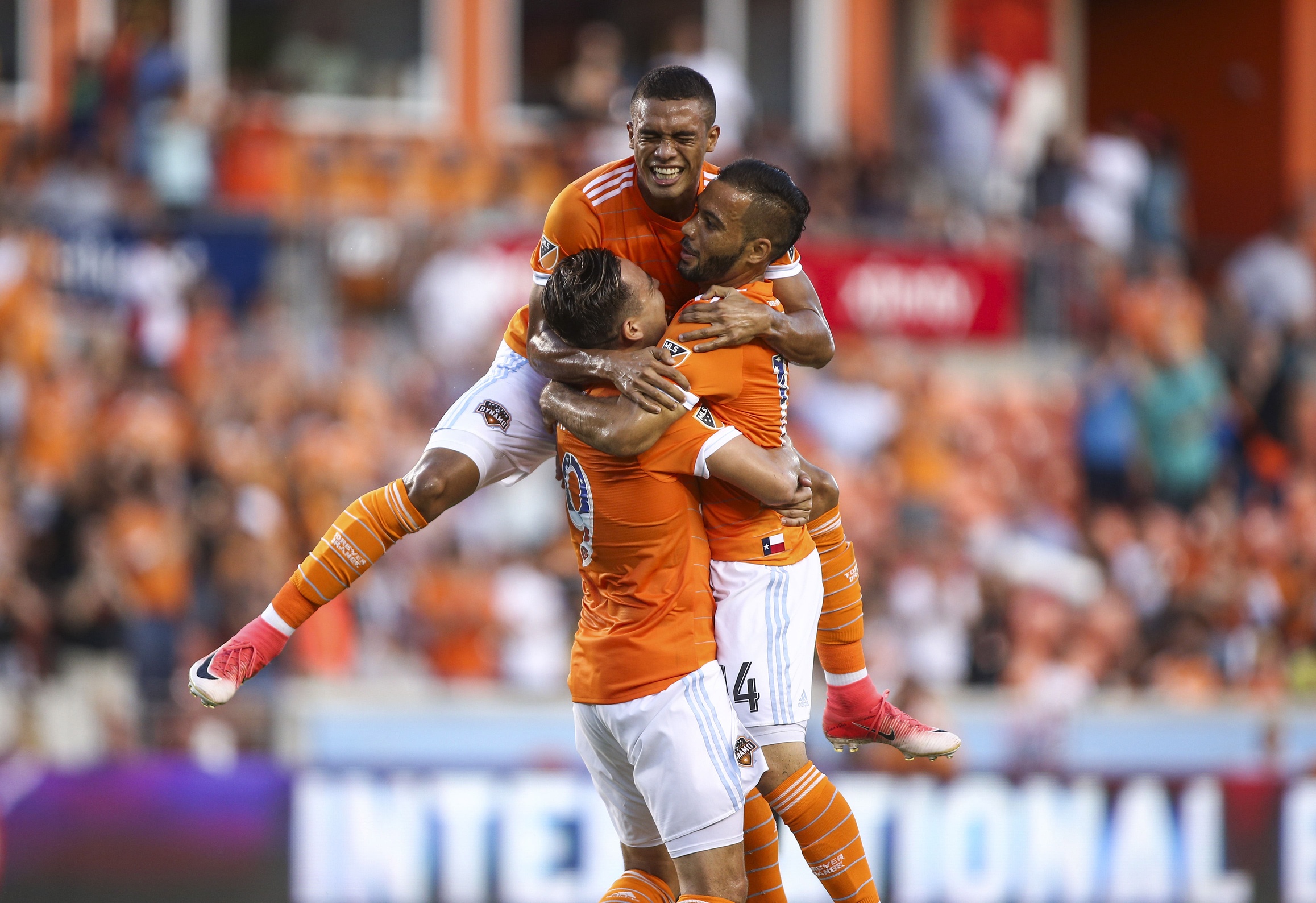 The Houston Dynamo convincingly took a 100th home win in franchise history by cruising to a 3-1 win over the Montreal Impact Wednesday night. Goals by Andrew Wenger, Alex and Memo Rodriguez sealed the milestone win for the Dynamo,  while Michael Salazar scored the lone goal for the Impact.
It took less than one minute for the Dynamo to get on the board. Off of a corner kick played short, at 55 seconds precisely, Mauro Manotas crossed the ball towards the far post and Andrew Wenger headed the ball to open his 2017 account against his former team.
The Dynamo added a second goal at the 23rd minute created by DaMarcus Beasley. His pass from the from the right side of central midfield and found its way to Alex, who shot from outside the 18-yard box to double their advantage.
Homegrown midfielder Memo Rodriguez scored a third goal for the men in orange. At the 68th minute, the Dynamo Academy and Rio Grande Valley FC alumnus was at the right place at the right time. He received the ball after it bounced off of the Impact's Chris Duvall just outside the 18-yard box. Rodriguez curled a shot passed Evan Bush to score his goal career goal in MLS.
The Impact ruined the Dynamo's clean sheet at the 88th minute by way of Michael Salazar. The Belizean forward turned winger received a an overhead cross pass from 25 yards out by Laurent Ciman. On his first MLS start of the season, Salazar beat homegrown goalkeeper Tyler Deric but it was too little too late for the Impact.
Eric 'Cubo' Torres was called by the Mexican national team for the 2017 Gold Cup had one last game to play before joining El Tri. Torres had the opportunity to tie Dynamo great Brian Ching's single-season goal scoring tally of 13 set in 2008 but did not find the back of the net despite a few opportunities.
Man of the Match
Mauro Manotas is alert early in the game for the Andrew Wenger opening goal and continued to be creative throughout. The center forward turned winger has blended nicely to his new position and made Dynamo fans forget the loss of Boniek Garcia, Alberth Elis and Romell Quioto to the Honduran Gold Cup squad.
Moment of the Match
The moment that set the tone for the rest of the game came 55 seconds into the game. Mauro Manotas crossed the ball into the box and Andrew Wenger took advantage of a confused Impact defensive setup to head the ball in the net and score an early opening goal.
Match to Forget
On the Impact's side, Matteo Mancosu had the opportunity to score in the half to galvanize his team but could not finish. The Italian striker did not do enough to pull his team from losing ways in Houston.