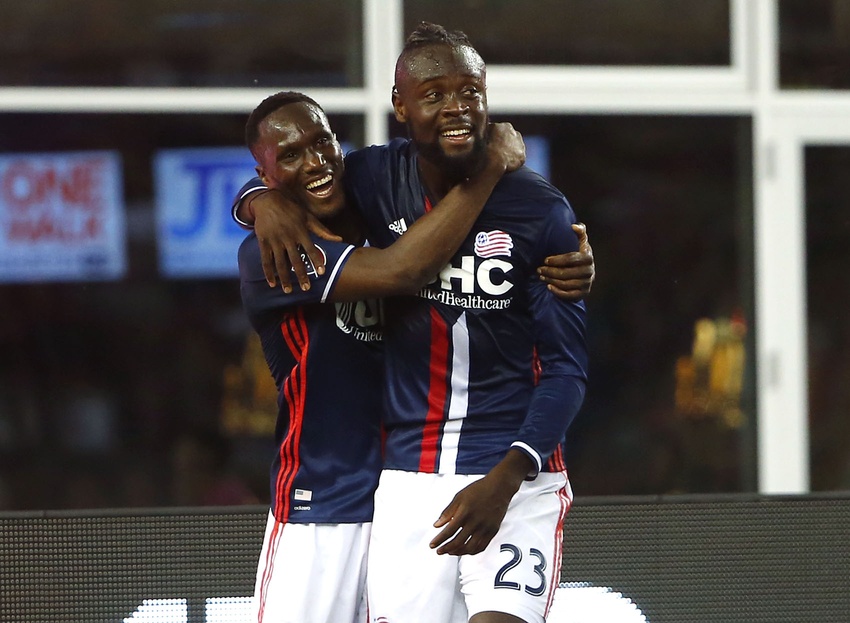 FOXBOROUGH — One week after New England Revolution forward Kei Kamara spoke candidly to the media about whether coach Jay Heaps' system is a good system for his skill set, all eyes were on how the 32-year-old Designated Player would respond on Saturday against the Philadelphia Union.
"It's a good team, but maybe I wasn't the right piece of the puzzle to help the team move forward," Kamara said just last weekend after scoring just his fifth goal in 18 games this season.
With the Revs still in desperate need of points to get back into the Eastern Conference playoff mix, Kamara came through with his first two-goal game in over a year and made an important second half clearance off the goal line to inspire the Revolution to a 3-0 win at Gillette Stadium.
With Heaps trying to rally the troops together before a big August stretch that includes road games against the Chicago Fire, New York City FC and Atlanta United, he insisted that Kamara's comments after last week's 4-3 win over the LA Galaxy didn't affect the locker room.
"I don't know what he meant by what he said all the way, but if that came in our locker room years ago, there would have been a bigger deal," Heaps said after Kamara's big performance on Saturday. "Our guys put their heads down and went to work and Kei the same way, so it wasn't even an issue at all this week, and I thought we had our best week of training the entire year."
Kamara is just two years removed from scoring 22 goals for a Columbus Crew team that went to the 2015 MLS Cup final, but he hasn't been a natural fit in the Revolution's attack, which thrives on Lee Nguyen's distribution through the center of the field, rather than crosses from the flanks.
After scoring 22 times in 41 appearances in his second stint with the Crew, Kamara was less effective after the Revs acquired him in May 2016, tallying seven times in 21 games for his new team last year.
Additionally, the Revolution offense floundered, as the team managed just 44 goals — the second-worst total in the Eastern Conference — and missed the playoffs for the first time since 2012.
"It's frustrating and that's what I told them when I got into the office and sat with them," Kamara said last weekend. "I want to be put in positions to be responsible for a lot of stuff, and I didn't feel that way, so that's why I told them that. Then again, I'm coming in every day and I'm being a professional. If I end up staying here, moving forward, no problem, I'm going to give it my all."
Kamara didn't want to broach topic again after the win over the Union, citing a column for Goal.com that highlighted Kamara's underwhelming Revs tenure.
"If I answer a question like that, he's going to write something else that I'm taking away from the team's success, so I'm just going to keep it that way," Kamara said.
"I don't know if that motivates him or puts him in a position, but tonight he was awesome, so whether it was that or I really thought he had a good week of training as well," Heaps said.
For Kamara's part, despite his scoring talent, he has played for five teams during his 11-year MLS career, only lasting more than two seasons with Sporting KC from 2009-2013.
Kamara's preference seems to be that he would like more crosses into the box, which all him to use his big frame to win headers or otherwise shield off defenders in one-on-one battles.
One big difference on Saturday was that the assists on Kamara's goals came from the versatile Kelyn Rowe, who was playing left back, and right back Andrew Farrell, who is not a particularly offensive-minded player, but has been working with assistant Tom Soehn on improving his service.
As longtime Revs left back Chris Tierney has started to show signs of age at 31, playing Rowe, another deft passer, out wide could help appease Kamara over the final 13 games of the season.
"I think Kei is putting his head down and working and understanding that we're trying to get him service, trying to do things to make our entire team better," Heaps said.
Forward Juan Agudelo, who scored on a cross from the right corner from Scott Caldwell in the 89th minute, seems to be a fan of Kamara's line of thinking.
"I think maybe it's a good thing that we're doing things like that now," Agudelo said. "We've got two strikers that can definitely hold the ball up and win some aerial battles, so it's good that we're using that. The balls that were hit in today were very, very good, so credit to the assists."
While it may sound counter-intuitive to redesign the Revolution offense around a soon-to-be-33-year-old that seems open to the idea of leaving, Kamara is likely the club's best chance at getting into the postseason. After all, the Revs are 5-0-1 in games in which Kamara has scored this season.
"Kei, he carries a heavy burden," Heaps said. "I think there's a lot scrutiny on Kei and I thought in terms of how he went about his business tonight, I thought he handled it really well."