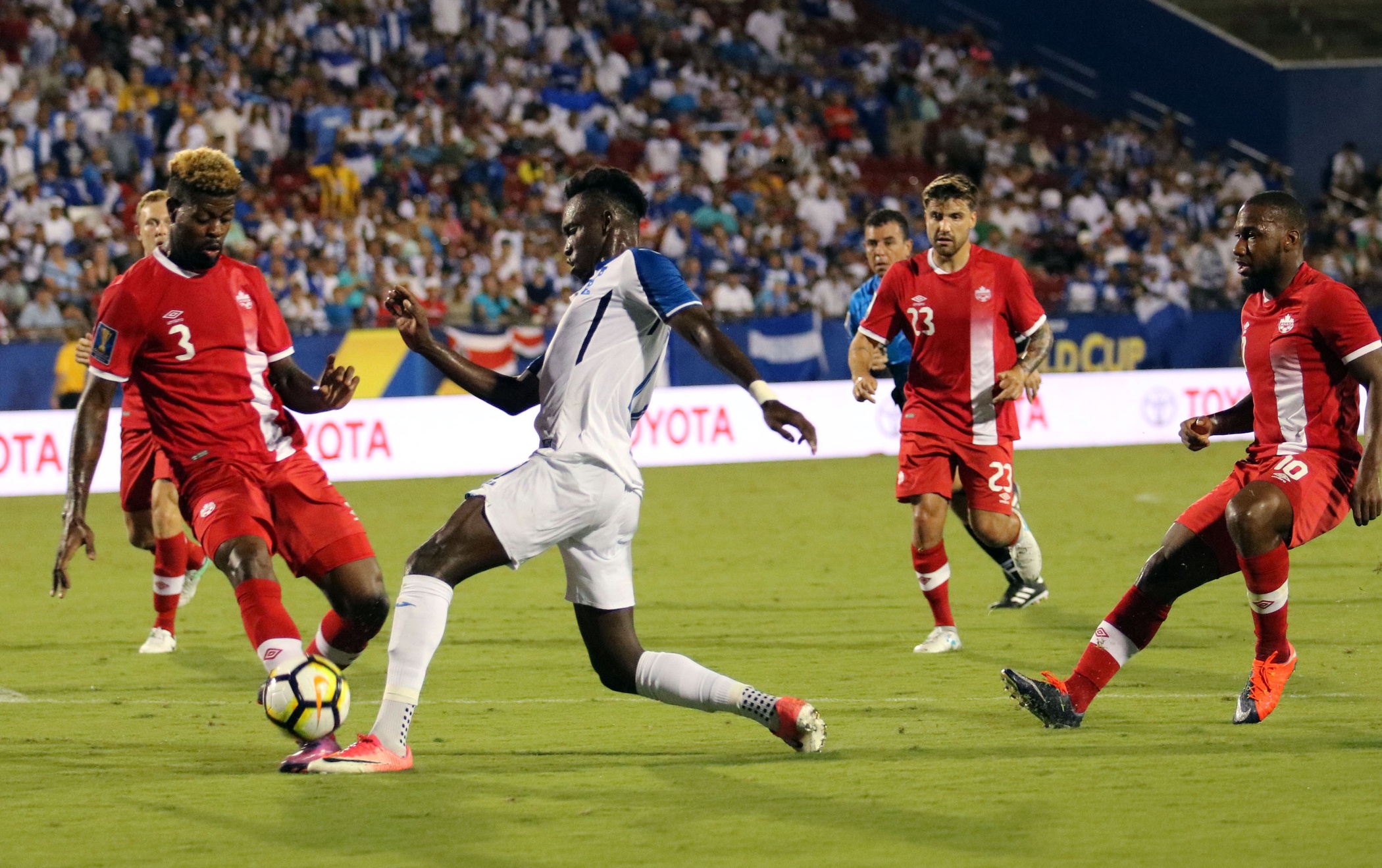 The Canadian Men's National Team wasn't able to secure the victory it needed to become the improbable winner of the CONCACAF Gold Cup's Group A, but the Canucks still did enough to finish up the group stage undefeated and brimming with confidence.
Canada and Honduras played to a 0-0 draw at Toyota Stadium in Frisco, Texas on Friday night, which helped Canada secure second place in Group A, behind Costa Rica, which disposed of French Guiana, 3-0, earlier on Friday.
Marcel De Jong's 22nd-minute effort struck the left post for Canada, which was the closest either side came to scoring in the opening 45 minutes. Lucas Cavallini's long-range effort six minutes later was saved by Honduras' Luis Lopez.
Maynor Figueroa's left-footed effort after 33 minutes was Honduras' best effort in the first-half.
Ovidio Lanza's 55th-minute effort forced a simple save from Milan Borjan. Borjan came up strong again after the hour mark, saving Alberth Elis' header.
The biggest moment in the match came after 72 minutes, as Lopez got a hand to Jonathan Osorio's long-range shot which was headed for the top right corner. Steven Vitoria was next to get denied by Lopez, seeing his right-footed effort saved in the center of the goal.
Elis was denied for a second time by Borjan, seeing his 85th-minute header repelled. Lanza's last gasp header in stoppage time was saved by Borjan, who finished the match with seven saves.
The sides both had to deal with a point, as both go through into the next round. Canada remains unbeaten after back-to-back draws, while Honduras advances despite failing to score a goal in this year's Gold Cup.
COSTA RICA TOPS FRENCH GUIANA
Earlier on Friday, Costa Rica concluded their group stage matches by cruising past French Guiana, 3-0, in Frisco.
The Ticos delivered the perfect start as Ariel Rodriguez finished from close range after four minutes. After going up 1-0, Costa Rica continued to press forward.
David Ramirez's long-range strike forced a good save from Donovan Leon. French Guiana's best effort in the first-half came after 43 minutes as Ludovic Baal's left-footed strike was saved by Danny Carvajal in the top right corner.
The match flipped on its head after 61 minutes as Baal saw a straight red card after a foul on David Guzman. Rodney Wallace doubled Costa Rica's lead after 79 minutes, before Ramirez added an insurance goal just four minutes later.
Costa Rica end the group stage with a 2-0-1 record to win Group A. French Guiana is eliminated, finishing with a 0-3-0 record.