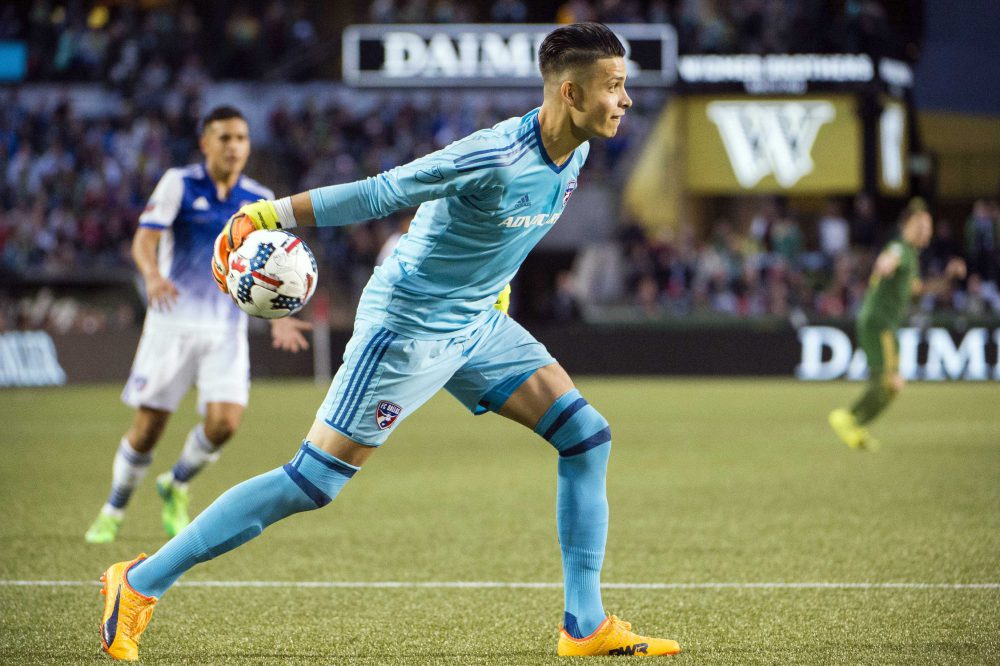 Jesse Gonzalez has Jesse Gonzalez has the potential to be a strong U.S. Men's National Team goalkeeper. Given the experience and skill-set he's displayed at just 22 years old, it's easy to see that the future is bright for the FC Dallas goalkeeper.
That future, though, is unlikely to includes any USMNT appearances over the next few weeks.
Gonzalez recently joined up with the USMNT for the first time since being approved for a one-time switch to represent the U.S. He joins a goalkeeping unit featuring Tim Howard and Bill Hamid as the USMNT begins play in the knockout rounds.
The FC Dallas goalkeeper isn't likely to get off the bench during those knockout rounds, however, as USMNT boss Bruce Arena says the team's focus is on winning now, not ensuring younger players get their time on the field.
"It's the first time working with him," Arena said. "He's a young goalkeeper. I haven't seen him before nor has our goalkeeper coach. We want to see what he's about, but the last couple of days have been good."
"Not likely at this point," Arena added when asked if Gonzalez could see the field. "We have Tim Howard in here and obviously Bill Hamid played the last game. My guess is that we're going to use Tim Howard."
According to Howard, the opportunity to play within the next year is "priceless". With so few international games remaining before Arena selects a potential World Cup roster, each and every appearance counts.
His biggest competition for the No. 1 goalkeeping spot, Brad Guzan, started two matches to open the Gold Cup, starring in the opener against Panama before conceding a soft goal against Martinique one game later.
Now it's Howard's turn, and he's looking forward to playing his part in guiding the USMNT towards the tournament final and, perhaps, a Gold Cup trophy.
"I think the team is good. We're young," Howard said. "There are guys that are excited to try and win a spot or win a trophy. We're all excited to win a trophy. The vibe of the team is very good. Everyone is looking forward to that next game.
"It's exciting to be in," he added. "This tournament means a lot to us. We're going to try and win it. We had a good first round with getting out of the group with two wins and a draw. We're obviously prepared. We spoke to Bruce prior to this and we're just looking forward to playing El Salvador."