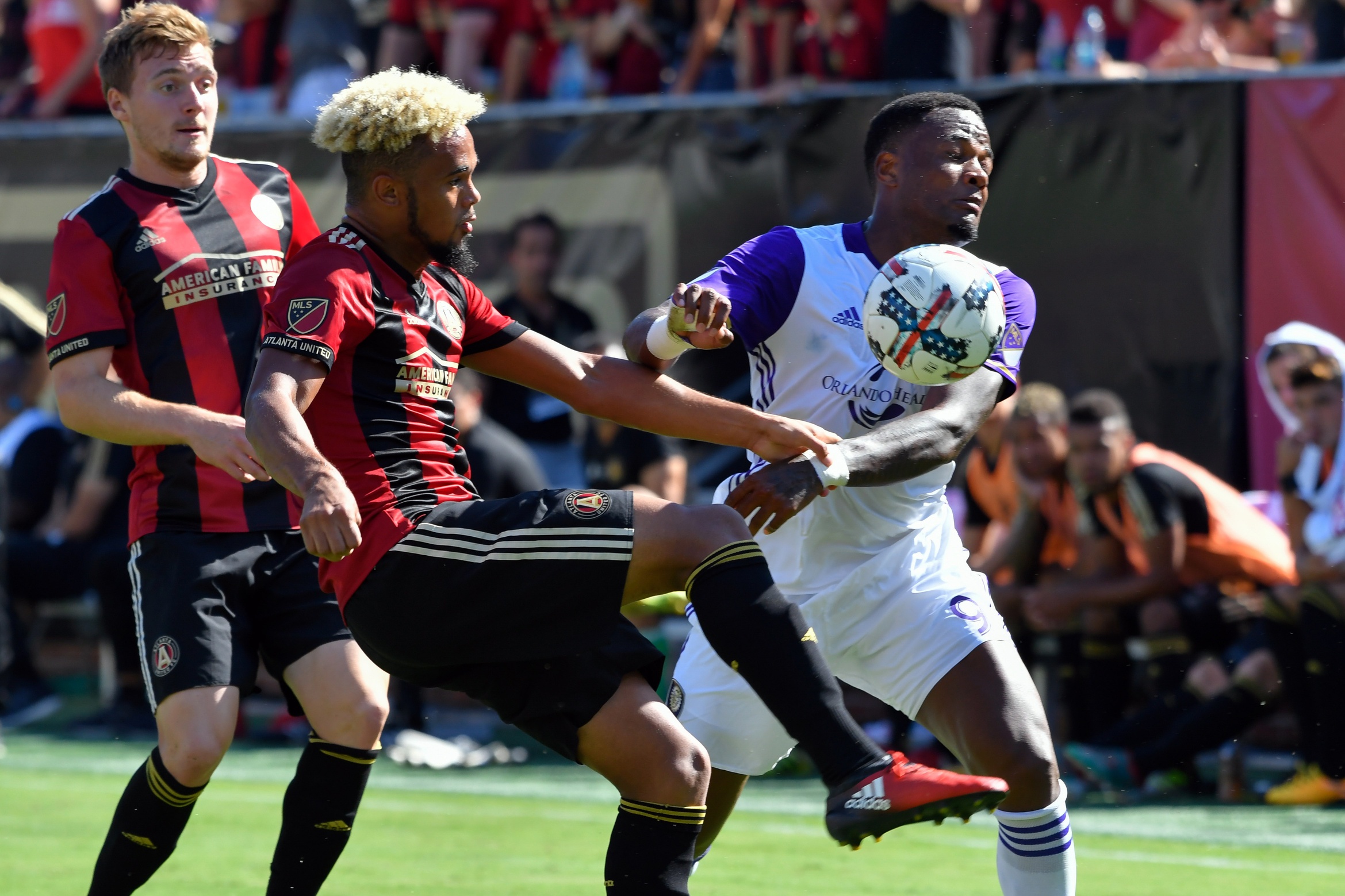 Hector Villalba has had a flair for the dramatic in the last two weeks, and in the process, he's endeared himself in the hearts of Atlanta United fans.
A week after scoring the game-winning goal in Orlando, Villalba slotted home a stoppage-time equalizer to earn a 1-1 draw between Atlanta United and Orlando City at Bobby Dodd Stadium on Saturday.
Villalba's 10th goal of the season came in the 92nd minute and it cancelled out Kaka's strike that came on Orlando's only shot on goal.
Both teams had their share of chances in the opening stanza to pocket the first tally of the contest. Atlanta was robbed by the post on two occasions, with the first coming in the 14th minute on Miguel Almiron's rocket from 20 yards out. Almiron was denied again in the 40th minute as his attempt struck the post and Villalba's rebound struck off the side netting.
Orlando struck on the ensuing goal kick, as Joe Bendik picked out Cyle Larin with his kick. Larin dropped the ball over to Kaka, who perfectly hit his shot into the top-right corner of the net as he was moving away from goal. The strike was the first for the Brazilian designated player since May 13, a span of 10 games played.
Dom Dwyer's first true chance to score his first goal for the MLS version of Orlando City came in the 58th minute, as he slipped into a bit of space in the box and latched onto a Kaka cross, but Michael Parkhurst intervened and sent the ball away from goal.
With the heat wearing down on both teams and Orlando bunkering down in its own half, the second half didn't produce a ton of intrigue outside of a few nice attacking buildups that ended up with shots flying wide or high of the nets.
But that all ended in the 92nd minute, when Almiron and Yamil Asad set up Villalba for the equalizer. Villalba skirted through the Lions back line and timed his run to perfection to avoid being called offside. Once he beat the defense, all Villalba had to do was coolly finish past Joe Bendik.
Orlando returns to the field after the All-Star break on Saturday as it heads up to Montreal, while Atlanta visits Sporting Kansas City on Sunday.
Man of the Match
Miguel Almiron was everywhere from the jump for Atlanta, as he recorded nine shots, three of which went on target, and provided an assist on Villalba's goal.
Moment of the Match
Villalba's equalizer not only helped Atlanta earn a point, it also handed the expansion club momentum heading into a three-game road swing before it opens up Mercedes Benz Stadium.
Match to Forget
Dom Dwyer didn't do much in his first game in an Orlando uniform. He was taken off in the 73rd minute with zero shots to his name.