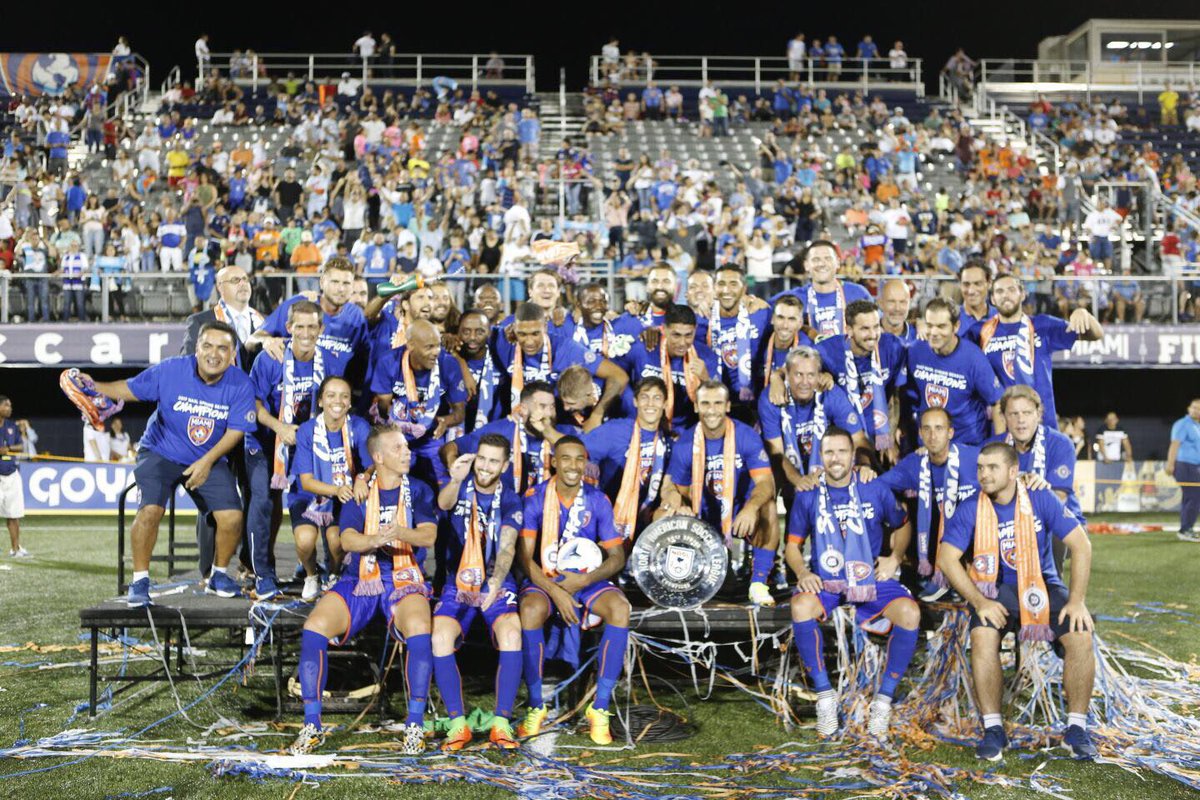 On Saturday night Miami FC was crowned the NASL Spring Season Champion after thrashing second place San Francisco Deltas. The match capped off an utterly dominant Spring campaign which has seen Miami FC win 10 of their 15 matches so far this season. Saturday's match was also a testament to the work done by coach Alessandro Nesta over the past two seasons, and the whole Miami FC organization, to build a championship-caliber team.
In other action this weekend, FC Edmonton completed a comeback victory over North Carolina FC at home, Puerto Rico FC and Jacksonville Armada FC fought to a 0-0 draw in Puerto Rico, and Indy Eleven surprised the New York Cosmos in a 2-1 Indy win. 
Here is a closer look at this weekend's matches: 
FC Edmonton 2-1 North Carolina FC
Friday's match between FC Edmonton and North Carolina FC was an exciting affair. The scoring opened in the 24th minute off the boot of Andre Fortune, who cleaned up a mess in the box with a clinical finish. It seemed that Fortune's goal was a turning point for the Eddies however, as after going down FC Edmonton began to truly push their attack. 
In the 51st minute, a shot on goal hit the post, and later in the 65th minute the Eddies squandered a chance to score from two yards to goal. Despite their 22 shots this match, it felt like luck was not on the Eddies' side. Finally, FC Edmonton broke through in the 77th minute after a nice assist from Ben Fisk found a streaking Tomi Ameobi who finished his chance. Then in the 80th minute, before North Carolina FC could recover, Sainey Nyassi became distributor to Mauro Estaquio who hit the side netting to put the Eddies up 2-1
For the Eddies, Ben Fisk stood out as a distributor on the night, assisting on a goal and pulling the string from the midfield. For North Carolina FC, Brian Sylvestre added three saves to his league high tally of 66 this season. 
Puerto Rico FC 0-0 Jacksonville Armada 
On Saturday, Puerto Rico FC and the Jacksonville Armada  battled in a rather quiet affair to a 0-0 draw. Neither team looked dangerous on the night, with Puerto Rico FC and the Armada  both not registering a shot on goal. 
The deadlock will be frustrating to the Florida side, as coming into the match the Armada were still in contention for the Spring Season Championship. For Puerto Rico FC however, keeping a side with the likes of Zach Steinberger and Derek Gebhard off the board will be seen as a positive.  
No player stood out on the night, as both teams seemed slightly dysfunctional in the attack. Puerto Rico FC and the Armada will be hoping to put out better performances next weekend, as Saturday night's showing was, at times, difficult to watch. 
Indy Eleven 2-1 New York Cosmos
On Saturday night, Indy Eleven captured their third win in four matches, and kept alive their four-game unbeaten run with a win at home over the New York Cosmos. Indy came out of the gates strong, pressing the Cosmos' back line and causing trouble for goalkeeper Jimmy Maurer. Notably, in the 13th minute, Maurer cleared a ball with his chest poorly, which led to a good shot by midfielder Don Smart. Fortunately Maurer was back in time to remedy his mistake.
The scoring opened in the 17th minute when Smart coolly converted a penalty to put Indy Eleven up, 1-0. The match continued to be high energy, as the second goal came 10 minutes later off the boot of Emmanuel Ledesma, marking his fourth straight match with a goal. 
The match continued with fluxes of excitement and lulls, without any truly good chances for either side. However, team scoring leader Justin Braun came through late in the match, with a 75th minute header, to secure all three points for Indiana side. When Braun is on his game, Indy Eleven seem to perform, and Indy Eleven has been performing recently. 
Miami FC 7-0 San Francisco Deltas
Miami FC clinched the Spring title in amazing fashion as their attack dominated a helpless Deltas team. A red card in the 35th minute to Renier Ferreira did not help the Delta's cause either, as four goals were scored after his exit.
With that being said, however, Miami FC are rather definitively the best team in Division Two. Saturday night's match between the first and second place NASL sides contained a mixture of pity, excitement, and awe, as from the fifth minute to the 90th minute Miami FC kept scoring. 
What was more amazing than the 7-0 goals Miami FC laid on the previously second-best defense in the league, is the way they were scored.  There were golazos, demonstrations of terrific team play in the final third, individual skill, clinical finishing – the match was a masterclass on fun to watch, attacking soccer.