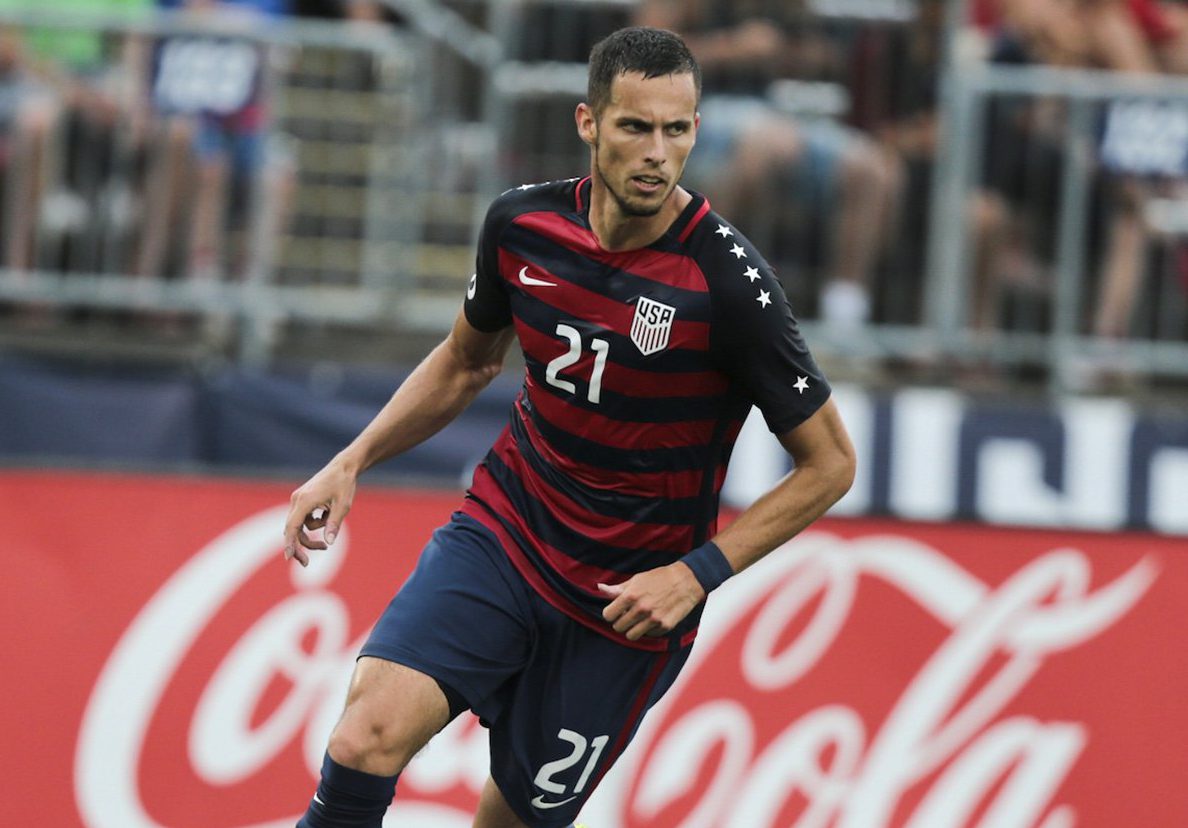 Defending is built on chemistry. In soccer, a defensive unit is just that: a unit. It's not one man or one star, but rather a three, four or five-man team that must work as a cohesive group with the same goal in mind.
Heading into Saturday's match against Ghana, the U.S. Men's National Team's defense had little chemistry. The starting four featured a converted midfielder, a World Cup veteran, a centerback with three caps and an up-and-coming fullback. They had never played togethe nor worked with the brand new defensive midfield partnership that sat in front of them.
But, for the better part of 90 minutes, the USMNT's backline stood tall and showed just how quickly a unit can come together when things go to plan.
The backline for Saturday's match against Ghana was a mixed bag of experience. The team featured World Cup veterans Matt Besler and Graham Zusi, even if the latter is still adjusting to the demands of the right back position. On the other end of the spectrum stood Jorge Villafana and Matt Hedges with just eight total caps between them. It was an experiment and a chemistry-building exercise from Bruce Arena and, in many ways, it worked as the U.S. picked up a 2-1 win.
"I think our chemistry is about as good as it could be given the circumstances," Zusi told SBI. "I thought tonight we showed very well. I thought the two Matts in the middle played very well together and Jorge has been playing excellent since he joined the national team. The chemistry, top to bottom, has been strong and we're going to look to continue that over the next week and looking forward."
"It's always tough when you only have a week to prepare in these camps and you have a young backline," added Dax McCarty, who anchored the midfield alongside Kellyn Acosta. "For the most part, there are some guys that aren't experienced but then you look back and you have Brad Guzan and Matt Besler and Graham Zusi. These guys have World Cup experience, and they're crucial to helping guys like myself and Kellyn and Matt Hedges and Jorge. It's just a collective effort."
That collective mindset was required on Saturday. Despite several key absences, Ghana's attack was still tricky. Asamoah Gyan has haunted the USMNT for years. Midfielders Ebenezer Ofori and Isaac Sackey helped create pressure while Raphael Dwamena proved dangerous throughout. Ghana is a team built around creating the one-on-one battles and using those battles to show off their ability to beat a man straight up.
The key for the USMNT, McCarty says, was communication. At the international level, you need to be able to talk. McCarty said there was no room for shyness against a team like Ghana. They're too fast, too tricky, and it's almost impossible to stop them if they keep isolating defenders.
For the most part, though, the U.S. defended in numbers and limited the Black Stars to set pieces.
"I thought we were very solid overall," Zusi told SBI. "They like to get the ball out wide and take you on one-on-one or get service in. When we found ourselves in that position, I thought we helped each other very well. We were able to slide very well and make it predictable for each other. For the most part, I thought we did very well and didn't give them too many opportunities to get in front of goal.
"We weathered a couple of storms throughout the match but, other than that, we moved the ball well, got forward and got plenty of opportunities."
The performance was certainly strong, but far from perfect. Early in the match, Ghana could have scored within the opening minutes if not for a last-gasp Hedges clearance. Villafana was called for a penalty kick late in the first half and was bailed out by a diving Guzan save. In the second half, a foul gave Gyan a chance to smash home a free kick, and he did just that while leaving Guzan helpless. Ghana had their shots. Eight of them, in fact.
If not for Guzan's penalty kick save, Saturday's match could have ended with a much different story. But it didn't.
The USMNT defense had its ups and downs on Saturday, and there are certainly more to come. Arena is expected to rotate plenty through the group stage of the Gold Cup, and the USMNT boss said he expects Matt Miazga to get some games during the tournament.
On Saturday, though, this particular USMNT defense was tested and, in their eyes, that's a good thing.
"We knew it was going to be difficult because they're a good team," Guzan told SBI. "We have a lot of guys that are either new to the national team or don't have many games under their belt. It was going to be difficult. To face the pressure we did in the second half and get through it, it's definitely a positive and we'll use that to grow and get better. We're looking forward to the Gold Cup."