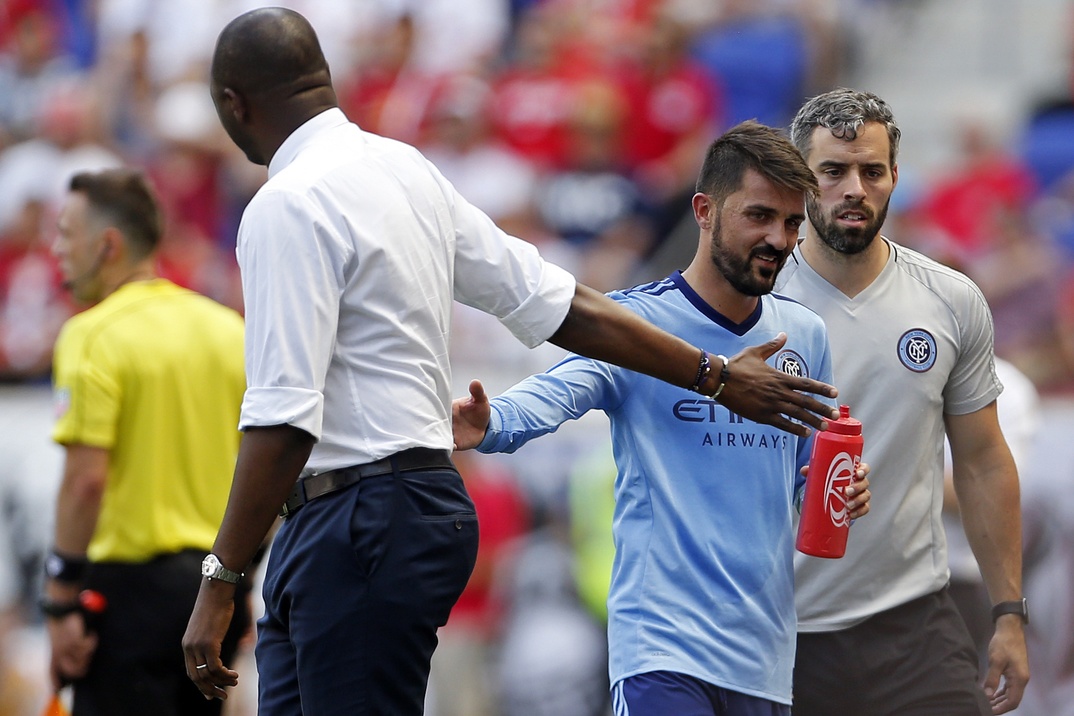 While supporters jeered referee Allan Chapman and groaned at the prospect of their team playing down a man for extensive minutes against the Chicago Fire on Saturday, New York City FC head coach Patrick Vieira valued this inevitable coaching moment.
Vieira was among the 82,000 plus at Met Life Stadium last summer when Lionel Messi missed his penalty in the shootout and Chile defeated Argentina in the Copa America Centenario final. While soaking in the ambience, Vieira focused on the tactics and game management for both sides. When referee Heber Lopes sent off Chile's Marcelo Diaz with his second yellow card in the 28th minute, Vieira was intrigued with Chile's shape playing 10 against 11.
In a near identical scenario at Yankee Stadium, Yangel Herrera was booked for a second time in just the 12th minute versus the Fire and Vieira was anxious to experiment with the structure utilized by La Roja coach Juan Antonio Pizzi in the triumph over his native country in the Copa championship match.
"When you go a man down, everybody goes to a 4-4-1," Vieira told SBI. "Chile played a 4-3-2. In soccer, you are going to be a man down at some point. I was looking forward to trying it one day."
While work rate rather than organization held the Fire without a goal for the bulk of the first half, Vieira then had the halftime interval to make his presentation. His captain David Villa was especially encouraged.
"We changed the formation with Jonathan (Lewis) and me up front which was great," the captain told SBI. "When you are one man down you always go with one striker and it's very hard to cover all that area. Now I'm fighting with three people. The support of Jonathan first with Jack (Harrison) and Maxi (Moralez) in the second line. So, we were still attacking as well."
"It's sending a positive note to the players," said Vieira.
Just two minutes into the second half, Lewis found Villa at the top of the box and his first-time volley skipped past Fire keeper Matt Lampson who was screened by Moralez. Three minutes later, Moralez' set piece delivery connected with Frederic Brillant whose initial header was saved by Lampson only to be thumped in by Brillant on the rebound for the game winner.
At the final whistle, Villa sat on the bench with his head held in his hands – emotionally and physically drained after leading his team to an unexpected three points.
"I was just so proud in the moment," he said. "The working of the team, the mentality of the team was amazing."
As for Herrera who was frustrated when Chapman failed to reward the teenager with a penalty in the opening minutes, Villa said the experience will be useful.
"I didn't really have to say anything to him," said Villa. "Soccer gives you the experience day by day, game by game. He needs to learn but not change his job. He needs to play at the same level of intensity."
BRILLANT CONTINUES TO CONTRIBUTE
In 2016, Brillant was a regular at the back for NYCFC with 31 starts. The off-season acquisition of Peru international Alexander Callens plus the emergence of Maxime Chanot has relegated the 32-year old France native to merely 10 appearances in 2017. Saturday was just his third start in 21 matches.
"It's difficult because you train every day and you don't play on the weekend," Brillant told SBI. "For me, it's the first time."
Brillant had 185 total appearances in the Belgian first division with 14 goals. His 16th career goal on Saturday was his second in MLS.
"I preferred to score with my first header, but OK, I scored with the second," said Brillant. "I had to put my head in there."
Brillant had been involved in a nasty head-to-head collision with Ben Sweat earlier in the match and then received a boot to the face for his efforts on the goal.
"My wife was scared the whole time," said Brillant. "She said, 'don't put your head in there.' Sometimes it's dangerous but you have to."
While Chanot faces an extended absence with a hip injury, Brillant is expected to pair up with Callens on Sunday at Toronto FC.
NYCFC IS SHOPPING
With an expanded injury list that includes multiple flank players, Vieira suggested that the club is aggressively seeking reinforcements.
"We are quite limited in numbers now so we have to be more active in the market," said Villa. "We are definitely going to bring people in."
Wide players Rodney Wallace, Khiry Shelton and Ronald Matarrita are in the midst of extended absences while Miguel Camargo has been lost for the season.  Consequently, rookie Jonathan Lewis made his first MLS start against Chicago. By coincidence, his family was among the 26,025 at Yankee Stadium.
"My family had already planned to come – I only knew I was starting the day before," Lewis told SBI. "My mom, grandmother, brother and his best friend. I was excited. I was happy."
Lewis' assist on Villa's goal and two quality chances in the first half following Herrera's ejection may have earned the Floridian another start on Sunday.