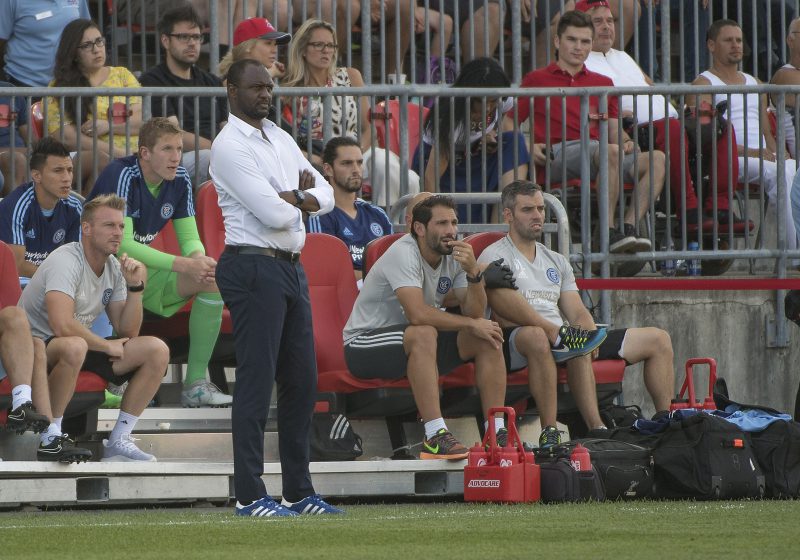 TORONTO – As August looms, New York City FC is in third place in the Eastern Conference and the Supporters' Shield standings. NYCFC is six points adrift of Toronto FC for the top spot, which sounds fine on the surface.
However, NYCFC had a terrific opportunity to pull level with TFC on Sunday at BMO Field. Instead, the visitors were blown out in a 4-0 defeat.
NYCFC can still catch up, but it has not helped itself in July. The team's form has been wildly inconsistent, from a 3-2 defeat to the Vancouver Whitecaps, to a 2-1 victory over the high-flying Chicago Fire with 10 men, New York City has been unpredictable.
Injuries and a suspension to Yangel Herrera have affected the squad, but the issues may be simpler than that.
"We could not perform because they were too good for us, it's as simple as that," said NYCFC coach Patrick Vieira in his post-match press conference. "I think we had too many players who did not perform at the level that I was expecting of them for different reasons. Then when you play against one of the best, if not, the best teams in the league, and players don't perform at their best, it's very difficult for us to take something from the game."
Vieira pointed out how absent players such as Yangel Herrera, Maxime Chanot and Ronald Matarrita have taken their toll on the team, but the Frenchman understood that the players he named to his starting lineup underwhelmed.
"I think the guys who came on did okay," said Vieira. "But as a team, I think it was difficult for us to perform. I think when you look at the game and when you look at [TFC's] roster, I think destiny tells us that we still have a long way to go, but they have been working for the last few years and we have to keep working and try to improve."
"I think that everyone in the group is disappointed," said goalkeeper Sean Johnson. "I'm not disappointed personally with anybody. I'm disappointed for the team as a part of the 11 that did not get the job done today and didn't do good enough."
Teams consistently experience differing runs of form in MLS. One moment, a side is racking up points and cannot be stopped. Suddenly, that same club can't seem to produce consistent performances.
A Hudson River derby date against the Red Bulls could reignite NYCFC, but Vieira thinks the inconsistency has been a common theme since he was hired.
"It is really quite frustrating," Vieira proclaimed. "Because since I'm here, we have a lack of consistency with the results and the way we play the game. I think when you look at the way we played against Chicago, we have one man down and you look at the way we play today, it's difficult for me to accept the lack of consistency in our performance."
The sheer collapse in the second half was surprising given how balanced the first half was, even after Sebastian Giovinco's opening goal. The midfield trio of Andrea Pirlo, Alexander Ring and Maxi Moralez were connecting, David Villa was heavily involved in the buildup and the team was spreading the ball across the field.
Even Pirlo was contributing defensively. The Italian midfielder dropped between Frederic Brillant and Alexander Callens to help cut out TFC's through balls. Unfortunately for NYCFC, no one tracked the run of Giovinco before his first goal, so Pirlo ran across to mark him, but as he's often done in his career, the ex-Italy international was not aggressive in trying to recover the ball.
"I was quite satisfied in the first half because we frustrated them a lot," said Vieira. "They did not create much and I think it was good. But we gave them too much space in the second half of the game.
NYCFC may have conceded four goals, but the attack was shockingly timid, especially in the first half when they dictated the tempo.
"I think we definitely did quite okay in the first half before we conceded the goal," said Vieira. "After that, we did not have enough fresh legs, maybe, to have this kind of offensive transition. But then every time we had it, I think we took too long to make a decision when we were around the box or we make the wrong decision, but that can happen. I think it is a game that we lost against a better team today."
August begins with a difficult task, as NYCFC faces the New York Red Bulls in next Sunday's Hudson River derby at Yankee Stadium. The Red Bulls have won five straight matches, but it will either make a potential victory that much more satisfying for NYCFC, or add to their present woes.