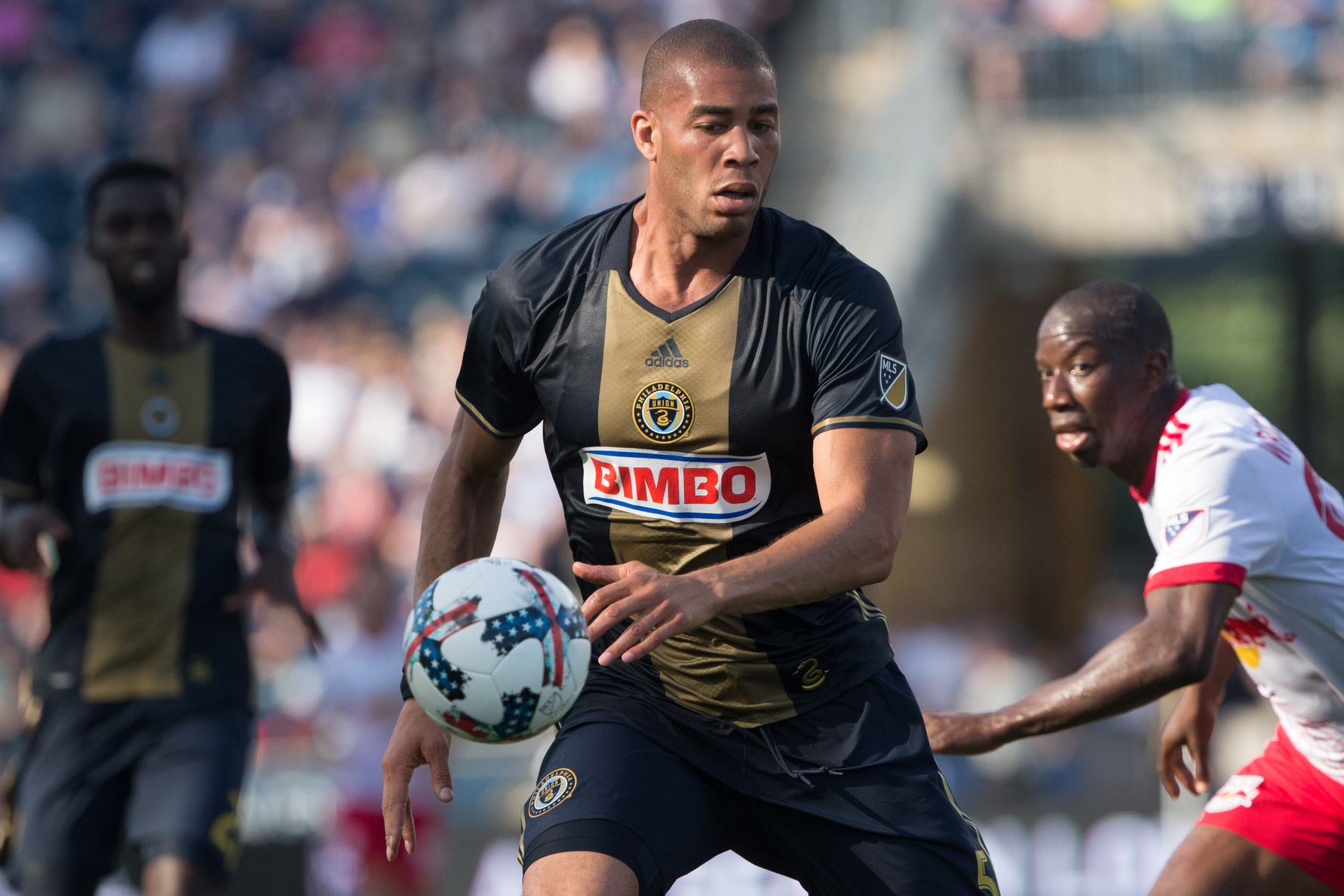 Before the 2017 Major League Soccer season began, Oguchi Onyewu wasn't a hot commodity on the transfer market.
Most teams, including the New England Revolution, passed on the 35-year-old defender due to his recent injury trouble and age, but the Philadelphia Union took a chance on him and he's been more than a worthwhile investment for Jim Curtin's side.
Onyewu had arguably his best game in a Union shirt in Sunday's 3-0 win over the Revolution, a result that secured the club's seventh clean sheet of the season.
"He performed, in terms of not letting guys turn, being tight up their back, I think that was his best game," Curtin said. "He passed well, drew fouls when he had to. Overall, I thought he had a very good game."
"Honestly, people kind of acted like they don't know who I am or the player I was and they're acting surprised when they see performances that I've put in this season," Onyewu said. "I know what I'm capable of and luckily for me the Union knew what I was capable of. The Onyewu that you guys said was in the past is obviously in the present as well. To the critics, I'm just doing the job I've always been doing for the last 16 years."
"The Revs took a pass on me too," Onyewu said. "They might be going back on that decision now. It wasn't just them, it was a few other teams. I think it had to do with my age and my past injuries, but like I said there's not a lot of players that have sustained a lengthy career like I have that haven't had injuries to their names.
Onyewu has formed a tremendous partnership with rookie Jack Elliott. The duo has played 731 minutes together and conceded four goals and recorded five clean sheets.
"Jack is gaining confidence game by game, but he's playing with a lot of confidence and that shows in his performance and that helps overall the team's stability and defensive structure," Onyewu said. "Our partnership is solid. We're either fourth or fifth in terms of least amount of goals conceded. Hopefully we can continue on this spiral and continue to get goals as well and continue to move up the table and hopefully it gets us in the playoffs."
"He's a good leader and he helps me get through these kinds of things," Elliott said. "There's a lot of talk between he and me and he gives me good advice."
Onyewu totaled four clearances, four interceptions and a pair of blocked shots against a Revolution attack led by Kei Kamara and Lee Nguyen. Kamara only managed two shots on target and Lee Nguyen was a non factor over 90 minutes for the visitors, who were without Kelyn Rowe, Juan Agudelo and Diego Fagundez. Onyewu credited Derrick Jones for the silencing of Nguyen with Alejandro Bedoya out of the lineup.
"Ale does do a lot of dirty running for the midfield and relieves the pressure for Haris (Medunjanin)," Onyewu said. "I think Jonesy stepped in well today and he dealt with a strong midfielder in Lee Nguyen. In (Bedoya's) absence, I think his replacements did very well today and to get the three points."
As for Onyewu, he's still in solid physical form and doesn't feel anywhere close to 35, a mentality the Union are going to need not only for Thursday's match at Sporting Kansas City, but for the rest of the season as they push for a playoff position.
"I don't physically look or act or play probably as old as I am," Onyewu said. "It's probably the training regimen and professionalism and old, but gold. I try to lead by example and show the younger boys that just because you hit a certain age, you don't have to perform to that age. I try to perform to my abilities and that's what I'm doing right now."
"It's a testament to who I am and I don't let adversity get in the way, I push through it. I'm just going to continue to do that with this team behind me and I hope to continue to do that for the rest of the season."