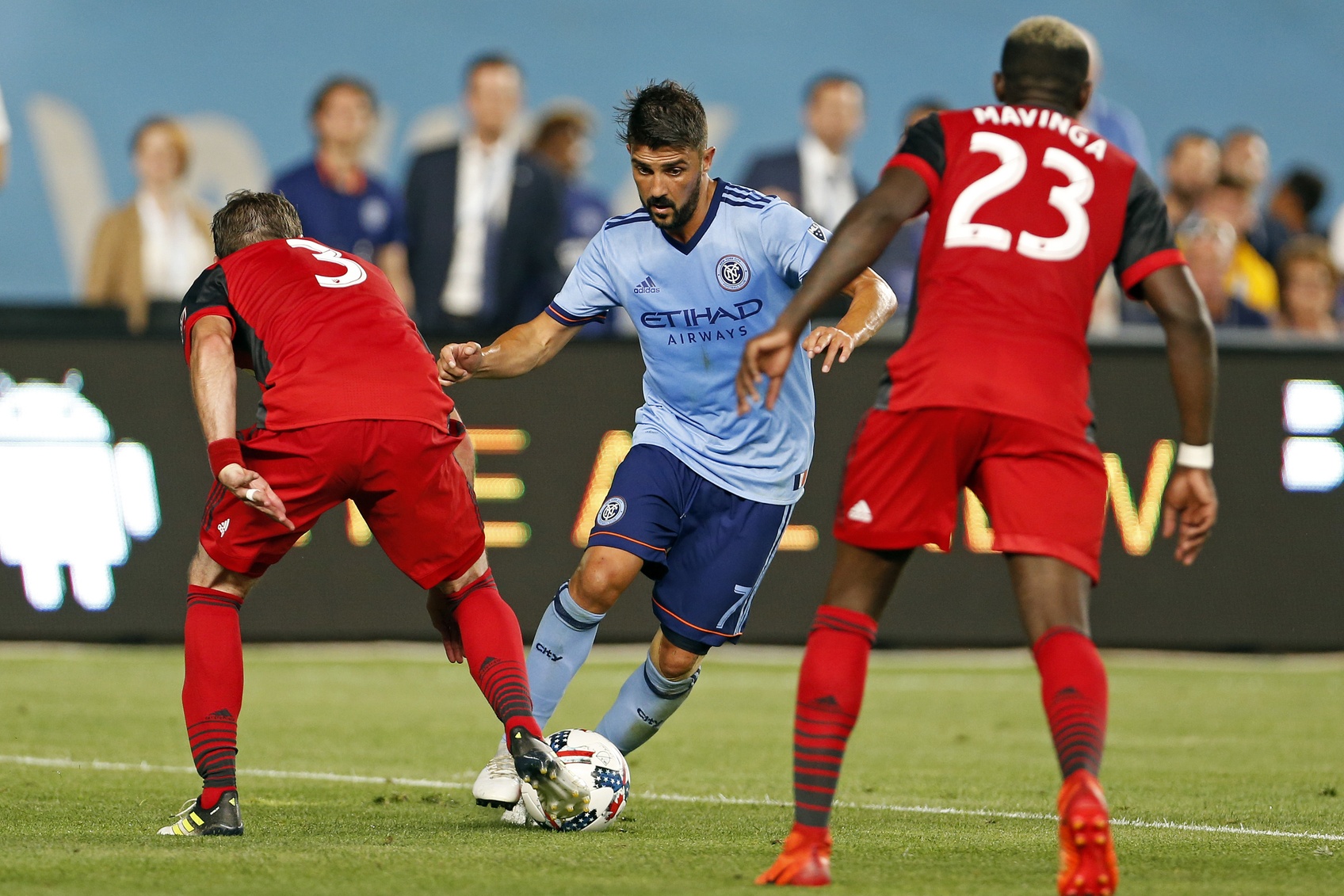 NEW YORK – New York City FC have been a resilient group all season and one of the best teams in MLS. However, Wednesday night's 2-2 draw against Toronto FC wasn't proof of that.
Despite coming back from a goal down once again, NYCFC took a step backwards, allowing TFC to pull even with on a penalty kick by Victor Vazquez in second-half stoppage time.
It was, unfortunately, not an unfamiliar sight for the team: start sloppy, miss opportunities, manage to take a lead only to surrender it in the final stages of the match.
Head coach Patrick Vieira made a pair of defensive subs, inserting Mikey Lopez and Ethan White in the second half for attackers Tommy McNamara and Maxi Moralez, respectively. But that wasn't enough to hold onto what he felt was a comfortable 2-1 lead in the final 20 minutes of regulation.
"Yeah, I think I was satisfied with winning 2-1 with the way we were playing tonight, I was going to be satisfied," Vieira unhappily said during his post-game presser. "I think sometimes you have to accept that the other team is going to play better and Toronto played better in the second half.
"You have to give them credit though. If I was in their shoes, I would really be disappointed to go back to Toronto with only one point."
RJ Allen's tackle on Jordan Hamilton just outside the six-yard box in the 90th minute set up the match-tying penalty by Vazquez and highlighted a poor defensive effort from NYCFC in the second half.
"We played a solid 85 minutes and gave away a PK at the end there to give them life and they were pressing on from there after that," goalkeeper Sean Johnson said. "I think we as players have to find a way to close that game out regardless of the situation over the course of the game. We have to figure that out."
The Reds, for their part, were able to pull off the draw despite not having Michael Bradley and Jozy Altidore available due to U.S. Men's National Team duty. Sebastian Giovinco, the lone available member of TFC's dangerous trio, was forced to leave the match with an injury in the 39th minute.
On paper, NYCFC should've been able to handle their business. That ultimately wasn't the case and Vieira wasn't afraid to give credit where it was due and to call out his team, in a way, during his presser.
"I said before the game, that is one of the strongest rosters in the league, and they showed that again today with the changes that they made and the players played really well," Vieira said of TFC. "There is a lot of work for us to do if we want to compete against the best team in the league and Toronto, for me, is one of the best, if not the best team in the league."
With the draw, neither team moved anywhere in the Eastern Conference standings and as NYCFC prepares for a quick turnaround as they host the very impressive Chicago Fire on Saturday afternoon in the Bronx, urgency suddenly becomes a necessity. With an opportunity to claim the top spot in the East with a possible 12 points during this stretch of four matches, NYCFC was lucky enough to grab one to open it. But they know Wednesday night's effort won't be enough against the Fire.
"We have another important game against a top team and we know we have to gain ground on them and get all three points," Moralez said. "We know we can't drop any more points."
Johnson echoed his teammate's statements.
"It's not going to get any easier," he said. "Chicago is a must win for us and if we do our best, we will come away with three points."