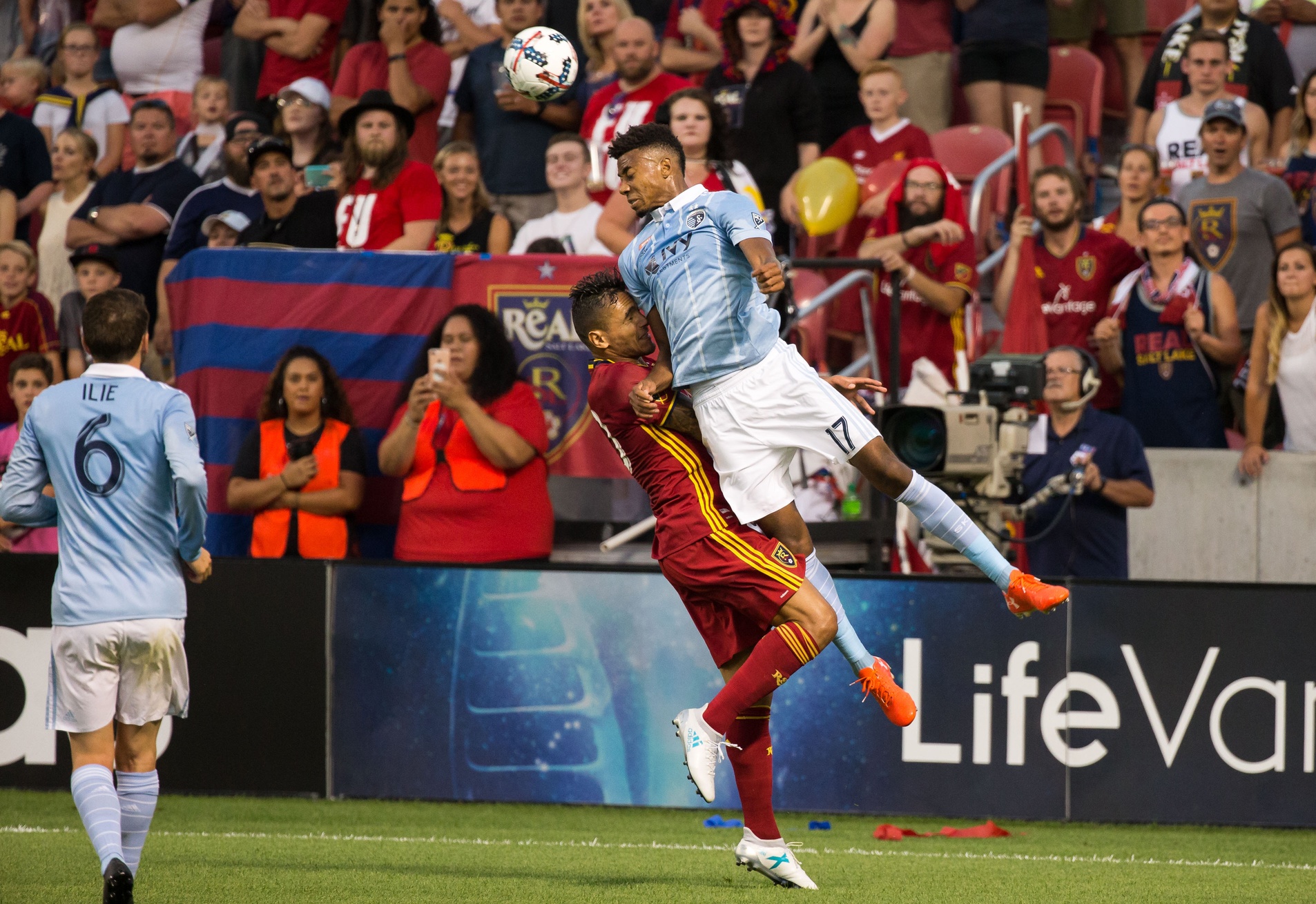 Sometimes in the game of soccer, the goalpost can be your biggest enemy or your best friend. Sporting Kansas City used a second-half penalty kick from Benny Feilhaber and some help from the post defensively to draw 1-1 with Real Salt Lake at Rio Tinto Stadium on Saturday evening.
Tony Beltran opened the offensive chances for both sides, seeing his ninth-minute effort saved by Tim Melia. Marcelo Silva's 41st-minute header then struck the left post, which kept the sides scoreless. However, Luis Silva broke the deadlock just two minutes later, beating Melia to the bottom right corner. It was the 28-year-old's first league goal of the season, which put Real Salt Lake up 1-0 going into halftime.
Latif Blessing's 50th-minute effort forced Nick Rimando into his first save of the evening. The visitors pressure didn't stop there as Feilhaber drew a 57th-minute penalty from Marcelo Silva.The 32-year-old stepped up and slotted the ensuing penalty kick in for a 1-1 equalizer.
Real Salt Lake continued pushing for a winner, but the post again kept them out. Silva saw consecutive right-footed efforts strike each post, before Jefferson Savarino was kept out by Melia. Feilhaber's long-range shot after 85 minutes kept Rimando on his toes. Melia made sure to keep the score deadlocked at 1-1, keeping Silva out from a close range effort before stoning Joao Plata from long-range.
At the final whistle, both sides had to deal with a point in this all Western Conference showdown. Melia made five saves for Sporting KC, while Rimando made two saves.
Sporting KC (8-9-4) have now drawn three consecutive league matches, but return home for a clash against the Chicago Fire on July 29. Real Salt Lake (7-3-12) now sit on 24 points, and are unbeaten in their last three matches. They next face the Columbus Crew at Rio Tinto Stadium also on the 29.
MAN OF THE MATCH
Sporting KC's Benny Feilhaber earned Man of the Match honors after earning his side a point in Saturday's draw. The midfielder drew the penalty and scored the tying goal in the 1-1 draw. Feilhaber completed the second-most passes out of any Sporting KC player and was the team's best offensive weapon.
MOMENT OF THE MATCH
After seeing their lead slip, Real Salt Lake almost snatched three points in the second half. Luis Silva saw two of his efforts strike the post, which proved to be the deciding moment in the match. RSL saw three of their offensive chances strike the post and easily can feel unlucky to not earn more than a point.
MATCH TO FORGET
Sporting KC's Gerso Fernandes made the fewest passes of any starting player for either side. Fernandes made eight passes, while also recording a shot on goal in the match. The 26-year-old has not scored a league goal since June 11.