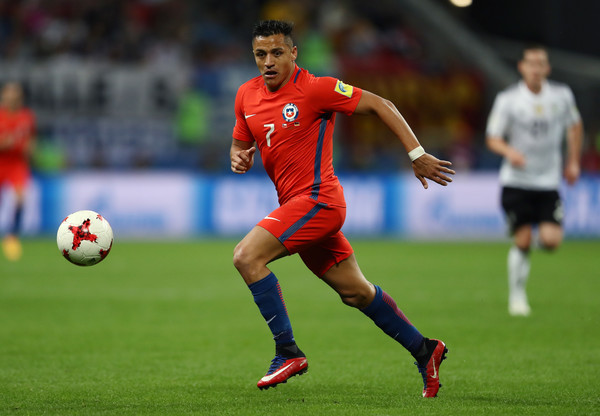 It's a quiet weekend for soccer on TV but with MLS and the Confederations Cup, there is still a lot of quality soccer worth watching.
On Saturday, the U.S. Men's National Team will be playing in a tune up match against the Black Stars of Ghana. On Sunday, Germany and Chile will duke it out for the Confederations Cup title as the champions of South America versus the champions of the world.
In MLS, a Cali Clasico headlines the action while a full slate of USL action is also on the schedule.
Let's take a look at the weekend's slate of matches:
Saturday
Major League Soccer
7:00 p.m. – MLS Live – Chicago Fire vs. Vancouver Whitecaps
7:00 p.m. – ESPN, ESPN Deportes, MLS Live -Sporting KC vs. Portland Timbers
7:00 p.m. – MLS Live – Montreal Impact vs. DC United
7:00 p.m. – MLS Live – FC Dallas vs. Toronto FC
7:30 p.m. – MLS Live – Columbus Crew vs. Atlanta United
9:00 p.m. – MLS Live – Colorado Rapids vs. Houston Dynamo
10:30 p.m. – Univision, Univision Deportes, Facebook Live, MLS Live – SJ Earthquakes vs LA Galaxy
International Friendlies
4:45 p.m.  – ESPN, Univision Deportes – USA vs. Ghana
8:30 p.m. – Fox Sports 1 – Mexico vs. Paraguay
USL
4:00 p.m. – YouTube – New York Red Bulls II vs. Saint Louis
5:00 p.m. – YouTube – Bethlehem Steel vs. Richmond Kickers
5:00 p.m. – YouTube –  Toronto FC II vs. Harrisburg City Islanders
6:00 p.m. – YouTube – Vancouver Whitecaps II vs. Seattle Sounders II
7:00 p.m. – YouTube –  Charleston Battery vs. Tampa Bay Rowdies
7:00 p.m. – YouTube –  Charlotte Independence vs. Rochester Rhinos
7:30 p.m. – YouTube -Louisville City vs. Ottawa Fury
8:00 p.m. – YouTube –  Orange County vs. Portland Timbers II
8:30 p.m. – YouTube –  Tulsa Roughnecks vs. Real Monarchs SLC
8:30 p.m. – YouTube – Orlando City II vs. FC Cincinnati
9:00 p.m. – YouTube – Colorado Springs vs. Rio Grande Valley FC
11:00 p.m. – YouTube –  Sacramento Republic vs. FC San Antonio
NASL
7:00 p.m. – beIN Sports –  Jacksonville Armada vs. Edmonton
Sunday
Major League Soccer
5:00 p.m. – Fox Sports 1, MLS Live – Philadelphia Union vs. New England Revolution
Confederations Cup
8:00 a.m. – Fox Sports 1 – Portugal vs. Mexico
2:00 p.m. – Fox Sports 1 – Chile vs. Germany